World's Largest Shipyard Equipment Auction Launches Online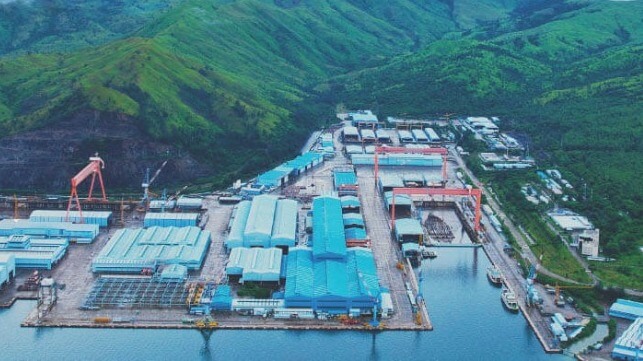 Hilco Industrial Acquisitions is proceeding with the sale of shipbuilding equipment from the former site of the Hanjin Philippines Shipyard. They are highlighting that this phase of the sale of equipment from the shipyard represents a unique opportunity for buyers seeking to purchase a broad range of high-quality shipbuilding equipment.
A total of 14 auctions are underway and they are being conducted online with starting bids as low as $15 for select items. Ten of the actions that are currently underway will be closing in November and December. Information on the auctions is available online at Hanjin Philippines Shipyard Equipment - Online Auction.
Hanjin Heavy Industries & Construction Company, located in Subic Bay, Philippines, was recognized among the ten largest shipyards in the world. They began installing the new equipment for the yard in 2007 and at its peak, the shipyard was employing more than 35,000 staff. Hanjin successfully built the first ship at the shipyard in 2009.
Consistently with the new business direction of revitalizing the operations of the renowned shipyard into a multi-purpose facility, Hilco was retained to conduct the sale of surplus assets.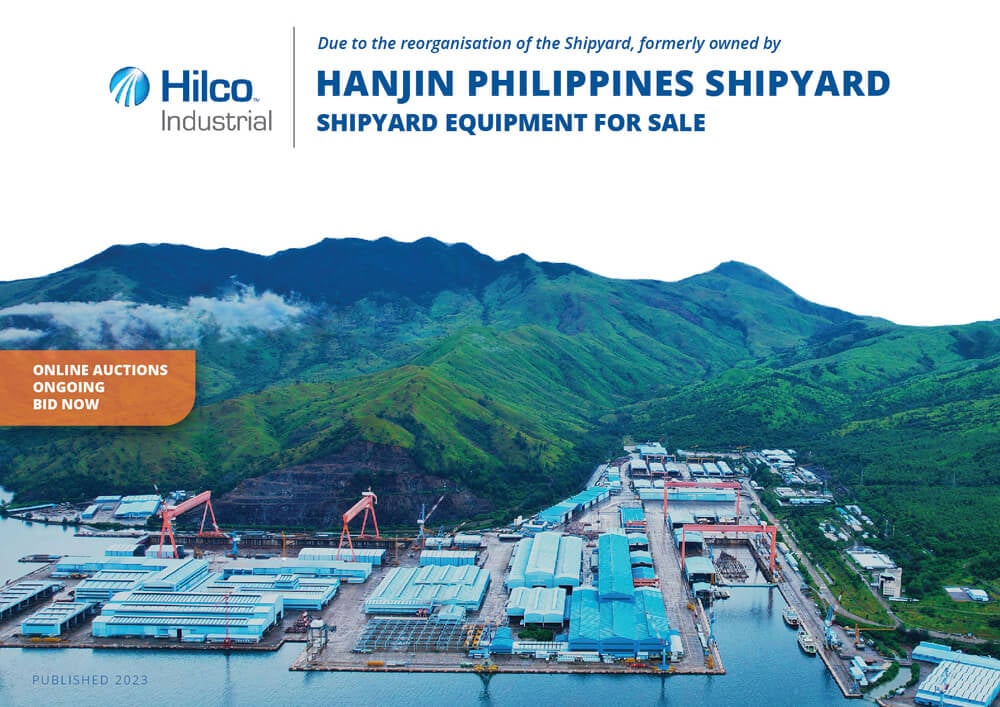 During the 14 auctions underway online, Hilco will be featuring:
• Mobile Equipment
• Fabricating Equipment
• Pipeshop Machinery
• Welding Equipment
• Welding Cable, Welding Jacks, Acorn Welding Floors
• Gantry & Overhead Cranes
• Lifting Gear
• Handtools
• Test Equipment
• Dockyard Equipment
Among the large items available are a Hydraulic Truck, Rough Terrain, & Crawler Cranes, Skid Loaders, Excavators, Wheel-Loaders, over 100 Forklifts, Boom Lifts, and Overhead Cranes with a capacity ranging from 5 Ton to 40 Ton.
A broad range of machinery is also available including Pressbrakes, C-type presses, Edge Rounding Machines, Plate Bending Rolls, Hydr. Ironworkers, Plate Shears, Lathes, and Milling Machines.
The auctions will also include smaller equipment as well as a range of welding equipment and supplies and miscellaneous tooling and accessories.
Complete information and an online catalog of all the items being offered for sale can be viewed at Hanjin Philippines Shipyard Equipment - Online Auction.
To arrange an inspection, access more detailed information about the assets that are being sold, or learn specific details on the sales process, please contact: Margot Ter Bogt ([email protected])
This article is sponsored by Hilco Industrial Acquisitions.

The opinions expressed herein are the author's and not necessarily those of The Maritime Executive.