Waiting for the Second FLNG Wave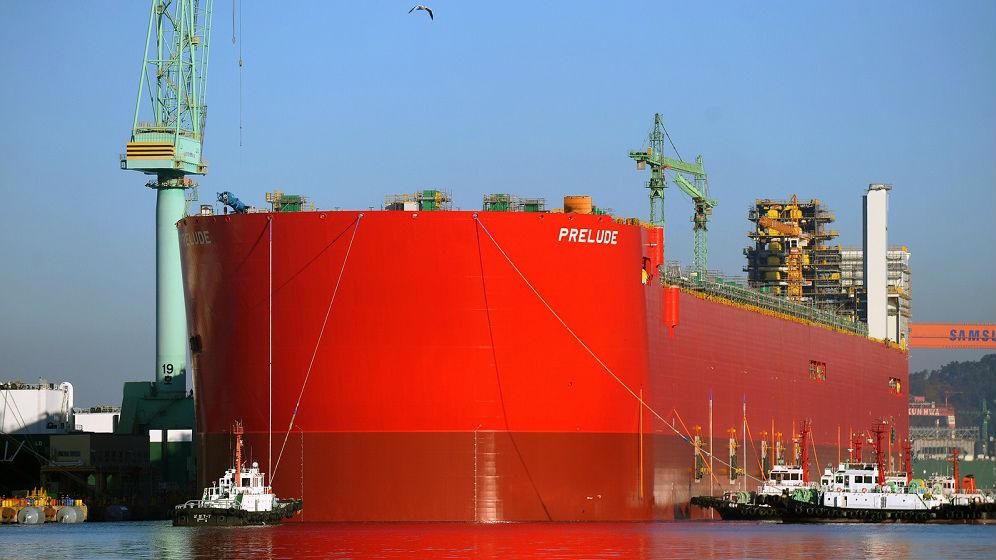 Despite a current pause in commitments to new projects, the capital expenditure for FLNG vessels is expected to amount to $35.5 billion over 2015-2021.
There is huge interest in the technology, and future commitments hinge on the success of just a few projects.
The delivery of Petronas' PFLNG 1, also known as the PFLNG SATU, will be the world's first FLNG vessel to start operations on its completion by the end of 2016. This will be followed by Shell's Prelude FLNG vessel, a significantly larger project and one that is likely to shape future FLNG developments.
Following these projects is a second wave of new projects that are yet to be sanctioned but are expected to drive a growth in expenditure from 2019 onwards. This includes major projects in frontier regions such as Australasia, Asia, Gulf of Guinea, East Africa and the East Mediterranean.
Douglas Westwood analyst, Ben Wilby, says, "The application of LNG technology offshore has been proposed and studied within the industry for more than 30 years so there is intense industry interest in the first applications. The success of these first pioneering projects will no doubt impact future commitments by operators to FLNG developments.
"There are now many projects on the starting blocks awaiting a final investment decision by the operator. In 2015 we expect something of a pause in new commitments given both the "first in the line to be second" approach to the technology and the Capex cutbacks we have seen as a function of lower oil and gas prices."
The Attraction of FLNG
Operators are attracted to FLNG, as, compared to its onshore alternative, FLNG facilities are more secure, can have shorter lead-times, remove the need for long pipeline to shore and offer a potentially lower-cost alternative to monetizing stranded gas fields.
"While there are inherent risks, FLNG is undoubtedly a prospective market that in the long-run is poised to drive many future gas developments," says Wilby.
Liquefaction units will account for 61 percent of the total FLNG spend ($35.5 billion), says Wilby. "The key difference between liquefaction and regasification is that liquefaction vessels cost significantly more and take longer to build - there are a lot less liquefaction vessels expected over the forecast period but they still account for more of the Capex for example."
FSRU units tend to be cheaper and have much shorter manufacturing times (typically 18-24 months). They are also more of a known quantity and are already an established alternative to onshore regasification plants.
Action for Asian Yards
The large yards in Korea will be responsible for many of the major newbuild liquefaction facilities, including two of the early vessels – Prelude (Samsung Heavy Industries) and PFLNG 1 (Daewoo Shipbuilding & Marine Engineering).
For the smaller conversion projects other yards are likely to pick up the slack, says Wilby. These are likely to be those who already have experience in building FSRUs, FPSOs and LNG carriers and much of the work will remain Asia-focused with South Korea, Japan and Singapore likely to take on the majority of it.
"To date, newbuild floating regasification vessels have taken place in Korean yards. Recently, however, CNOOC announced that they were planning on sourcing some of their new FSRUs from Chinese yards, demonstrating a change in the industry," says Wilby.
"Again, it is smaller yards that pick up the conversion projects and the Keppel shipyard in Singapore has been responsible for many FSRUs in the past. FSRUs are a more established technology than LNG FPSOs, as well as being both cheaper and quicker to manufacture, which explains the more diverse spread of shipyards that have completed projects."
Topsides
Topsides are often subcontracted out to other companies and a wide range of companies operate in this space. Often they will have a separate FEED contract – Technip and Mustang have completed work on projects in the past. Manufacturing can be carried out by shipyards, often in collaboration with engineering companies, though some companies (such as Technip) will do everything from engineering to construction and installation.
Major projects are rarely the product of one yard and companies will call on the experience of many players to ensure the project is a success. This is especially important for liquefaction vessels which use technology that takes up a huge area on land. Typically liquefaction facilities have to be shrunk to about a quarter of the size they take up on land.
FSRU Spending
Douglas-Westwood research indicates that spending on FSRUs will reach $22.8 billion over the 2015-2021 period, taking the combined expenditure for the floating LNG market to $58.3 billion.
Douglas-Westwood anticipates more floating regasification units will be sanctioned, with Asia and Latin America being the dominant regions. Upcoming projects are visible in Indonesia, China, Pakistan, India, Vietnam, Bangladesh and Sri Lanka, mostly led by National Oil Companies. Latin America will see deployments of floating regasification units in Chile and Puerto Rico.
Impact of the Oil Price Collapse
Both the FLNG and FSRU market will be hit by the collapse in oil price. This has also affected the LNG spot price and as a result has led to a decline in the commercial viability of projects. For many LNG projects, companies usually have to lock in a number of contracts before sanctioning development – getting a favorable price for the LNG produced is harder than it would have been even a year ago, and this will affect the sanctioning of a number of projects.
Interestingly, says Wilby, the U.S. has seen a reversal in the units it requires. "Only a few years ago a number of FSRU units were expected to be commissioned to allow more gas to be imported into the country to meet its energy needs, with the huge growth in shale gas this has now changed."
This will not really impact the market until after 2021, and major offshore liquefaction plants are not expected anytime soon in the region.
The opinions expressed herein are the author's and not necessarily those of The Maritime Executive.