The Suite Life
The Cruise Lines' Race to Build the Best Accommodations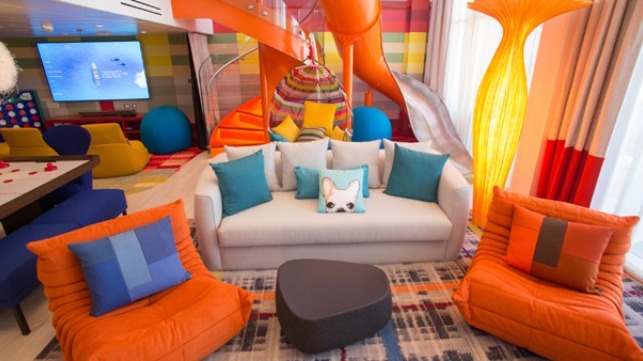 One of the on-going trends in the cruise industry is the selling of upgraded passenger experiences. Nowhere is this more evident than in the previously unseen levels of luxury and unique options being offered in accommodations. The cruise lines are each seeking to outdo their competitors to offer the most luxurious suites at sea.
When the modern cruise industry was invented in the 1960s, the cruise companies perceived a very egalitarian experience. The first modern cruise ships offered basic standard-sized, efficiency cabins with only a very few larger or deluxe staterooms. Over time, as the ships grew larger, more deluxe and suite options emerged laying the groundwork for the current competition to offer the most indulgent accommodations.
Today on a modern cruise ship 10 percent or more of the accommodations often fall into the suite categories. Options range from larger rooms with more square footage and larger balconies sold as junior suites to multi-room suites that often feature one or more bedrooms as well as living and dining spaces. Possibly one of the most talked about ornate suites in recent years is the 3,000-square foot Regent Suite with a 1,400 square foot private balcony aboard Regent Seven Seas Cruises' Seven Seas Explorer. Selling for over $5,000 per person per night, the suite accommodates up to six guests with two bedrooms; two and a half bathrooms; a living room with dining area and a grand piano; private solarium and even an in-suite spa with a staff on-call for unlimited treatments.
"It's like having your own apartment at sea – a real oasis of calm and perfect for a sea day," says Scott Anderson, General Manager of The Luxury Cruise Company, a U.K.-based luxury cruise specialist, describing his suite experience in a Crystal Cruises' penthouse. Often the suites feature butler service, in-suite dining, and upgraded amenities, all to create the ultimate cruise experience. The mass market lines have also developed a host of no-cost amenities, such as priority embarkation and tender boarding and reserved theater seating as benefits for suite passengers.
Norwegian Cruise Line and MSC Cruises have carried it even further in recent years, creating private suite enclaves that have private lounges, pool areas, and a restaurant. The enclaves have proved so popular that Royal Caribbean International has announced it will introduce its own Suite Club accommodations with private key-card access beginning in 2019 with its newest ship the Spectrum of the Seas.
Anderson points out, that while the suites clearly appeal to the wealthy and well-traveled cruisers, they also reach other segments of the cruise market. "Heads of families that might have other family members or friends on board will often host evening meals and parties in their suites." The suites provide a gathering point for these groups or a way for the older generations, for example, to enjoy a multi-generation vacation while the younger family members travel in standard cabins and partake in the multitude of activities around the ship.
The increasing number and different levels of suites available are creating new sales opportunities for the industry. Holland America Line, for example, today offers three categories of suites on its ships while Carnival Cruise Line has seven grades of suites on its newest ship the Carnival Horizon. Anderson explains that the benefits of the size and added amenities provide important upsell opportunities as, "clients may not always be aware of the benefits of larger/higher grade suites. We have found the new to cruise guest will then go large on their next cruise, once they've enjoyed the suite life."
The cruise lines are also using the suites to appeal to different consumer segments. Royal Caribbean International, for example, recently introduced its Ultimate Family Suite aboard the world's largest cruise ships the Symphony of the Seas. At 1,134 square feet, the two-story suite accommodates a total of eight with features to appeal to the whole family, including an in-room slide, private theater area, LEGO wall and an air hockey table, as well as table tennis and a full-size whirlpool on a 212 square foot balcony.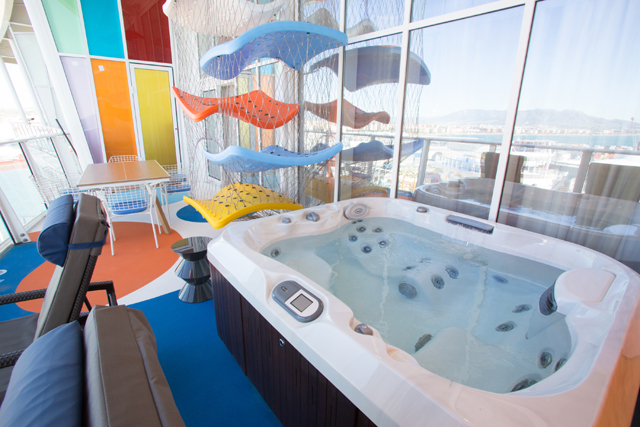 "They're eye-catching and get people talking," says Colleen McDaniel, Senior Executive Editor of Cruise Critic, describing the newest suites. She points to another important reason the cruise lines are moving forward aggressively with their luxury suites. "People who might not have considered a cruise might suddenly stop and think, 'Wow! I didn't know cruising could be like that,' says McDaniel.
Seeking to leverage these successes in creating new business opportunities, the trend continues to create bigger and more unique suites on the new cruise ships. Royal Caribbean, for example, will be adding more Ultimately Family Suites, while Carnival Cruise Line continues to add more of its popular Captain's Suites, which are positioned above the bridge wings. Princess Cruises recently announced the creation of two new Sky Suites on its newest ship the Sky Princess due to enter service in October 2019. Featuring the largest balconies of a Princess cruise ship, the 1,500 square foot suite will overlook Princess' outdoor Movie Under the Stars' screen for a private viewing experience.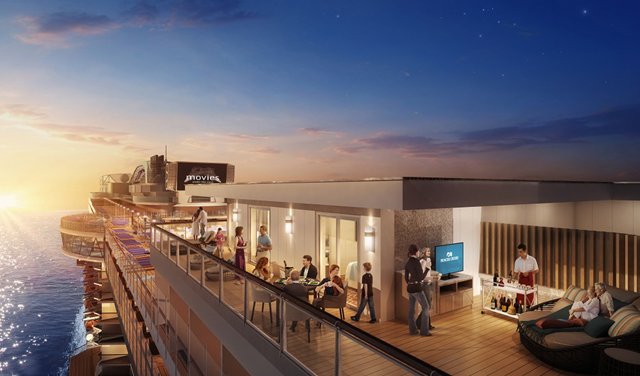 Celebrity Cruises' new Celebrity Edge, scheduled to debut in November 2018, features the line's largest ever suites: the nearly 1,900 square foot Iconic Suites are positioned above the bridge for panoramic views.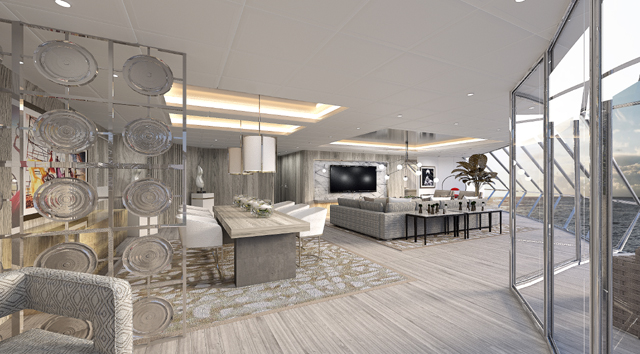 "The top suites always sell first," says Anderson, noting, "so having more of them is more to sell." The success of these new suites in attracting new vacationers to cruising as well as creating upselling opportunities will continue to fuel the competition to create unique and luxurious accommodations at sea.
The opinions expressed herein are the author's and not necessarily those of The Maritime Executive.