Royal Marines Restore Order at Storm-Damaged Prison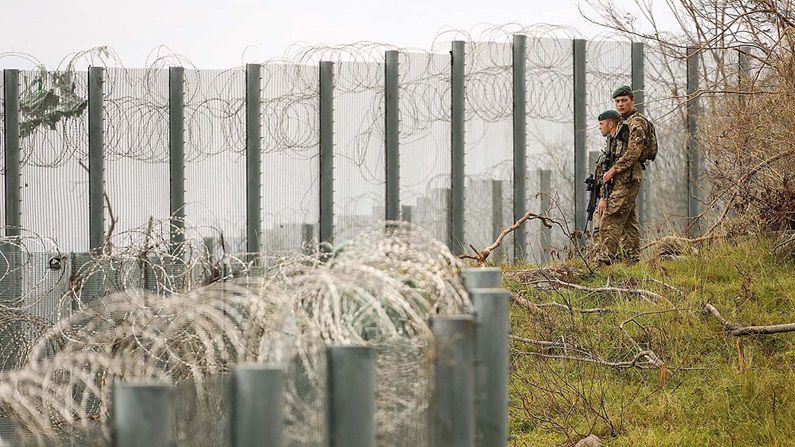 More than 100 prisoners are back behind bars after Royal Marines and commando engineers helped restore the central prison in the British Virgin Islands.
Tortola's Balsam Ghut jail was damaged by Hurricane Irma and many inmates fled, while others had been coming and going from the penitentiary at leisure. With prisoners at large on Tortola, islanders feared for their safety and security, while there was widespread looting – until soldiers and Royal Marines began patrols.
But only when the jail was fully secure could islanders feel safe again, so an operation run by British Virgin Island and Cayman Island police officers, alongside the British Royal Marines, Royal Engineers and police was launched. Royal Marines from 40 Commando formed a cordon around the prison whilst the prison guards in the compound called out the prisoners into a secure area.
That allowed armed officers from the British Virgin and Cayman Islands to enter the insecure areas of the prison to ensure the prisoners were removed and accounted for. The cells were then searched for any contraband prisoners might have stashed during their few days of relative freedom.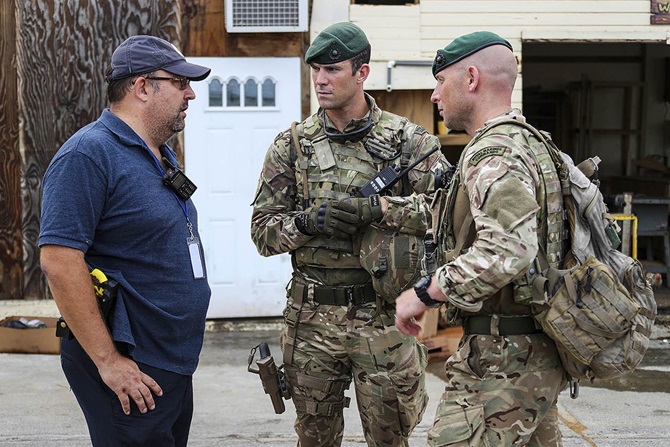 Alpha Company's leaders speak with the prison superintendent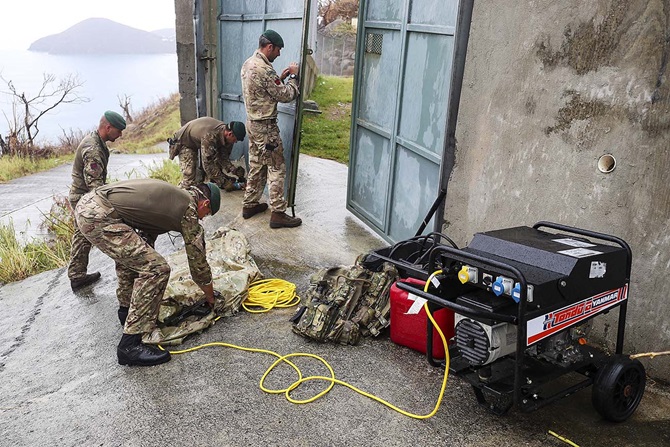 Combat engineers repair the prison gates
Royal Engineers from 59 Commando Squadron then set to work making the perimeter fence impenetrable once more, fixing a steel gate at the main entrance and prison roofing while the men of Alpha Company provided security.
"It's extremely helpful that the UK are supporting us in this operation. Restoring security and order at the prison will reassure many people and remove the fear in the communities," said Alwin Jones, Deputy Commissioner of the BVI Police Force.
After nearly a week in the British Virgin Islands, the focus of humanitarian assistance from the commandos and RFA Mounts Bay will shift this weekend to the Turks and Caicos Islands, 500 miles to the west.
The amphibious support ship is due to arrive off the capital Cockburn Town having stocked up on disaster relief supplies in St Croix in the US Virgin Islands. More than 1,100 shelter kits, 72 ground sheets, 120 roll mats, 14,000 bottles of water, and tins of ham, tuna and biscuits were loaded, as well as baby food, wipes and nappies which have been heavily in demand from victims of the storm.
This article appears courtesy of Royal Navy News and may be found in its original form here.
The opinions expressed herein are the author's and not necessarily those of The Maritime Executive.