Hanjin Woes May Help Tech, Data Start-Ups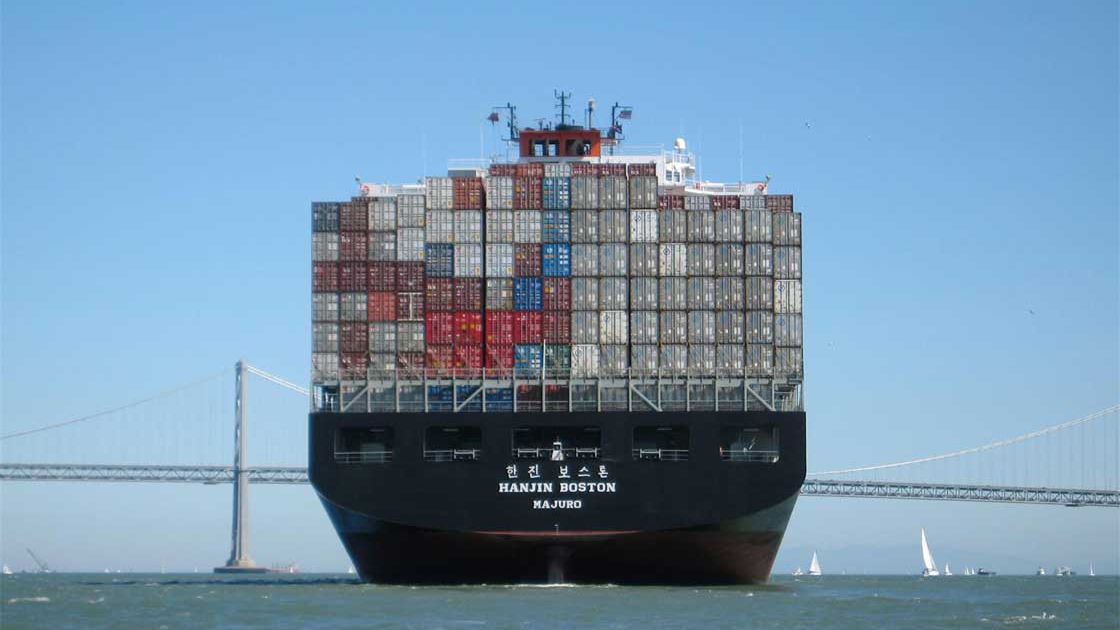 The global shipping industry, ravaged by collapsing revenues, defensive mergers and the failure of major player South Korea's Hanjin Shipping , is slowly waking up to the redeeming potential of technology.
While sensor-laden containers, smart ships and 3D printing have grabbed the headlines, the start-ups making the biggest inroads are those working on something more basic - streamlining the interaction between shippers, freight forwarders, and those actually transporting the goods.
"This is way up there on the list of insanely complex systems with enormous impact on the global economy," says Trae Stephens of Founders Fund, which this week led a $65 million investment round in Flexport, a start-up focusing on providing logistics services and data.
"We believe doing this in a more efficient way can really move the needle on every part of the economy," said Stephens, who will join Flexport's board as part of the investment round.
Container ocean trade is likely to grow no more than three percent over the next few years - at a compound annual growth rate - compared to 10 percent in 2000-05, and five percent in 2005-10, according to Seabury, a transportation consultancy, and McKinsey predicts shipping oversupply will stay above 20 percent this year and next.
Zvi Schreiber, CEO of Freightos, a Hong Kong start-up that offers Expedia-like quotes for end-to-end freight shipping, says the shipping industry is "manual, inefficient and opaque."
KPMG found that a quotation for shipping freight typically involved 20 associated fees and, according to the Journal of Commerce, shippers each lose up to $150,000 a year when price volatility and staffing cuts force invoicing errors.
"This industry is broken, there's no question we have a serious issue," Jesper Kjaedegaard, partner at shipping and logistics firm Mercator International, told a recent shipping conference in Singapore. "Without technology, this industry is not going to move much further."
TRANSPARENCY
Kjaedegaard pointed to start-ups like Xeneta, set up by two industry veterans after they failed to convince their employer, shipping giant Kuehne und Nagel, to introduce greater transparency into rates charged.
"Transparency is viewed by a lot of people in the industry as destructive in that it would negatively affect margins," said co-founder Thomas Sorbo.
Xeneta's solution was drawn from the world of consumer start-ups: encourage all those in the industry to contribute rates, creating a crowdsourced database of some 17 million contracted sea-freight rates around the world.
By providing real-time data, shippers can see what they should be paying.
"Suddenly (they) can compare their contracts with others and find out if they're being ripped off," Sorbo said.
Venture capital interest in the broad supply chain and logistics industry has been growing, at least until last year. In 2015, consultancy CB Insights counted more than $1.7 billion of investment in start-ups, triple that in 2014. Another $500 million or so was invested in the first half of this year.
Start-ups range from those trying to Uber-ise the industry to those like Natilus, which plans a Boeing 777-size cargo drone which lands and takes off in water. CEO Aleksey Matyushev envisages a world where the cost of transporting goods by air could do away with a lot of the ocean-bound shipping, which accounts for around 98 percent of container freight, according to Seabury.
But, for now, it's start-ups like Xeneta, nibbling away at the industry's inefficiencies, that are making waves.
Freightos, for example, provides software that allows logistics firms to manage contracts and automate the quotation and sales process. Last month, it bought WebCargoNet, a Spanish network of air cargo rates.
GT Nexus, which allows shippers to manage their supply chain online, was bought last year by Infor, one of the world's largest software companies.
Not everyone in the industry is happy with the attention and question whether such start-ups will be able to carve out much more than a niche.
"They think they've reinvented the wheel, and they haven't," said Nick Coverdale, a Hong Kong-based industry veteran. The industry "is not as backward as people claim."
But he acknowledged that technology could play a role, and pointed to a service he will launch next month which would enable freight buyers to choose a sailing online and agree a deal in seconds.
Others have noticed the benefits of embracing such services.
Eddie Soh of Singapore-based Global Air Cargo International, says using Freightos allows him to give a customer a quote quickly, even if he's on the road, just by pulling out his iPad.
Previously, he said, that involved going back to the office, and trawling through emails and Excel spreadsheets.
The opinions expressed herein are the author's and not necessarily those of The Maritime Executive.