Gulf Marine's ESG Advocates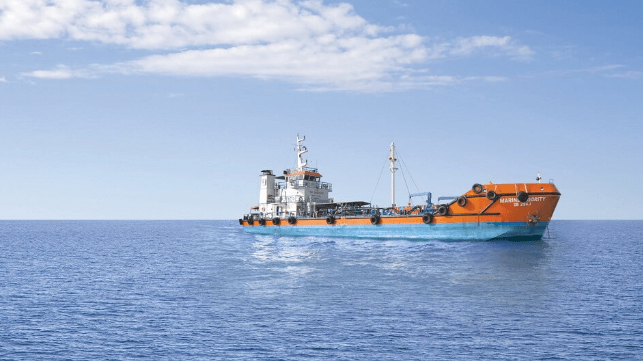 Jackson Davis and Simon Lew, Sales Directors of Gulf Marine, were early advocates of the company's ESG (Environmental, Social, and Governance) initiatives. At the onset, these two key leaders in the company pushed to prioritize ESG practices, as they realized that ESG considerations were becoming increasingly important for businesses because consumers (through the entire value-chain) were demanding more sustainable and socially responsible practices.
Jackson and Simon, the respective heads of the West and East sales teams, were convinced that incorporating ESG practices into a company's operations would both benefit the planet and society and lead to improved business outcomes.
Jackson firmly believed that, from an environmental standpoint, implementing sustainable practices can lead to improved efficiency and more sales. The company's commitment to responsible and sustainable practices will lead to a more positive reputation in the marketplace, increased customer engagement / loyalty - and ultimately, sales.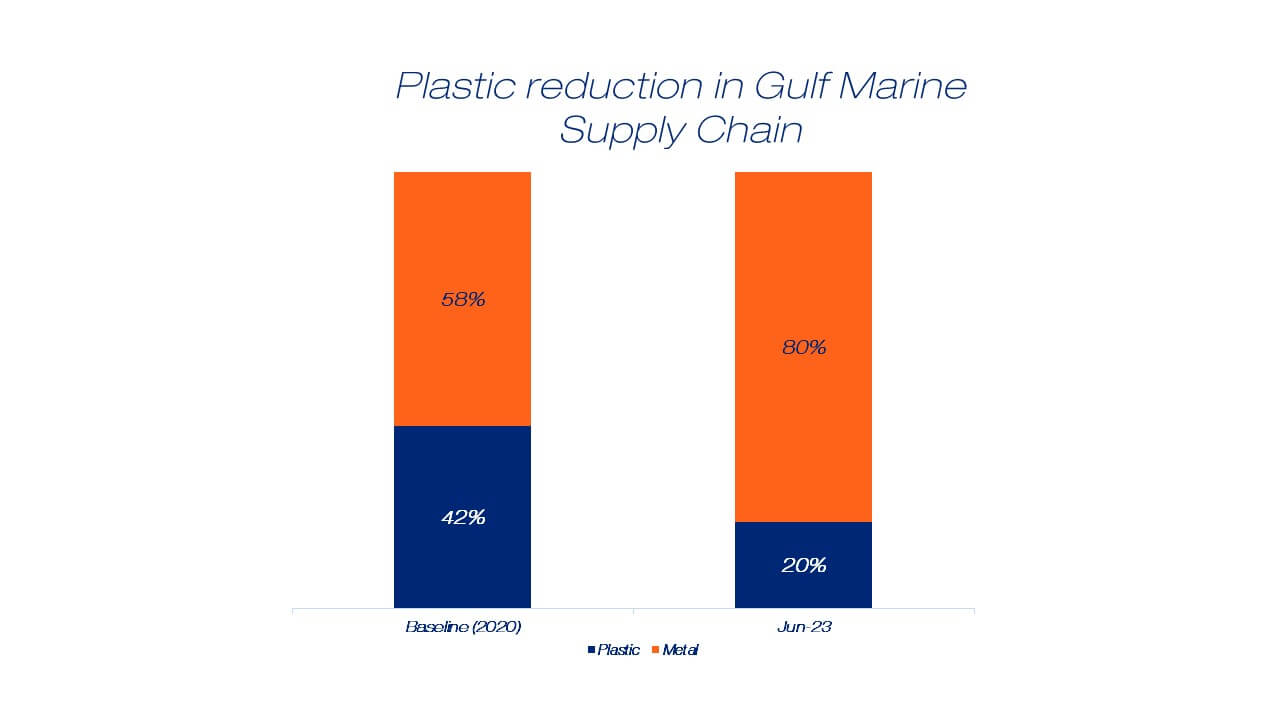 12,584 kg reduction in plastic use over a two-year period at Gulf Marine
Companies that aim to reduce their carbon footprint will implement practices such as reducing waste, using renewable energy sources, and adopting environmentally friendly packaging, all of which Gulf Marine has adopted. The company's headquarters in Singapore is in a Gulf-affiliated plant that is powered by solar energy. It has also reduced plastic packaging by more than 50 percent and will have zero plastic packaging by end 2024. Its barges are also going to be revamped, and together with optimizing barge deliveries, this will be driving significant emission reductions.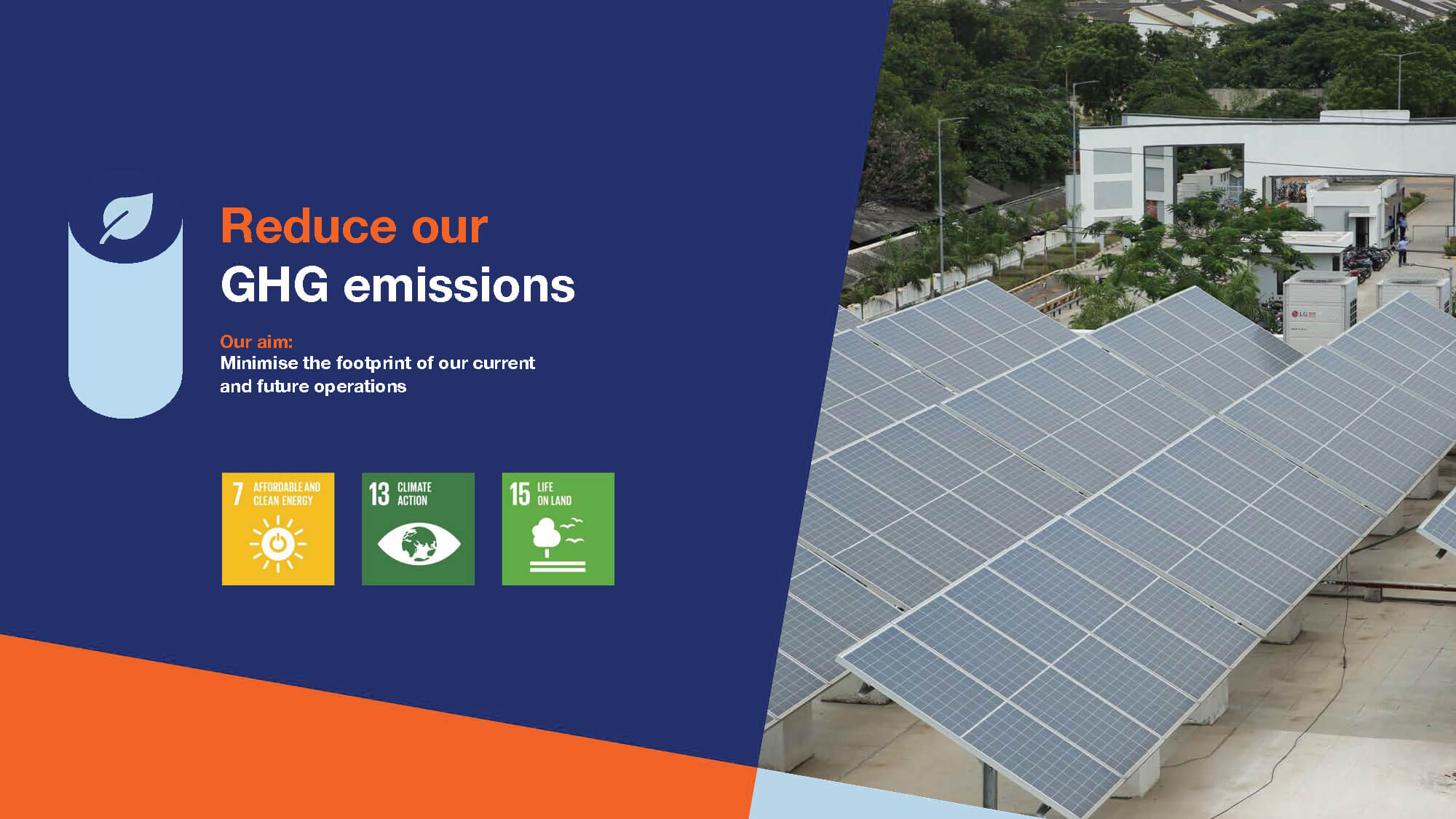 A Gulf-affiliated plant that is powered by solar energy
"In fact, through the company's focused efforts, our initial targets of 10 percent reductions in both Scope 1 and 2 emissions (consistent with the UN's GHG Protocol) will be met well before end-2024," Jackson said. "As we further entrench our ESG practices and work more closely with our customers and partners, we will be pushing ourselves much harder on all Scope 1, 2 & 3 targets."
Simon emphasized that as Gulf Marine's chief assets are its people, by sharpening social responsibility and prioritizing governance practices that demonstrate commitment to treating employees and stakeholders with fairness and respect, Gulf Marine staff were able to work closer together to support the substantial increase in sales without any major friction. Despite the significant increase in workload, Simon pointed out, there was increased employee satisfaction and loyalty and he believed that was due to the company's people-centric approach.
The Six Pillars of Sustainability
"Working closely with customers on charitable endeavors also help to bring our staff and our customers' staff closer. Such customer engagement beats talking on the phone and emails, hands-down," Simon said.
Jackson and Simon are of the opinion that their push for early ESG adoption did not compromise at all their sales efforts. Indeed, both of them are the key Gulf Marine sales leaders and have contributed tremendously to the company's stellar sales growth over the past years.
"ESG is good business practice and there really aren't trade-offs between sales and ESG endeavors, certainly not in the mid- to long-term," Simon said.
The opinions expressed herein are the author's and not necessarily those of The Maritime Executive.