Elevate Cruise Ship Entertainment With LG Direct View LED Displays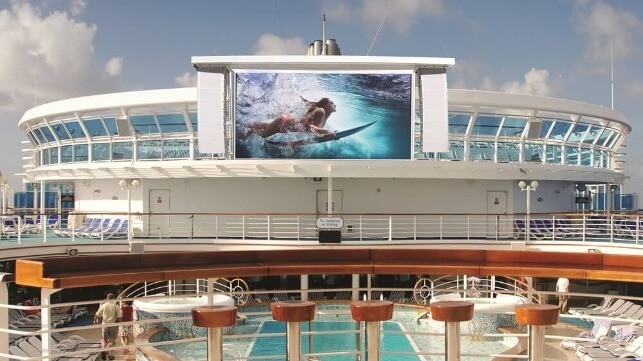 When it comes to world travel, few experiences compare to the splendor of climbing aboard a cruise ship. Whether it's their first or fiftieth time at sea, passengers can't wait to get on deck and explore everything their temporary vacation home has to offer. And with LG digital display solutions, you can make sure those feelings of wonder, awe, and complete immersion only grow as they move from bow to stern.
LG offers a full suite of in-cabin TVs, directional signage, touch screen displays, direct view LED, transparent OLED TVs, movie theatre screens, service robots, and many more technological revelations. But once the ship sets sail, true innovation can be found in LG GNEB Marine Grade Series Direct View LED displays. Engineered to elevate at-sea entertainment, these visual solutions allow you to take the crisp, eye-popping color and detail quality of LG Direct View LED display technology out on the waves—without worrying about catastrophic damage from salinity or corrosion.
If you're wondering how that's possible, you're in the right place. Here, we'll explore LG GNEB Marine Grade Series Direct View LED displays and other visual solutions built for cruise ships and illustrate their potential to help you dazzle guests at every turn.
Delight Passengers with Immersive Visuals
You're in the business of creating memorable vacation experiences. LG can help you take those experiences to the next level with immersive visuals that set the stage for brilliant luxury.
As guests board, LG's outdoor signage displays can welcome them with images and messaging that indicate an exciting cruise. When they arrive at their cabin, immerse passengers in the breathtaking realism of LG's IPS screens as their premier in-cabin viewing option. And when passengers are ready for a stroll, make sure your ship's promenade dazzles with display solutions like LG Fine-Pitch Direct View Indoor LEDs, OLED displays with infinite contrast, or an Ultra Narrow Bezel Video Wall with a virtually seamless design.
Our cruise ship DVLED display solutions are available in a wide range of screen sizes to fit your application, from small to large-scale options. LG also supports a variety of cabinet sizes (up to 3,200 × 3,600mm) for flexible screen configuration and convenient installation. And of course, you'll always be able to take advantage of our high refresh rate of 7,680Hz, which prevents the black bars that typically occur during video playback and reduces the potential for blurred images—ensuring smooth playback and a crisp viewing experience around every corner.
Whether you're sharing the day's itinerary, providing clear directions on how to navigate the ships, or sharing important announcements, LG has the perfect display solution for you.
Screens Built for the Spray of the Sea
When it's time for your guests to kick back by the pool, trust LG GNEB Marine Grade Series Direct View LED displays to keep the entertainment going.
Built for sailing on the open ocean, LG's striking GNEB Marine Grade Series displays are incredibly bright, impressively rugged, and exceptionally stunning solutions for keeping guests entertained and informed. To protect your investment against salinity and corrosion at sea, these displays feature powder coated cabinets and conformal coated electronics. The front and rear of the cabinets are IP67-certified and engineered for stable power and data connections—while being safeguarded from the outdoor elements. Plus, the unexposed front screws further lower corrosion potential, making these displays an ideal investment for life on the waves.
LG GNEB Marine Grade Series DVLED displays offer front and rear service access to the power distribution unit, which features a modular cabinet that can be easily attached or detached for no-hassle maintenance. Within the unit is a self-contained power supply and receiver card designed with handles to enable quick and simple replacement if necessary.
Expect Easy Maintenance, Even on Rough Seas
Easy maintenance and reliable connection are essential for at-sea entertainment solutions, because they contribute to the overall guest experience.
LG's display solutions are built with flexibility, versatility, and compatibility in mind. Experience the LG webOS™ smart platform with built-in Quad Core SoC, which delivers smooth content playback without the need for a media player—ideal for broadcasting content and messages on the high seas. When connected with LG's CVEA system controller, GNEB Marine Grade displays are compatible with LG software solutions including SuperSign CMS, LED Assistant, and ConnectedCare™, which help you manage your ship's display solutions with ease.
Want to protect your investment even further? Take advantage of LG's ExtendedCare™ Warranties or Signage Care Solutions that include white glove services, remote management and monitoring, routine maintenance, and preventative care.
Request Your Free Site Survey
If you're ready to partner with LG to excite, entertain, and inform your passengers, visit our website to request a free ship site survey. Our experts are standing by to help you find the right display solutions to immerse your guests in brilliant luxury.
The opinions expressed herein are the author's and not necessarily those of The Maritime Executive.