Curtis Robinhold Takes the Helm at Port of Portland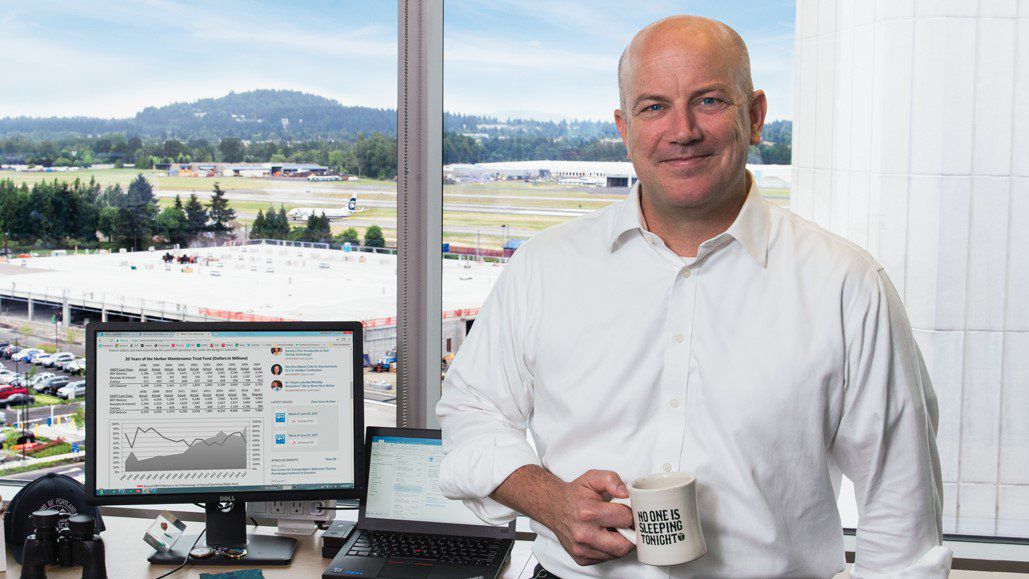 In May, the commissioners of the Port of Portland unanimously selected deputy executive director Curtis Robinhold to take up the port's top post. He replaces longtime executive director Bill Wyatt, who retired in June. MarEx spoke with Robinhold recently to find out what's next for the port under his leadership.
Congratulations on your promotion. Can you tell us about your vision for the port's future?
The long term vision is focused on maintaining our role as a gateway for Oregon to the rest of the world, creating economic development for the region through our marine and airport businesses and our industrial properties business. That role may evolve over time, but the port works constantly to adapt to a changing world.
Tell us about the port's cargo businesses - how are your breakbulk, bulk and ro/ro operations doing?
We're a diverse port with a wide range of cargoes moving in and out of the area. Our bulk volumes are doing well, especially at the Columbia Export Terminal's wheat business. Their volumes are up by about a third at four million tons of grain for the year.
The auto import/export business is also doing very well – we moved over 290,000 vehicles in 2016, a collection of Toyotas, Hondas and Hyundais on the import side and Fords on the export side. The Fords are manufactured in the Midwest and transferred via rail through Portland for points in Asia, primarily China and Korea. The export business continues to grow by double digits, and we were the busiest port for auto exports on the West Coast last year.
For our container terminal, T6, we've assembled an industry expert group to examine new multiuse facility options. It has a full transload facility with eight rail tracks, and it could be a great breakbulk opportunity. We're spending a lot of time looking at the ocean carrier industry and at all of our other options, and we're hoping to have a thorough study completed by the end of the year.
T6 lost its last container service last year, and the Port of Portland took over management from private operator ICTSI in February. How did those conversations with ICTSI proceed?
It was a series of conversations. We said that we'd be interested in getting T6 back to work, and we didn't feel that they could get its business going again in the kind of timeframe that we would like to see. It took some time to talk through, but we came to mutual terms. Our first objective was to get enough capital in place that we'd have funds to pay for maintenance and operations for a few years. We also wanted to keep most of the equipment on site. Based on these needs, we obtained a cash settlement of $11.5 million plus about 190 pieces of equipment.
A union dispute contributed to the loss of the container business. How are conversations proceeding with the unions now?
We're spending a lot of time on it. Without a labor agreement, we're not going to be able to get the ocean carrier business back. Both unions, the ILWU and the IBEW, have a seat at the table in our discussions about the future of T6, and they've expressed interest in getting the jobs back.
Can you tell us about the Port of Portland's Superfund cleanup plans?
We're interested in getting started. There's a bit of uncertainty around federal policy, but that doesn't have to get in the way of us taking some steps towards cleanup. I think the challenge is going to be finding enough flexibility in the existing EPA decision for us to get to work. We're not interested in changing that decision, we're just interested in getting started on the areas where we know we have responsibility, and as soon as we can. And the signals so far from EPA have been pretty constructive.
What would your ideal scope of work look like for the cleanup?
We want to manage the human health risks that the EPA identified in a way that minimizes cost to the public. What that means for us is isolating the most hazardous spots and cleaning them up, and managing the sites that have a long term threat in the most effective way. We're interested in working with other potentially responsible parties and starting work within three to five years. In Superfund terms that's really fast – many projects take 10-20 years to start, but we don't want to wait that long. The project will have a lot of implications around dredging and ship movements, and we'd like predictability in those areas so that business can proceed. There are areas along the river where private landowners are reluctant to do anything for fear that they'll make investments that can't be accessed or utilized. We'd like to get the cleanup started so that that section of the river can really start working again. In reality, it costs us money not to do anything.
In addition to the business case for starting the cleanup, we acknowledge that we are one of the responsible parties, and there is a public benefit in cleaning up the polluted sections of the river. We're a public entity, and our stakeholders include everyone who pays property tax in the Portland metropolitan area. The burn cost of getting into long-term legal battles over the cleanup is not in the public interest.
-MarEx
The opinions expressed herein are the author's and not necessarily those of The Maritime Executive.