Cruise Line "Arms Race" Continues
The major cruise lines each introduced new ships this year that were the largest ships of their fleets. These ships are part of an ongoing trend whereby the cruise lines are increasing the size of their ships - sparking what some have likened to an "arms race," but one designed to bring marketing and economic advantages.
While these new ships are continuations of current classes, small design changes or the addition of more passenger cabins in previously non-revenue spaces increased the capacity or gross tonnage. Royal Caribbean International's Symphony of the Seas is the fourth Oasis Class ship, but enhancements increased her to 228,081 gross tons, with a passenger capacity of 5,518 double occupancy, making her the world's largest cruise ship. Similarly, Carnival Cruise Line's new 133,596 gross ton Carnival Horizon increased passenger capacity to 3,960 double occupancy, while Norwegian Cruise Line introduced its largest ship by gross tonnage, the 168,028 gross ton Norwegian Bliss.
By all indications, the trend will be continuing. Princess Cruises just revealed designs of the fourth ship in the Royal Class, the Sky Princess due in October 2019, which includes an additional 54 new cabins and suites. Similarly, Royal Caribbean's fourth Quantum Class ship, the Spectrum of the Seas due in June 2019, will add 46 cabins and suites versus her sister ships. While the Carnival Panorama and the Nieuw Statendam will have only modest increases in capacity over their sister ships, MSC Cruises is transitioning to the Meraviglia Plus and Seaside Evo classes both of which expand on established platforms.
"When we see cruise lines post about having a new top of the line biggest ship in the yard, we typically tend to instantly think it's the same thing repackaged just bigger," says avid cruise consumer Michael Russell. But he admits that he has changed his views; "the bigger the ship, the more opportunities, such as a larger movie theater, space for dining experiences, more entertainment, music and places to dance. As well, as the ships tend to get bigger, the technology tends to get smarter and more state-of-the-art."
New Amenities
Despite the trend to bigger ships, Richard Fain, Chairman and CEO of Royal Caribbean Cruises, however, is fond of saying that they do not necessarily set out to build bigger ships, but they need space to add features and that dictates the size of the ships. Indeed, each of the new ships is introducing a variety of new amenities ranging from new specialty dining options to larger suites and cabin enclaves, as well as elaborate new amusements, such as waterslides, the longest zip line at sea aboard the Symphony of the Seas, and the go-carts and laser tag courses on the Norwegian Bliss.
"The ability to pack more features, functionality, restaurants and bars onto one ship is a key selling point for these companies," says travel journalist David Yeskel. The new amusements are helping the cruise lines to compete with resort destinations and theme parks attracting new consumers to try a vacation at sea. "Mega ships can be great for families and multi-generational groups looking for something for each member of the family to enjoy – a bustling waterpark, relaxing spa or Broadway-style shows," points out Colleen McDaniel, the Senior Executive Editor of CruiseCritic. "Those 'biggest ships at sea' deliver what a lot of first-time cruisers are looking for: plenty to do and fun features for them to try once aboard."
While some vacationers fear these ships can be too big and too hectic and want to avoid dealing with crowds and the noise associated with the ships that carry 4,000 or more passengers, others are attracted by the variety of amenities and the chance to meet new people. Then there are those such as travel blogger Dan Bagby, who recently took a cruise and admits, "I may be 30, but I am a kid at heart. When I was deciding which cruise I wanted to take, I really wanted one with waterslides and a FlowRider. I found that only the larger cruise ships have those amenities."
Building Boom Continues
"Cruise lines are engaged in an escalating 'arms race' to crank out the largest ships possible," says Thomas Faddegon, Content Manager at Cruiseline.com, a consumer information site. He believes, "there's always going to be a market for travelers who don't enjoy feeling like they're in Midtown Manhattan when trying to get around their ship," but recognizes "the new bells and whistles of larger ships are great marketing tools for attracting the cruise-curious."
Indeed, the future generation of cruise ships currently on order will continue to drive the industry's size standard even higher. After hovering in the 150,000 to 170,000 gross ton range, the next ships will be increasing the standard size with 15 percent of the current orders in the 180,000 to 200,000 gross ton range. Asia's Dream Cruises has two 204,000 gross ton ships due in 2020 and 2021, while both Royal Caribbean and MSC have new ships on order in the 200,000 gross ton range. Carnival Corporation is also increasing the size of its ship platform into the 180,000 gross ton range with the nine LNG-powered ships it has ordered for its AIDA, Costa, Carnival and P&O brands.
Among the major brands, the only one that seemingly is moving in the other direction is Norwegian Cruise Line with its Project Leonardo class due between 2022 and 2027. At 140,000 gross tons and accommodating 3,300 passengers, the six ships ordered from Fincantieri will be smaller than NCL's newest ships. Norwegian points to the fact the many ports cannot handle the largest cruise ships and explains that its next class of ships will provide greater flexibility for deployments and market development.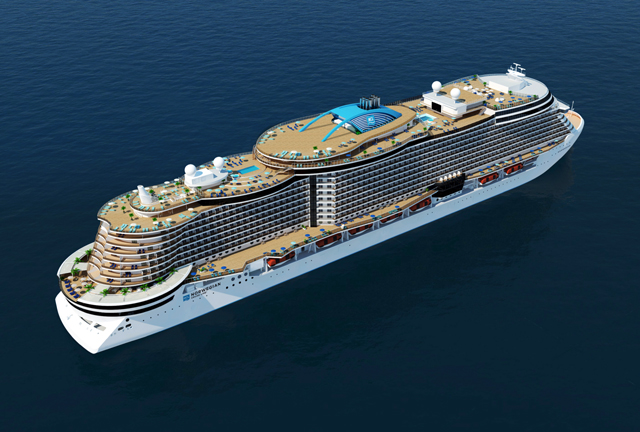 Project Leonardo courtesy of Norwegian Cruise Line.
In less than 30 years, the broad market brands will have moved from the first 100,000 gross ton cruise ship to a standard approaching the 200,000 gross ton mark. Passenger capacity has gone from 2,600 double occupancy to maximums exceeding 6,000 passengers. While it seems likely that the largest cruise ships will cluster around these new levels, the popularity of these ships and the continuing economic incentives may well continue to drive the size standards even higher over time.

The opinions expressed herein are the author's and not necessarily those of The Maritime Executive.