CMA 2017: Inmarsat's Eric Griffin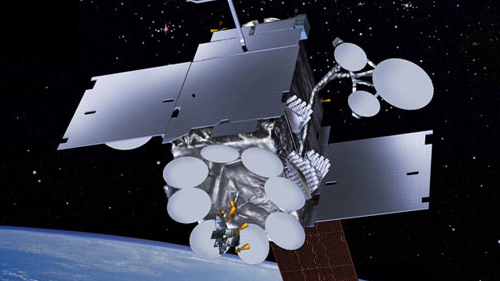 At CMA, MarEx sat down with Eric Griffin, Inmarsat's Vice President of Sales, Americas Maritime Division to discuss the firm's Global Xpress service and its sixth generation satellites.
MarEx: How many satellites does Inmarsat have in orbit?
Griffin: Today, we have 11 satellites in various constellations. The company provides telephone and data services to users via portable or mobile terminals, which communicate with our eleven geostationary satellites. The geo-satellites orbit at 35,786 kilometers, which is 22,236 miles above earth.
MarEx: Service providers buy bandwidth from Inmarsat?
Griffin: That's correct. Inmarsat owns, operates and maintains the satellites. We also manage the telecommunications infrastructure that oversees everything associated with the network.
MarEx: Tell us about Inmarsat – where it is based and how many employees in the system network and its history?
Griffin: Inmarsat is headquartered in London and has approximately 1,800 employees globally. It was established in 1979 as the International Maritime Satellite Organization at the request of the International Maritime Organization (IMO). It began as a United Nations convention, which was signed by 28 countries in 1976.
MarEx: But, Inmarsat is publically traded today. How it became a public company?
Griffin: During the 1990s, the member states of the U.N. determined that, due to the high cost of modernizing the Inmarsat fleet, as well as the competitive environment in the satellite communications industry, it was appropriate for Inmarsat to modify the organization's mission as an intergovernmental regulatory body. The operational unit was separated and became the UK-based company, Inmarsat Ltd.
MarEx: Tell us about recent satellite launches and the services provide today.
Griffin: At the end of 2015, Inmarsat launched commercial services on its fifth generation Global Xpress Ka-band satellite constellation, to deliver high-speed broadband to user terminals. The Inmarsat-5 satellites were manufactured by Boeing and are based on its powerful 702HP platform. Additionally, we have the Inmarsat-3 satellites, which were launched in the late 1990s and have been the workhorses of our L-band services. They will remain in operation until 2018. The first Inmarsat-4 satellite was launched in 2005 and established the world's first 3G network. It is expected that they will support L-band services without needing to be replaced until the early 2020s. Inmarsat's sixth generation fleet is currently under construction and will be our first dual payload satellites, carrying both Ka-band and L-band capabilities, which are due to be launched at the end of this decade.
MarEx: Your clients sell broadband to shipping companies and Inmarsat provides the broadband?
Griffin: Yes, we have partners that sell services through a series of subscriptions, which we call channel marketing. We have a direct-arm that sells to the distribution marketing partners.
MarEx: Who regulates Inmarsat?
Griffin: We are regulated by telecommunications agencies in all the countries that we do business in. Inmarsat has a regulatory team that is responsible for adhering to the laws in all of the countries.
We are also regulated by the International Maritime Satellite Organization (IMSO). IMSO is an inter-governmental organization whose primary purpose is to oversee public satellite safety and security communication services provided by mobile satellite communication systems, including the Global Maritime Distress Safety and Service (GMDSS).
MarEx: Is Inmarsat under IMO mandates as well?
Griffin: Yes, Inmarsat is mandated by IMO to provide a high quality safety service, to provide a communications lifeline to mariners in distress. We are the only satellite operator that is certified by the International Mobile Satellite Organization to provide safety services at sea or GMDSS, which we've been doing for more than 25 years.
MarEx: Inmarsat has three constellations?
Griffin: Yes, we have currently 11 satellites in the three constellations. There are three satellites in the I-5 constellation with a fourth due to be launched in Q2 this year, and four in our I-4 constellation and four in I-3 constellation.
MarEx: Are you a mariner?
Griffin: No. Before moving over to the Maritime Business unit in October of last year, I was part of the Enterprise team focusing on increasing Inmarsat's footprint within the oil and gas, mining, the utilities industries. There are a lot of parallels between those three industries and the maritime industry.
MarEx: What is Inmarsat's largest market?
Griffin: Certainly, it's the commercial shipping industry, but Inmarsat's Global Xpress is having a huge impact on the entire maritime sector. Today, the cruise industry is also pushing demand for data transfer connectivity as the ships have become floating cities. There are some interesting issues in the commercial fishing industry as well, especially, as regulators are trying to prevent overfishing and illegal fishing.
MarEx: What will the broadband demands be in the future?
Griffin: Inmarsat is continuing to invest in its network and has started working on the sixth generation constellation, which is expected to be launched in 2020.
By 2020, about 70 percent of the global population will have internet access. More people are going online and getting applications on their smartphones. It is anticipated that by 2020 there will be more than 25 billion applications.
MarEx: Is the sixth generation being built now?
Griffin: Yes, we are already building the system because the world still does not have enough connectivity to meet demand. The increasing demand for data is why Inmarsat continues to invest and build its network. -MarEx
The opinions expressed herein are the author's and not necessarily those of The Maritime Executive.