Atlantic Project Cargo Applies Logistics Solutions to World Challenges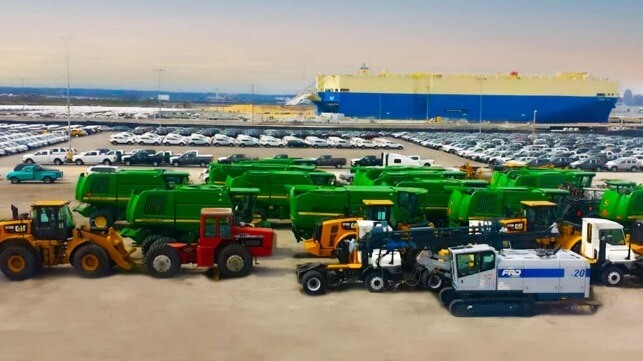 In recent years, the world has witnessed an alarming rise in food shortages, with a broad range of issues exacerbating the food crisis and global hunger. Logistics and multimodal transportation services however can play an instrumental role in addressing the growing international food security challenges.
The United Nations Committee on World Food Security highlights that several factors are converging to disrupt the global food system, putting millions of people at risk. The organization reports that the world is facing significant and unprecedented challenges triggered by labor shortages, mechanic and spare part shortages, and transit complications, that are jeopardizing food security. They point to soaring food prices, environmental stressors, changing climate, the ramifications of the COVID-19 pandemic, and the war in Ukraine as among the top causes of the steep increase in global hunger.
Recognizing the global importance of food security, Atlantic Project Cargo believes in taking proactive steps and measures to contribute to the improvement of food security worldwide. By providing innovative and prompt logistics solutions for all industries, Atlantic Project Cargo works to ensure the availability of industrial and agricultural equipment, and food commodities, addressing unique and bespoke needs.
The company points to the solutions available through logistics management to help address the challenges identified by the United Nations and other organizations. It is the convergence of multifaceted challenges and complexities that are placing the world's food security at risk.
Challenging Issues
Atlantic Cargo Projects highlights that there are practical issues that are risking the world's food supply but that can be addressed.
There has been a lot of attention on how the ongoing conflicts in Ukraine and Russia, two key players in the global food market, are severely affecting grain production and exports. These nations are amongst the top five exporters of barley, wheat, sunflower oil, and maize. War-related damages to storage facilities and crops that could not be planted are anticipated to further restrict exports in the long term.
The war exacerbated issues including a global shortage of spare parts, such as tires, batteries, and other crucial components, that significantly impacted the agricultural industry. Considerable delays in procuring these parts have forced operators to incur substantial costs and devise inconvenient contingency plans.
Transit complications have further compounded the challenges faced by the global food supply chain. Freight forwarders and logistic companies are grappling with shortages, leading to significant delays in delivering goods and equipment. The limited availability of containers and shipping vessels, coupled with rising oil prices, has created a tremendous backlog in transporting essential commodities.
The challenges are not limited to shipping issues alone but also encompass difficulties in producing these essential components, exacerbated by the persistent effects of the ongoing COVID-19 pandemic.
Labor shortages pose a severe challenge to the agriculture sector, with a startling imbalance between job seekers and open positions in the United States. According to Miranda Driver of CalAgJobs, there is currently only one job seeker for every two open positions. Purdue University projects an estimated 59,400 annual agricultural job openings between 2020 and 2025, highlighting the urgent need to address this critical labor shortage that could have long-term consequences.
Farming equipment loaded for shipment (Atlantic Project Cargo)
Need for Collaboration
Urgent collaborative action is necessary to address the current and potential future impacts on global food availability. Governments, international organizations, agricultural stakeholders, and the private sector must work together to develop resilient and sustainable strategies to safeguard food production, strengthen supply chains, and mitigate the effects of climate change.
"We are proud to be at the forefront of the fight against global food security challenges," said Maryana Serafinas, CEO of Atlantic Project Cargo. "Through our innovative solutions and unwavering commitment to our clients and partners, we aim to make a meaningful impact on the availability and accessibility of food worldwide. By addressing complex logistical issues and leveraging our expertise in oversized cargo shipping and logistics, we are revolutionizing the industry and playing a crucial role in ensuring a sustainable and secure food supply chain."
The shipping and logistics company demonstrated its commitment in February 2022, when the outbreak of war in Ukraine resulted in numerous logistical challenges and issues. Approximately 100 units of agricultural equipment destined for Ukraine were stranded at sea as all ports closed.
Recognizing the urgency and severity of the situation, Atlantic Project Cargo, in collaboration with its partners, swiftly found a cost-effective solution that allowed for and facilitated the seamless delivery of the equipment via alternative routes, including land and rail transportation. The company says this exceptional feat was accomplished within two weeks, and according to Serafinas exemplified their dedication to delivering exceptional customer service even in the most challenging and unprecedented circumstances.
Food security is the basic right of all humans to have social, physical, and economic access to sufficient, safe, healthy, and nutritious food to maintain a healthy and active life. Atlantic Project Cargo believes that through collaboration and the use of logistics capabilities, it is possible to address the factors converging to disrupt the global food system and help to move the supplies vital to manage these challenges.
About Atlantic Project Cargo
An affiliate of Atlantic Express Corp., Atlantic Project Cargo is the market leader in North America for the export of heavy and oversized machinery. The company ensures that each shipment delivery is on time and meets the client's requirements and expectations. Their experts have an in-depth knowledge of the rules governing the import and export of goods, customs clearance rules, and other regulated processes in different countries.
For more information about Atlantic Project Cargo and its solutions visit them online.
The opinions expressed herein are the author's and not necessarily those of The Maritime Executive.