When to Consider Screw Pumps in High-Volume Fluid Transfer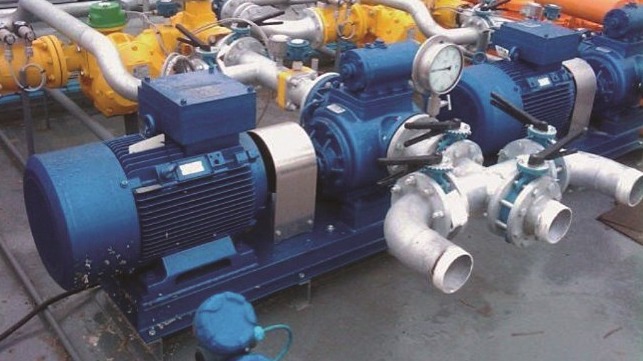 Traditionally, centrifugal pumps have been a first-choice technology that shipbuilders have relied on in high-volume loading/unloading applications, especially in fleets consisting of very large crude carriers (VLCCs) and ultra large crude carriers (ULCCs). However, positive displacement twin- and triple-screw pumps can be a more versatile, reliable and efficient alternative to centrifugal pumps in critical long-haul shipping fluid-transfer operations.
The Challenge
Generally speaking, the bulk of the fluids that are handled on ships, tankers and barges must be transferred at very high flow rates and volumes (with capacities up to 320,000 dead weight tons (DWT) for VLCCs and 550,000 DWTs for ULCCs), which hits the operational sweet spot of centrifugal pumps. This means that engineers who are comfortable with centrifugal pumps will try to work within their operational limits.
To illustrate this state of mind, in some cases a design engineer will choose to blend or heat the liquid as a way to get the fluid's viscosity to less than 300 cSt, which makes it easier for the centrifugal pump to transfer the fluid. What they are doing in this instance is reconditioning the fluid to fit the pumping technology – without regard to any potential bottom-line cost impact.
Even if the fluid has been reconditioned, care must be taken to ensure that the centrifugal pump is operating at or close to what is known as its "Best Efficiency Point" (BEP). Centrifugal pumps rarely operate at their exact BEP because perfect pumping conditions are rarely achieved, but a centrifugal pump that is deemed to be tolerably "efficient" will function in a window that is between 80% and 110% of its BEP.
However, when the pump moves too far off its BEP uneven pressure will be applied to the impeller, which will increase radial thrust that can cause the pump's shaft to "deflect." When this deflection occurs, higher loads will be placed on the bearings and mechanical seal, which can damage the pump's casing, back plate and impeller. Therefore, ensuring that the pump is working within an acceptable BEP range is imperative, but it can be a necessarily time-intensive task since the pump must be monitored constantly and adjusted as needed, which costs time and money.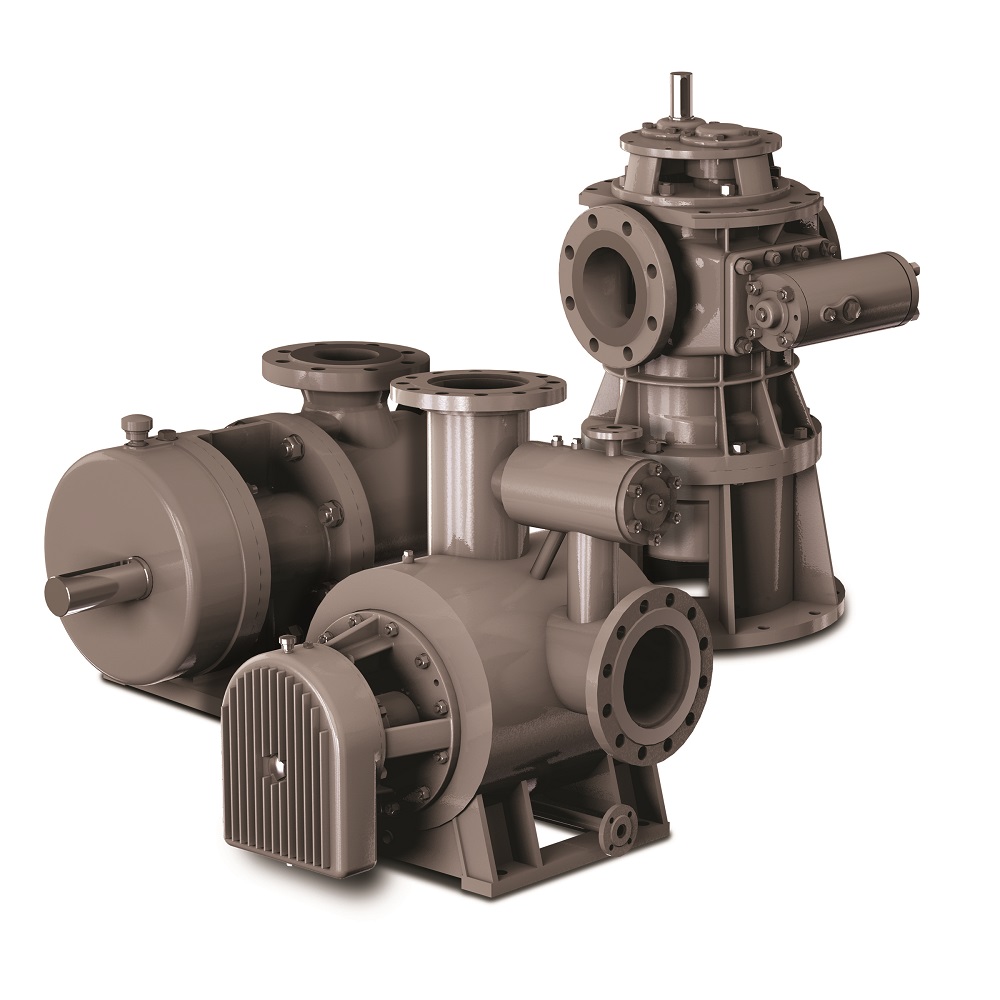 Realizing the many different types and volumes of fluids that must be handled at high flow rates in the marine industry, Blackmer® offers a complete family of highly efficient and versatile twin and triple screw pumps.
Read the Complete White Paper: Learn the ways that Screw Pumps can outperform centrifugal pumps in high-volume fluid-transfer applications on VLCCs and ULCCs. Also, to further illustrate how its Blackmer® S Series Twin and Triple Screw Pumps are the better choice, Blackmer has produced a product-line Brochure and "How It Works" videos for the Twin Screw and Triple Screw models.
The Solution
The answer to the operational disadvantages of centrifugal pumps is positive displacement (PD) screw pumps. Recent design advancements allow today's screw pump models to offer a wide range of flow-rate volumes, with flow ranges from 220 gpm (833 L/min) to 11,000 gpm (41,635 L/min) not uncommon.
The design of screw pumps also lets them handle liquids with varying levels of viscosity – even the thicker crude oil that is the chief commodity for VLCCs and ULCCs. The screw pump's operating principle sees opposed screws engaged to form a sealed cavity with the surrounding pump casing. As the drive screws turn, the fluid is conveyed steadily to the discharge port, which creates a volumetrically consistent flow rate regardless of the pumping pressure.
Recognizing the potential operational advantages of screw pumps in fluid-transfer applications on ships, tankers and barges, Blackmer®, Grand Rapids, MI, USA, a leading provider of pumps for industrial use, and a product brand of PSG®, Oakbrook Terrace, IL, USA, a Dover company, has developed the S Series Screw Pump product line.
Specifically, Blackmer recommends two of its S Series pump models for use by shipbuilders – Twin Screw With Timing Gear (WTG) and Triple Screw.
The Twin Screw (WTG) pumps have been designed with external bearings and a timing-gear transmission, which produces double-suction, self-priming operation with no metal-to-metal contact between the pump's internal components. The Triple Screw pumps are made to handle clean lubricating fluids without solid content across a wide range of viscosities, temperatures and pressures. Both models offer optional double mechanical seals to safeguard against process-fluid discharges. The result is pumps that are safer for site personnel, the ship, tanker or barge, surrounding areas and the environment.
Conclusion
The operational success of supertankers and product tankers can only be assured if the pumps that are used to load and unload their high volumes can be counted on to perform reliably and efficiently. The main advantages that screw pumps offer – the ability to handle a wider window of fluid viscosities at higher rates and pressures, lower energy consumption and no BEP to deal with – make them a more efficient, reliable and versatile alternative to centrifugal pumps for shipbuilders who must outfit their fleets.
About the Author
Josh Pepper is the Global Product Manager – Screw Pumps for Blackmer®, Grand Rapids, MI, USA, and can be reached at (616) 248-9235 or [email protected]. For more information on Blackmer's full line of pumps and compressors, please go to blackmer.com or call (616) 241-1611.
The opinions expressed herein are the author's and not necessarily those of The Maritime Executive.