U.S. Coast Guard Prints Spare Parts at Sea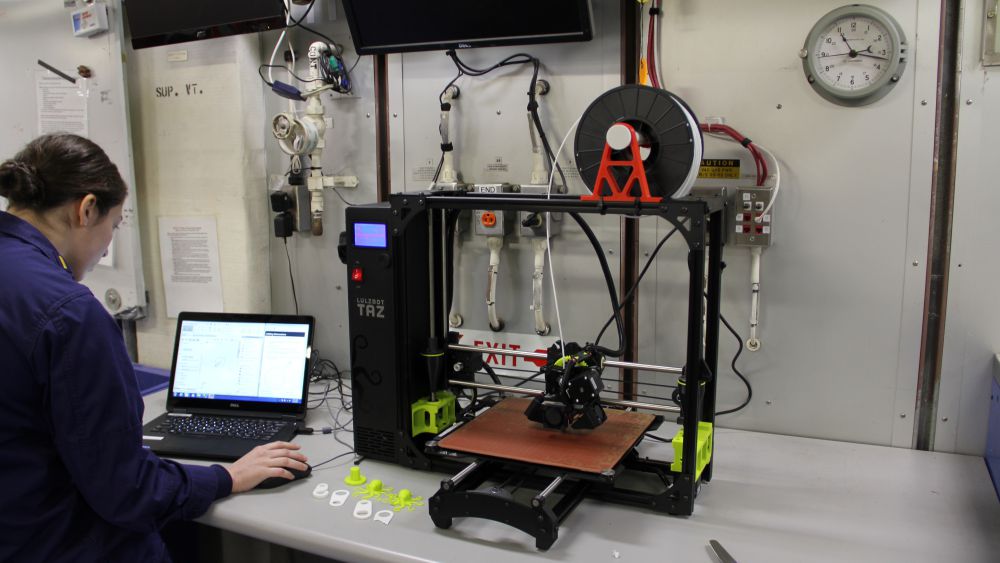 [By Loretta Haring]
For the average person, tracking down a spare part is merely an annoyance. But for the crew of a Coast Guard cutter, the availability of spare parts can be important to mission completion or can greatly affect their work environment.
The Coast Guard Research and Development Center in New London, Connecticut, is currently studying how the use of 3-D printing technology might improve mission readiness through logistical support. Now in the evaluation phase, 3-D printers are available for crew use on five Coast Guard cutters as well as at several operational shore units, including Base New Orleans and the Surface Forces Logistics Center Engineering Services Division in Baltimore. This research will help identify ways in which 3-D printing can best be implemented to provide maximum benefits to the Coast Guard.
"Additive manufacturing or 3-D printing has potential to help smooth some of the logistics issues that the Coast Guard faces with its fleet," said Jason Story, RDC project manager.
"I think the utility of the 3-D printer is the ability to print parts that are not normally kept onboard," said Capt. Joseph Dugan, who is program manager for the National Security Cutter Program. "Sometimes those parts have lead times of weeks . . . maybe months, depending on the workload of the manufacturer. Sometimes manufacturers no longer make the parts, and need to retool a production line in order to make us the part we need. This can be time-consuming, and very costly to the government."
Crewmembers on Coast Guard Cutter Spencer were able to design and print a replacement for a hard-to-get switch for an important system on the 270-foot Medium Endurance Cutter for "pennies on the dollar," Story said. Spencer was commissioned in 1986.
A replacement part for this remotely operated vehicle was printed in the Arctic aboard Coast Guard Cutter Healy in 2013. U.S. Coast Guard photo.
Operations in remote areas like the Arctic also provide logistical challenges that could be overcome with 3-D printing. Coast Guard Cutter Healy (WAGB-20) has additive manufacturing capabilities onboard, and RDC researchers including Story observed their use during the center's just completed Arctic Technology Evaluation. The Healy is a 420-foot medium icebreaker commissioned in 2000 that is homeported in Seattle and operates mostly in the Arctic and Bering seas.
"The Healy is a natural fit for 3-D printing," Story said. "Because of the geographical location in which it operates, getting spare parts can be difficult."
One of the earliest 3-D printing uses aboard a Coast Guard cutter was on Healy in 2013, when parts were needed to repair a remotely operated vehicle that was crushed in the ice. RDC researchers were able to successfully complete their project after replacement parts were printed.
On a subsequent Healy deployment in 2015, 3-D printing was used to fix the dishwasher, which broke while the icebreaker was underway.
"The crew had to eat off paper plates in the interim," Story said. "Obviously, the ship wasn't stocked for paper plates to be used during the whole deployment. A simple fix provided by a 3-D printer and an experienced operator can really help to improve morale when unexpected situations arise."
The RDC has also used 3-D printing in the execution of some of its other projects, including creating mounts for sensors for an unmanned maritime system being tested in the Arctic and for prototype maritime object tracking technology, which could be used to track items jettisoned from suspect vessels during law enforcement pursuits.
For the evaluation phase, the RDC identified recent Coast Guard Academy graduates with computer-aided design backgrounds to serve as additive manufacturing liaisons for installation and training of operators.
"By using 3-D modeling software, operators are able to develop their own parts and print them as they are needed," said Story.
For this initial evaluation of the technology, the RDC is focusing mainly on printers that are sized for a desktop and the use of polymers as the material. The polymers are wound on spools, "so the material is easy to store and transport," explained Story.
This prototype pump bracket for the H-65 medium range surveillance helicopter was printed by the U.S. Navy in collaboration with the Aviation Logistics Center in Elizabeth City, N.C. U.S. Coast Guard photo by Bill Bryan.
Future efforts will focus on more robust materials including metals. The Aviation Logistics Center in Elizabeth City, North Carolina, has partnered with the Navy in a metal manufacturing application, in which the ALC designed the parts and the Navy printed them in metal. The results are still being tested in this application, Story said.
The next step in the project will be development of a "roadmap for wider integration of additive manufacturing into Coast Guard operations," continued Story. "Quality control and establishing guidelines on what parts are good candidates for additive manufacturing are key."
Loretta Haring works for the Coast Guard Office of Strategic Planning and Communication, Acquisition Directorate.
This article appears courtesy of Coast Guard Compass and has been edited for length. It may be found in its original form here.
The opinions expressed herein are the author's and not necessarily those of The Maritime Executive.