U.S. Navy Recognizes Amphib Crewmember for Off-Duty Heroism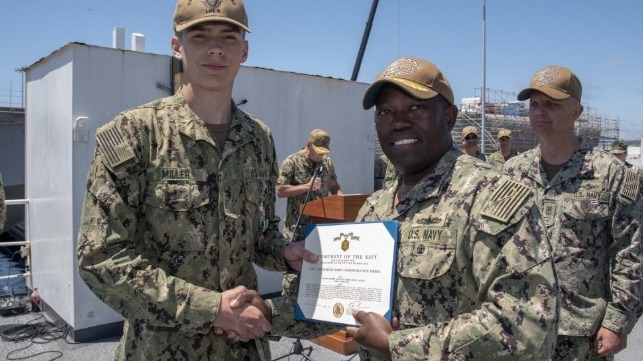 Rear Adm. Cedric Pringle, commander of Expeditionary Strike Group 3, has awarded Religious Programs Specialist Seaman David Miller the Navy and Marine Corps Commendation Medal for his heroic actions during an active shooter incident.
Miller, a member of the crew of the amphib USS Bonhomme Richard, was attending a church service Easter Sunday at Mt. Everest Academy in San Diego. During the service, a woman went up on stage, holding a gun in one hand and a young child in another. Miller, along with a few other men, was able to tackle and disarm the woman, and take the child to safety.
"I'm glad I was able to do something," Miller said. "It was just lucky that everything ended up orchestrated the way it did."
"It is rare that I have an opportunity to award an act of heroism like this," said Pringle. "Happening only hours after the recent attack in Sri Lanka, the world took notice of this event and of Seaman Miller's bravery. His act of faith, in spite of fear, has made a global impact and is a shining example of our Navy's commitment to protect and defend."
Miller said it was by chance that he ended up at the church that day. It was only a few minutes after he arrived when the incident took place.
"I originally wasn't planning on going to the service," Miller said. "I thought I would be volunteering all day but I had to leave early and I had the opportunity to go to church. It was a matter of two minutes. Had I gotten there any later then it would have already happened."
"What RPSN Miller did was truly heroic," Capt. Rich LeBron, Bonhomme Richard's commanding officer, said. "This is a prime example of what I always work to instill in my team, being 'Ready Now! Ready Always!' It's what I expect from all my Sailors. We are extremely proud of RPSN Miller and glad to see him recognized for his tremendous actions."
Miller said he is grateful to have received the commendation medal and credits his actions and mindset to his Navy training.
"The attitude that has been instilled since boot camp is that we need to be prepared for whatever happens," he said. "We are serving the country whether we are on liberty, or we are on the ship, or we are deployed, and this is our job. That idea has been instilled since day one, Capt. LeBron always tells the crew, 'Ready Now! Ready Always!' and I think that mindset was a big influence on what I did."
This article appears courtesy of U.S. Navy News and may be found in its original form here.
The opinions expressed herein are the author's and not necessarily those of The Maritime Executive.