The Most Environmentally Friendly Icebreaker Ever Built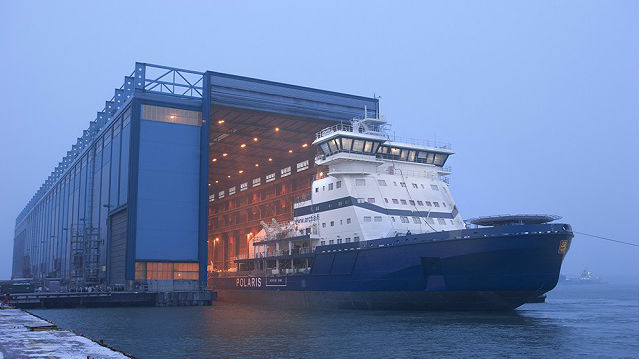 Ice is extremely dangerous to ships. In northern climates, especially in the Baltic and North Seas, history is replete with accidents and even total loss incidents due to ice.
Ice hazards can take many forms, from ships hitting ice to ice hitting ships (i.e. due to waves driving ice into the hulls). At other times, ships can become trapped in ice fields and become subject to friction and pressure from ever increasing ice loads which will challenge the endurance of even the toughest-built hulls. In extreme situations of this kind, even icebreakers can be brought to a stand-still.
Finland's state-owned icebreaking company, Arctia, must contend with demanding and challenging conditions like this. Will Arctia's new icebreaker, the Polaris, be the next generation icebreaker that commercial navigation needs in the Baltic Sea to ensure that the shipping lanes are free?
I was given a thorough look at Polaris' capabilities at the CIMAC World Congress on June 6, 2016, in Helsinki. Arctech Helsinki Shipyard, Arctia, the Finnish Transport Agency, ILS, Lamor and the Finnish Marine Industries are working together to build the icebreaker which is fitted with the latest technology and which will offer performance superior to existing Urho-class icebreakers.
One of the most important features of the Polaris is the use of dual-fuel engines. Deploying an LNG engine in an icebreaker of this kind is a world first, and through the use of LNG fuel, the Polaris is claimed to be the most environmentally friendly icebreaker ever built. The dual fuel setup is intended to reduce both fuel costs and minimize exhaust emissions.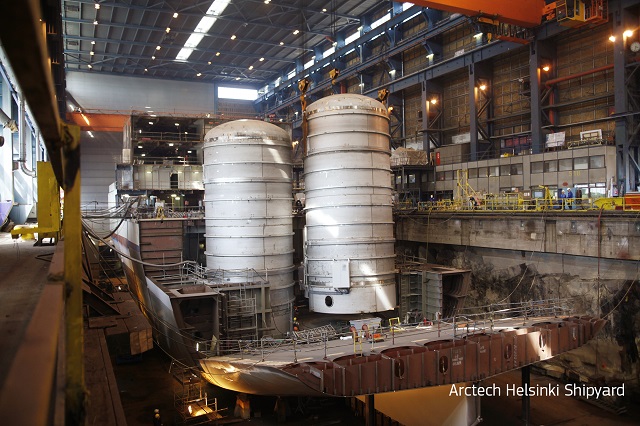 In total, the Polaris' two vertical LNG fuel tanks take up 800 cubic meters of space and offer fuel for 10 days of operation. Polaris also carries enough low sulfur diesel fuel to operate for a further 20 days.
It is not critical for the icebreaker to maximize its cargo capacity, as it would be in a commercial liner vessel where any carrying space surrendered to cumbersome LNG fuel tanks, potentially leading to a lower profit margin. Specialist vessels like icebreakers are thus a potential growth market for this technology.
Polaris has an innovative, nontraditional propulsion layout, with two thrusters in the stern (6.5. MW) and one in the bow (6 MW). These thrusters are all Azipod units, meaning that they are multidirectional. The use of podded propulsors, and the concomitant greater maneuverability of the ship, poses design challenges in the intended ice-heavy environment, since some areas of the hull could thus be subject to powerful, uneven stresses.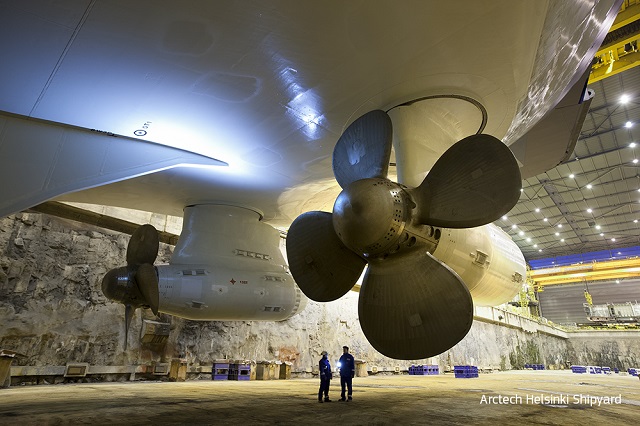 Possibly for this reason, among the criteria used to select the shipyard that would build Polaris was the requirement that the shipyard had experience in constructing an icebreaker in the past three years. Thanks to the unique problems posed by icebreaking, one would only want absolute experts in charge of the project.
Also noteworthy is Polaris' oil recovery equipment which, delivered by Lamor, includes the latest technology in winterization features: ridged storm and inflatable sweeping boom systems that enable Polaris to collect up to 200 cubic meters of oil per hour in extreme weather and ice conditions. This gives the vessel all-year utilization potential. Given its 125 million euro ($140 million) price tag, 25 million ($28 million) of which was provided by the European Union's Trans-European Transport Network (TEN-T), this all-year utilization is very smart economics and represents a prudent use of Finnish and European taxpayers' money.
VESSEL FACTS AND FIGURES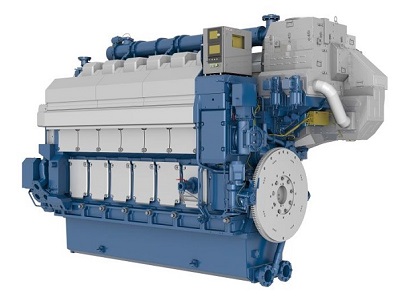 Length: 110m
Breadth: 24m
Draught: 8m
Deadweight: ca. 3000t
Installed power: 21 MW
Propulsion power: 19 MW
Speed: 16 knots
Speed in 1.2m of ice: 6 knots
Crew: 16
Range: 30 days of independent operation
Flag: Finland
Classification: Lloyd's Register
The dual-fuel engines supplied by Wärtsilä consist of one 8-cylinder Wärtsilä 20DF engine, two 9-cylinder Wärtsilä 34DF engines and two 12-cylinder Wärtsilä 34DF engines. Icebreaking capabilities were verified by Aker Arctic's model test laboratory.
Helsinki Shipyard was responsible for basic detail design, LNG system layout, sourcing of equipment and components, outfitting, commissioning, as well as testing and delivery.
The system (oil recovery) is equipped with Lamor cargo pumps that can handle very viscous products. Arctia and Lamor have joint research projects for oil recovery in Arctic waters.
The Finnish Transport Agency was responsible for providing the operating framework for winter navigation and ensuring effective year-round seaborne transport in Finland.
The technical specifications and innovations for Polaris are based on requirements for year-round seaborne transport assessed by the Finnish Transport Agency.
Expertise of the Finnish maritime cluster was fully utilized in the planning and building process of Polaris under supervision of Finnish Transport Agency.
ILS participated in the conceptual design of Polaris and carried out the steel construction, special outfitting, oil recovery, interior and deck outfitting designs and specifications.
Open water model tests were carried out at VTT Technical Research Centre of Finland.
The opinions expressed herein are the author's and not necessarily those of The Maritime Executive.