With the shipping industry in the throes of some of the biggest changes it has ever seen, the profession of crewing is also changing. Driven by the pressure to cut operational costs, there is a tendency to treat crew almost as a commodity, rather than the backbone of the industry, as they have always been, and as they should remain.
For Ardmore Shipping, our crew remain pivotal to our commercial and operational success. Seafarers are the front line in the service that any shipping company delivers for its customers, and they are ambassadors for the ship owners that they sail for. Ardmore's seafarers are the custodians of our reputation and an embodiment of our values, our attitude and ethos in everything that we set out to achieve as a high-quality shipping company.
Vessels are becoming more technologically advanced than ever before, and this is having a massive impact on the seafaring profession, in both positive and negative ways. At its best, technology can empower seafarers to take greater responsibility for the performance of their vessel to deliver a safe, efficient voyage.
However, when combined with new layers of regulation, it has also increased the administrative burden on seafarers. Too many onboard processes have now become tick box exercises, which is to the detriment of the profession. Seafarers should be leaders, thinkers and doers in that order, empowered to use their initiative to make the best operational decisions.
While we expect the highest standards from our crew, in return we provide very high standards of living and working conditions on board. Many elements of crew welfare are now mandated, which is a welcome step forward, even if this sets minimum standards, rather than the standards that seafarers deserve. Regulations such as the Maritime Labour Convention (MLC) are there to protect seafarers against the very worst conditions, and although this is welcome, it is a shame that we need to legislate for the lowest acceptable standards in the first place.
For Ardmore – and any smart, reputable shipping company – it is not about doing the bare minimum, but treating seafarers with the upmost respect. The better the working conditions and the more professionally-rewarding the experience, the better the company performs. We see a definite correlation between crew welfare and commercial results. Against the backdrop of a tough economic climate, Ardmore has delivered impressive growth and a very strong commercial performance. We place a large amount of the credit for that success with our seafarers.
When it comes to welfare on board, the little things can make a big difference. For example, unless you specify the standards you expect for the supply of bed linen and towels, the quality is likely to be low. For us, these are the details that are really important, so we make sure that all crew have good quality towels and bed linen.
From gym through to music equipment, we take a keen interest in making sure that these facilities are kept to the highest standard. Through regular vessel checks, we ensure that these high standards are maintained and are fit for use for all on board. The food on board Ardmore vessels is always of a high standard, and we ensure that we cater for all nationalities, religions and dietary requirements.
Internet on board has become a key requirement for the new generation of seafarers, so naturally, we meet this need. However, balanced against this is our desire to do what we can to encourage a team atmosphere on board, with plenty of social interaction between crewmates.
We make no apology for the time and resource that we put into looking after our crew. Today, Ardmore has a 27-strong fleet, and as we continue to grow, we understand that it will become harder to maintain a personal, hands-on relationship with all our ships and sea staff. However, as we celebrate IMO Day of the Seafarer and say, "thank you" to all of our seafarers around the world, our commitment to supporting our seafarers and upholding high standards of crew welfare is something that will always reside at the heart of Ardmore's values.
Mark Cameron is Executive Vice President and COO of Ardmore Shipping.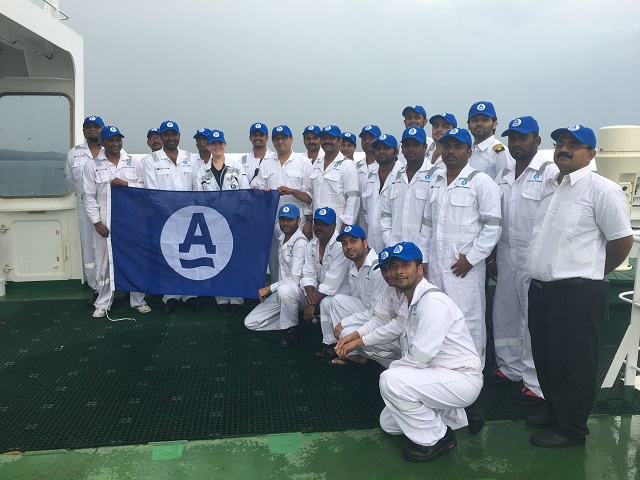 The opinions expressed herein are the author's and not necessarily those of The Maritime Executive.