Seafarers Centers Affected by Unprecedented Storms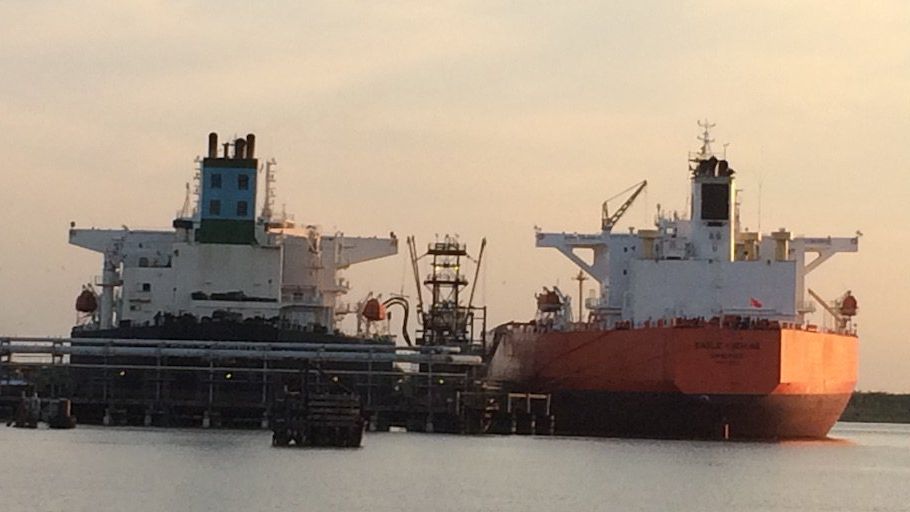 In the aftermath of Hurricane Harvey, seafarers' welfare providers along the Gulf Coast have begun recovering and moving toward normal operations. The Florida coast, on the other hand, continues to prepare for what still appears to be a storm of historic proportions.
Sharon Emerson, whose center at Corpus Christ was covered in the Caller-Times, reported no major damage and that only the center's perishable food had been lost. Doreen Badeaux, Secretary General of the Apostleship of the Sea-USA, compiled a newsletter to update the seafarers' welfare community on the status of many Gulf centers. The AOS center in Port Isabel, Texas reported no damage, as Harvey missed it entirely. The Houston International Seafarers' Center suffered minimal damage, although some of the leadership there and in Galveston experienced moderate flooding in their homes. The Seafarers' Center in Galveston took on about fourteen inches of water, with ten standing for sometime; most of the center's furniture was destroyed and the water necessitated removing drywall and wooden fixtures throughout the building. The Port Arthur International Seafarers' Center took no damage, but some staff and leadership suffered major flooding in their homes. In a change from regular operations, the Port Arthur center is now assisting its own staff and volunteers impacted by Harvey. Finally, the AoS center in Lake Charles, Louisiana suffered no damage, as did the headquarters of AOS-USA in Port Arthur.
Yet the absence of catastrophic physical damage does not mean the centers aren't facing setbacks. Many staff and volunteers were rattled by the experience, and voluntary contributions that help support each center will almost certainly by minimal in the coming weeks. In Beaumont, for example, sharply reduced ship traffic means very little by way of donations, and the annual fundraising gala will now be postponed. Individual supporters will now be giving much of their money to hurricane relief in general (and rightly so); corporate and other sponsors who have their own financial difficulties will be unable to sustain previous levels of giving for some time.
Natalie Clark, Director of the Galveston center, said they opened to seafarers last Saturday with limited services. "It's not as comfortable here," she said, because things like couches and chairs had to be tossed out from sitting partially or mostly underwater. But it was important that the center be open: four cruises came into the port after getting the all-clear, and those crews needed somewhere to go. Those mariners could still use the center's facilities to call or Skype home and tend to other personal matters.
On the other side of the Gulf, seafarers' centers in Florida are preparing for the worst as they await the storm. Lesley Warrick, Executive Director of Seafarers' House at Port Everglades, said her team had secured the campus and had done everything possible to minimize potential losses. Port Everglades is presently at Port Condition YANKEE. It will transition to Port Condition ZULU at 8 PM EDT Friday, meaning that only Coast Guard-authorized operations may take place. Center staff will be unable to determine damages until the Captain of the Port reopens the port to land traffic after Irma makes landfall and leaves the area. Tim Huppert of Anchor House, at Port Manatee on Florida's Gulf Coast, reported that his staff had sandbagged their center but that the evacuation process was not as urgent in the surrounding area. Traffic to the center has been understandably light, however, as "ships have all been sent out to anchorage," he said. Nearby Tampa is currently at Port Condition X-RAY. As the rest of Florida prepares for Irma to make landfall, seafarers' centers are preparing to resume operations as soon as safely possible and are eager to serve especially those mariners currently at anchorage whose voyages have been interrupted and extended.
Dr. Michael Skaggs is the Director of Programs for the North American Maritime Ministry Association. The North American Maritime Ministry Association counts as members many of the seafarers' centers in Irma's projected path and is monitoring their status closely.
To learn how you can help seafarers' centers damaged by Hurricane Irma, visit http://facebook.com/maritimeministry or www.namma.org.
The opinions expressed herein are the author's and not necessarily those of The Maritime Executive.