Op-Ed: Time for Australia to Commit to South China Sea Patrols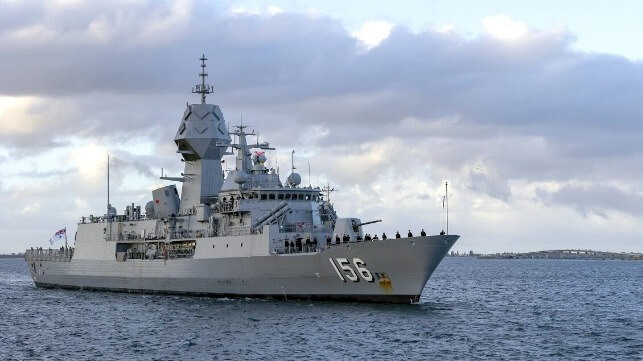 [By Jennifer Parker]
Enrique Manalo, Philippines Foreign Affairs Secretary, made his feelings clear. "During our discussions," he declared on Tuesday, standing alongside his Australian counterpart Penny Wong during a visit to Adelaide, "I emphasized that the West Philippines Sea, South China Sea remains of foremost regional concern".
"As maritime nations," Manalo went on to say, "the Philippines and Australia share a commitment to preserving freedom of navigation and overflight and upholding the rule of law in our common waters".
It was a reminder, if one was needed, about the ongoing danger from China's aggressive behavior in these crucial waters.
And perhaps it was also a subtle signal that Australia needs to quickly operationalize its commitment to joint patrols with the Philippines, despite the effect that might have on its improving relationship with China.
In August, footage emerged of a Chinese Coast Guard (CCG) vessel blasting a Philippines vessel with a water cannon as it attempted to resupply troops stationed aboard the grounded BRP Sierra Madre on Second Thomas Shoal.
Shortly afterwards, Australian Defence Minister Richard Marles visited the Philippines and announced that Australia was "recommitted to planning bilateral joint patrols". Prime Minister Anthony Albanese reinforced this pledge to the Philippines in September when the two nations signed a strategic partnership.
But this week, Wong would not be drawn on the timing, only that "the intention remains, as the leaders announced, for a joint sail in the West Philippines [Sea], in an appropriate maritime location as yet to be announced."
However, since August, tensions between the Philippines and China have continued to increase. The Philippines recently removed a barrier installed by the CCG around Scarborough Shoal, which lies within the Philippines exclusive economic zone, and this month China further attempted to interfere with the Sierra Madre resupply mission.
For Australia, delays in following through on its undertaking for joint patrols could impact on its regional credibility.
Clearly aimed at deterring China's aggression, the choice of the term "joint patrol" is significant in its symbolism. At its heart, a joint patrol is simply two countries agreeing to sail their ships together through an agreed location for a defined period, arguably with a degree of joint operational planning underpinning the arrangement. The terminology was clearly chosen in the context of the Australia–Philippines relationship to signal an operational element to the engagement beyond simple maritime exercises. It is in the operational nature of a "joint patrol" that the announcement conveys the strength of the two countries' commitment.
But the operational aspect also has complexities for Australia. The security threat such patrols would be designed to combat is aggressive activity by China's CCG and what has been dubbed its maritime militia. To be effective, these patrols would need to take place in contested areas subject to the recent tensions. If they are not undertaken in a contested area of significance then the pledge of joint patrols, and the operational support that is perceived to underpin them, will likely do little to influence China's activities in the area.
Areas in which Australia and the Philippines could undertake such patrols to achieve maximum effect include Reed Bank, which has promising energy fields, and Second Thomas Shoal, the site of the Sierra Madre, a Second World War-era vessel in poor condition that is likely to break apart. Both were subject to the 2016 Arbitral tribunal ruling that Reed Bank "is an entirely submerged formation that cannot give rise to maritime entitlements" and that Second Thomas Shoal is a "low-tide elevation and as such generate[s] no entitlement to maritime zones". The significance being that they constitute part of the Philippines' exclusive economic zone, denying any legal claim to these features by China.
Manalo also made the point following his talks with Wong "to thank Australia for its continuing support for the 2016 arbitral award on the South China Sea."
In recent weeks, HMAS Hobart and Toowoomba deployed for three months to South-East and North-East Asia on a "regional presence deployment". The two-ship task group is soon to be joined by HMAS Stuart. Although the Department of Defence website does not list the Philippines among the countries this task group will operate with, the vessels' planned proximity to the contested areas begs the question of whether this presents an opportunity to act on Australia's commitment to joint patrols.
Obviously conducting joint patrols with the Philippines presents a difficult policy decision for Australia as it seeks to smooth ties with China in the lead-up to a potential visit to Beijing by Anthony Albanese. But if Australia does not act on its promise in a meaningful timeframe, the credibility of its pledges of support to regional partners will be undermined.
Jennifer Parker is a senior adviser at the ANU's National Security College and an adjunct fellow in naval studies with the University of New South Wales. She's a reserve naval officer, with significant operational experience and a background in maritime law.
This article appears courtesy of The Lowy Interpreter and may be found in its original form here.
The opinions expressed herein are the author's and not necessarily those of The Maritime Executive.