New Jersey Versus Nova Scotia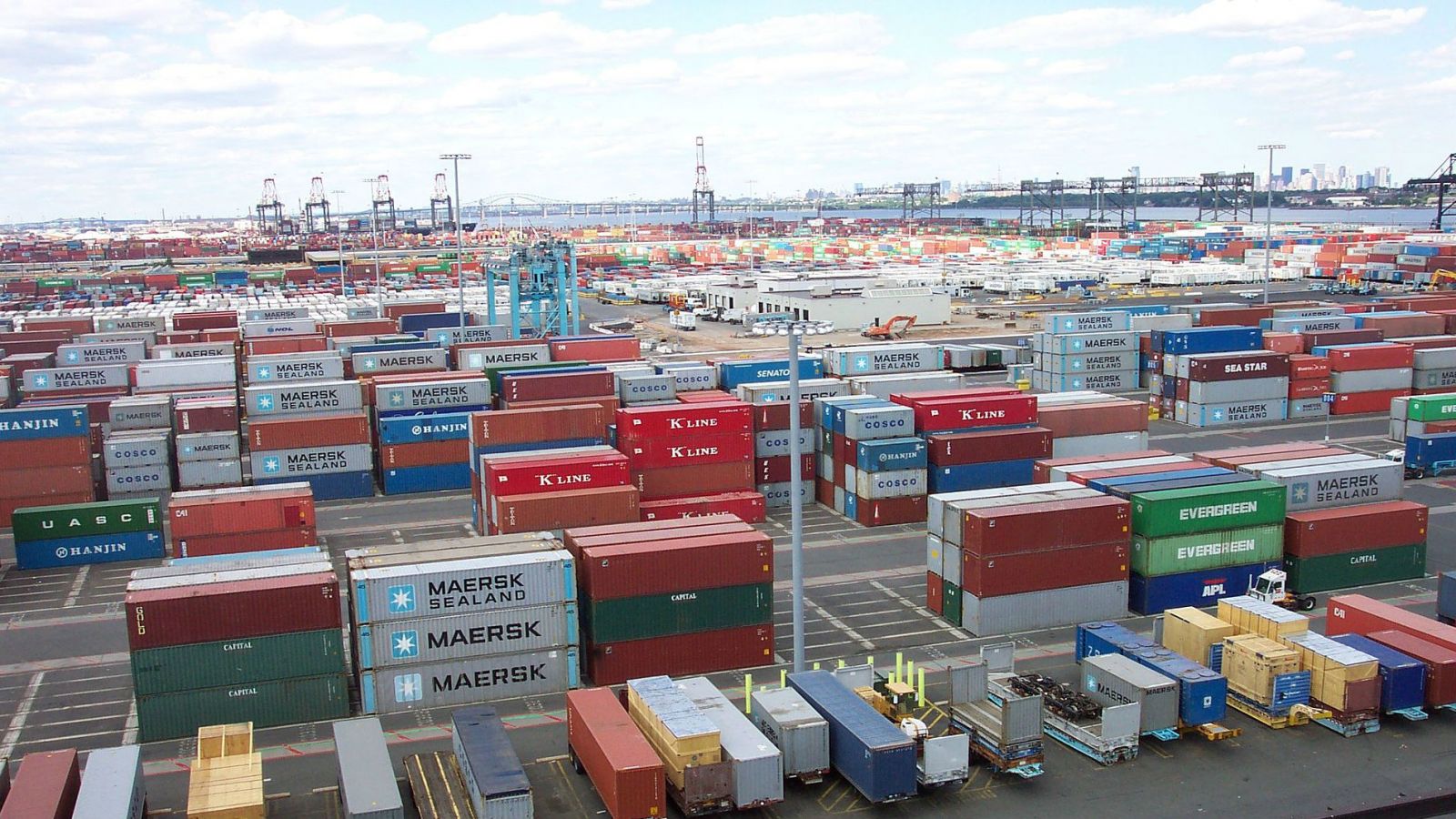 The size of the population that lives within 100 miles of Port of Newark and is connected to the port via direct highway access and direct railway lines, justifies sailing 18,000-TEU container ships into that port. Eastern Nova Scotia's planned transshipment port will be a viable alternate port, but competition could be limited as the ports may be observing very different business models.
Newark's Intermodal Connections
The Port of Newark, New Jersey, is the busiest container port on the east coast and offers excellent maritime-surface intermodal connections, with Interstate Highway 95 and major railway lines located to the immediate west of the port. Trains and trucks laden with container leave the port and go directly on to the main railway lines and main highways.
A population of some 30 million people lives within a 100-mile radius of Newark, with direct railway lines extending to cities such as Chicago (9.6 million), Detroit (four million), Philadelphia (six million), Cleveland – Akron (3.5 million), Boston (4.6 million), Pittsburgh (2.3 million) and southern Ontario in Canada (seven million including Toronto area).
The sheer size of the population (over 46 million) that is connected to Port of Newark requires the port to focus on efficient transfers of containers between mega-ships and the combination of railways and trucks. Only a small percentage of containers will be placed on barges for transfer to New York City.
The regional population provides a size of market that justifies sailing the 18,000-TEU ships between major a European port and Newark, as well as between any of several Asian ports and Newark. Space limitations around Port of Newark combined with sheer traffic volume minimizes prospects for ship-to-ship container transshipment.
Modifications made to Port of Newark include dredging the seafloor to just over 15.2 meters and raising the Bayonne Bridge to 65.5 meters above high tide, paving the way for 18,000 TEU container ships.
The container ship that will soon sail into Port of Newark would carry over four times the number of containers as ships that sail between Europe and Port of Montreal. Even after 44-meter beam ships built to Panamax length and draft enter trans-Atlantic service between Europe and Montreal, the ships that sail the Europe – Newark service will still carry over three times the number of containers and at much lower transportation costs per container. There is almost identical railway distance from either Montreal or Newark to Canada's most heavily populated region around Toronto, making container shipment via Newark especially attractive.
Nova Scotia's Ship-to-Ship Focus
Plans are underway at Nova Scotia in Eastern Canada to develop ship-to-ship transshipment terminals for mega-size container ships to transfer containers to coastal vessels, railways and trucks. The sheer volume of container traffic that will transfer from ship to trucks and trains at Newark is likely to provide minimal competition for ship-to-ship transshipment at Nova Scotia.
An earlier cost analysis revealed that railway transportation is costlier for Nova Scotia on a per container basis compared to maritime transportation covering three to five times the distance. For low-priority containers, coastal maritime incurring lower per-container cost offers Nova Scotia transshipment terminal a potential market.
The direct maritime distance between the Nova Scotia super port and Boston is shorter that the meandering, speed restricted railway line. Between Eastern Nova Scotia and Montreal, railway distance and maritime distance are practically identical. After 14 days voyage from India to Nova Scotia, the railway connection to Montreal will provide container arrival with 16 days after leaving India while coastal maritime could offer arrival time within 17 to 18 days after leaving India, at considerable savings in per container transportation cost.
The Competition for Toronto and Chicago
The railway distance between Newark and Toronto (520 miles) is one third the maritime distance between Eastern Nova Scotia and Toronto (1,600 miles), while the railway distance between Newark and Chicago (850 miles) is one third the maritime distance between Eastern Nova Scotia and Chicago (2,600 miles).
During the Seaway shipping season, low priority containers destined for Toronto, Cleveland/Akron and Chicago could be transferred at Eastern Nova Scotia from oceanic mega-ships to Seaway-max ships. Extending the length of Seaway navigation locks could transit longer, two-section ships between Montreal and Lake Ontario, except that there is no political interest in developing such an option.
Rail Versus Maritime
The recent enlarging of the Panama Canal to transit larger ships that sail between Asia and the American east coast is the result of maritime versus railway competition. A container carried from Asia to a western American port and then by rail to east coast America will arrive three to four days ahead of another container being carried from Asia by ship via the Panama Canal and to the same east coast port. The all maritime journey incurs a lower per container transportation cost compared to the high cost of trans-America railway transportation.
The fact that neo-Panamax ships carrying 13,000 TEUs are sailing from Asia to east coast American ports via the Panama Canal provides the precedent that a segment of the market is willing to wait a few days for container delivery in exchange for savings in transportation costs. To transit the canal, the Panamanian government charges a $1 million fee for a ship carrying 10,000 containers. The development of container-on-barge transportation on the Mississippi and Ohio Rivers between New Orleans and Chicago, also to Toledo presents possible competition to carrying containers along the St Lawrence Seaway.
Peak Seasonal Container Traffic
The North American retail trade accounts for sizeable percentage of container traffic arriving at is seaports. During the latter months of each year, that trade reaches an annual pre-Christmas peak and occurs prior to annual winter closing of the St Lawrence Seaway. Ships sailing from Asian ports located west of Hong Kong to the North American east coast will sail a shorter distance via the Suez Canal than via the Panama Canal. Along with retail related container traffic from Europe, there would be substantial low-priority container traffic that could transfer to Seaway ships at Eastern Nova Scotia.
The railways will seek to carry a steady volume of container traffic throughout the year, between eastern seaports and major inland destinations. That steady volume of traffic coincides with the annual winter minimum of container traffic that occurs during the annual closure of the Seaway. The impending arrival of mega-size container ships at Port of Newark and Nova Scotia super port provides possible opportunity for local ship transportation companies that operate along the St Lawrence Seaway, to develop plans to carry interlined containers from Nova Scotia to destinations located upriver of Montreal.
Conclusions
The size of the population that lives within 100 miles of Port of Newark and is connected to the port via direct highway access and direct railway lines, justifies sailing 18,000-TEU container ships into that port. For most ships, the entire load of containers could be transferred to trains and trucks, with a small number of containers placed on barges sailing across the river to New York City.
In contrast, container ships of 18,000-TEU and larger vessels arriving at Nova Scotia transshipment port would see most of their containers transferred to coastal ships that would sail to smaller east coast American ports as well as inland ports located along the St Lawrence River and Seaway. The ship-to-ship connection would offer competitive per container transportation costs to ports close the destination, with trucks carrying the containers over "the last mile."
There are precedents that suggest a segment of the market is willing to wait a few extra days for delivery to save transportation costs. That segment of the market would likely be sufficiently large to sustain viable transshipment operations in Eastern Nova Scotia.
The opinions expressed herein are the author's and not necessarily those of The Maritime Executive.