Island Bases vs. Aircraft Carriers: Choices for the Indian Navy
[By David Brewster]
Many analysts are skeptical about the vulnerability and cost of large aircraft carriers (and the opportunity cost of building, maintaining, and protecting them). Others argue that carriers are becoming more survivable, capable, and lethal than ever before. If the skeptics are right, what are the cheaper and less risky ways of achieving effects similar to those of aircraft carriers? One alternative is to use island bases: they may not be able to move, but they are likely to be far cheaper than aircraft carriers, and they can't sink.
The past decade has seen a renewed focus on island bases by China in the South China Sea, and also by India in the Indian Ocean. Even Australia has shown (moderate) interest in the value of islands in its plans to upgrade the airfield at Cocos Islands.
Bang for buck
This question isn't a new one. In the early 1960s, the British defense establishment debated the value of "unsinkable" island bases for the projection of land-based air power versus "moveable but sinkable" aircraft carriers in the Indian Ocean.
The Royal Air Force argued that carriers delivered only a modest "punch" for their very high price tag. It claimed that carriers had grave limitations, including that they could not operate under any major land-based air threat, and that their operational endurance would be limited without local base facilities. Much greater bang for the buck could be provided by island air bases.
The Admiralty countered that carriers provided greater flexibility, and that an island strategy would be severely damaged if Britain lost the use of island bases for political reasons.
The RAF won the debate, putting the Admiralty's proposals to build a fleet of carriers on ice. But the UK government announced the withdrawal of all British forces east of Suez before its island strategy could be implemented.

Floating status symbols
India needs to consider the same historical questions as it builds its capabilities in response to China's rise. What is the financially and militarily optimal way of countering Chinese naval power in the Indian Ocean?
The Indian Navy has operated aircraft carriers since 1961, so they form an important part of its strategic thinking. It currently operates the 45,000-tonne INS Vikramaditya (a converted Russian ship), and it is building its first indigenous carrier, the 40,000-tonne INS Vikrant, due to be completed later this year.
A third carrier, the 65,000-tonne INS Vishal, is planned for launch around 2025. This vessel would not only be very large, but it would also have all the technological bells and whistles, including the cutting-edge Electromagnetic Aircraft Launch System.
Although planning is in its early stages, it is clear that the Vishal will be extremely expensive. India is unlikely to have any change left over from the $5 billion used to build the carrier (plus costs of operation), to which the cost of aircraft and a task group of protective ships needs to be added.
For some, the Vishal is an important symbol of major power status and India's desire to stay in the race with China, whose defense budget is around four times the size of India's. China plans to build a fleet of perhaps four carrier groups to roam the Pacific and Indian oceans, and according to conventional thinking, India should follow a similar path to China, at least as best as it can.
Whether China's carrier strategy is best for it is a good question. But is this also the best path for India?
Some analysts are beginning to question whether the Vishal might be a big waste of money that could be better spent. Deferring construction of the Vishal would free up large amounts to spend elsewhere.
Unsinkable alternatives
If India is able to overcome its desire for status symbols, it has some good cost-effective alternatives to enhance its capabilities in the Indian Ocean.
Money spent in India's Andaman and Nicobar (A&N) Islands would be a particularly good investment. For decades, Indian strategists have recognized the value of these islands, the so-called "cork in the bottle" of the Malacca Strait choke point between the Pacific and Indian oceans.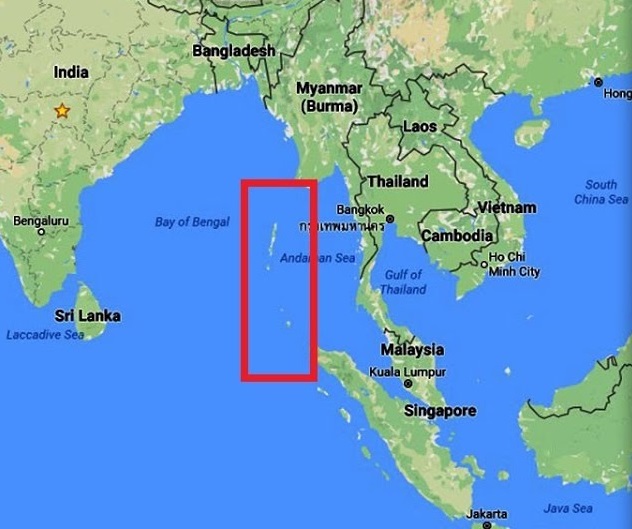 The Andaman Islands and the Strait of Malacca (file image via social media)
India is giving the Malacca Strait ever more focus as it rebalances its naval strategy from the historical posture facing westwards, towards Pakistan, to one facing eastwards, towards China.
But despite a lot of rhetoric over several decades, India's capabilities in the A&Ns remain very basic. The islands are now useful staging points for maritime surveillance, but would not be able to support sustained air or naval operations. The Indian Navy and Air Force currently keep serious assets on the Indian mainland.
Money freed up from the Vishal would buy a lot of capabilities in the A&Ns, allowing India to build or substantially upgrade existing naval and air facilities at places like Kamorta Island and Great Nicobar Island (close to Sumatra).
The enhancement of India's capabilities in the A&N islands would be a big step in realizing its desire to maintain the Bay of Bengal as a secure defensive space. The islands would also be an extremely valuable point for force projection into Southeast Asia and the South China Sea.
Deferring the Vishal and using resources in the A&N Islands (and elsewhere, such as in the Himalayas and India's Laccadive Islands in the Arabian Sea) may be sensible, if politically difficult, for a country that places a very high priority on status. But the disparity between India's and China's defense budgets creates an imperative for India to find asymmetric approaches to addressing potential military threats. India will likely get far more bang for its buck from less glorious but unsinkable facilities than from floating status symbols.
Dr. David Brewster is with the National Security College at the Australian National University, where he specializes in South Asian and Indian Ocean strategic affairs. He is also a Distinguished Research Fellow with the Australia India Institute. His previous career was as a corporate lawyer working on complex cross-border transactions and he practiced for almost two decades in the United States, England, France and Australia.
This article appears courtesy of the Lowy Interpreter and is reproduced here in an abbreviated form. It may be found in the original here.
The opinions expressed herein are the author's and not necessarily those of The Maritime Executive.