Intermodal Rails' Contribution to Port Traffic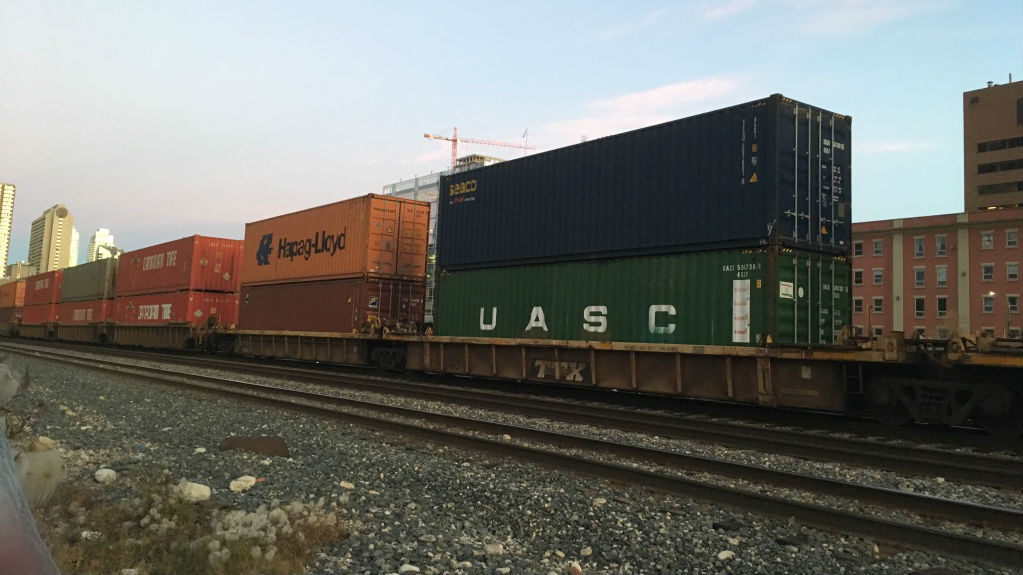 The Association of American Railroads reported that for the first 40 weeks of 2017, U.S. railroad intermodal volume increased 3.7 percent compared to last year, Canadian railroads by 11.3 percent and Mexican railways by 0.6 percent from the same point in 2016. To provide insights into some of the factors driving growth trends in intermodal traffic this article considers how intermodal rail is influencing Southern California, the Gulf Coast and the Canadian Pacific Coast markets.
Southern California Container Traffic
On October 12, 2017, the Port of Los Angeles announced that volumes were up 8.2 percent year-to-date for September, with fewer vessel calls than 2016 but with a new container-per-ship record of an average 8,679 TEUs. Taken at face value, this is positive news since 2016 saw a record-breaking 8.8 million TEUs pass through the port.
An early indication of the impact of the Panama Canal expansion on the ports of Los Angeles/ Long Beach traffic volumes can be seen in the changes in relative costs and transit times since operations began in June 2016.
Davies Transportation Consulting Inc. Principal Phil Davies' October 18, 2017, presentation to the METRANS International Urban Freight conference revealed that based on U.S. Bureau of the Census statistics, the Southern California container market share fell from 46.2 percent in the first quarter of 2016 to 44.2 percent in the first quarter of 2017, a decline of 4.2 percent. The loss of market share took place because of the significant reductions in both ocean shipping rates and bunker surcharges for East/Gulf Coast destinations.
Davies observed that historically, the competitive position of the U.S. Pacific Coast ports had been eroded by increasing intermodal rail rates. However, this does not appear to have been a significant problem since 2012, and rail rates have moderated since 2015. Davies notes, "I think it's due to lower fuel surcharge revenues because of low diesel prices. Net rates have continued to climb, and the decline is due to lower fuel surcharges."
Data assembled by the Association of American Railroads indicates that Chicago (5.8 million containers and trailers) and the Los Angeles/Long Beach region (5.2 million containers and trailers) dominate intermodal traffic in the U.S. Historically, the Midwest accounts for the most substantial portion of both Interior Point Intermodal and transloaded cargo shipped from Los Angeles and Long Beach by rail.
Since the opening of the expanded Panama Canal in June 2016, the ocean freight differential between East Coast and West Coast rates has declined. To date, U.S. intermodal service has not been able to stem the loss of Southern California's container market share.
U.S. Gulf Coast
Dallas/Fort Worth, the second largest intermodal hub in the United States, is only 246 miles away from the Port of Houston. Houston is the most important port on the U.S. Gulf Coast with two container terminals. American Association of Port Authority NAFTA Region Container Traffic rankings for 2016 indicates that Houston is ranked 10th among U.S. container ports with 2.2 million TEUs.
It is the largest Gulf Coast container port, handling 68 percent of U.S. Gulf Coast container traffic in 2016. With approximately 28 million people, the state of Texas provides a ready consumer and industrial market. European/Mediterranean and South America container traffic account for the most significant shares of container traffic. The Far East and India/Middle East traffic were the next most significant markets.
The near-dock facility adjacent to the Port of Houston's Barbours Cut facility is the primary water/rail Intermodal Container Transfer Facility (ICTF) in Houston. The rail ramp consists of 42.1 acres with four working tracks, five storage tracks, and 730 wheeled container spaces. The entire premise is paved with concrete and sustains wheeled operations only.
The Port of New Orleans with a local population of 4.7 million people relies on intermodal container service to extend its market reach. The port is the 23rd ranked NAFTA container port. It is the only seaport in the U.S. to be served by all six Class-One railroads, which allows customers direct access to a 133,000 mile rail network.
While intermodal rail's contribution to traffic growth in Southern California and Houston may be muted, expectations at the Port of New Orleans are much higher.
The Port of New Orleans has an intermodal rail terminal adjacent to its Napoleon Avenue Container Terminal providing on-dock access for all rail shipments. The $25-million Mississippi River Intermodal Terminal opened in 2016. It offers a modern, efficient intermodal container transfer terminal located within the container yard, with on-dock access and improves CN's link to the terminal.
CN and the Port of New Orleans signed an MOU in 2015 that reflected the railway's continued focus on developing highly efficient Gulf of Mexico gateway for international trade. JJ Ruest, CN Executive Vice President, and Chief Marketing Officer said, "The expanded Panama Canal is expected to offer greater freight traffic opportunities to the ports of New Orleans and Mobile. Our plan to implement level-of-service agreements at these two ports and raise their involvement in rail transportation should help them take advantage of rising container trade with Asia and South America."
Intermodal rail's contribution to port traffic growth faces intense competition. With three inland ports, including the nation's third and eighth most significant inland ports, the St. Louis region holds an enviable position within that inland waterway system, strategically located in the heart of the nation at the northernmost ice-free and lock-free point on the Mississippi River.
To leverage their strategic locations, the St. Louis Regional Freightway and Port of New Orleans signed a MOU aimed at fostering economic growth in 2016. The St. Louis Regional Freightway hopes to capitalize on new container-on-barge services swiftly. The strengthened relationship fostered by the MOU should help to ensure that as growth continues at the Port of New Orleans, it triggers an increase on the inland waterways, and specifically in the St. Louis region.
Canada's Pacific Coast Ports
With a smaller local population that either California or Texas, the growth of international intermodal traffic in Canada is increasingly linked to North American economic and trade conditions. CN's Jean-Jacques Ruest, Executive Vice President, and Chief Marketing Officer commented, "the international intermodal model is different in Canada and the United States. In Canada, there is not as much transloading as Los Angeles and Long Beach for example. In fact, the Prince Rupert international intermodal model is the total reverse of southern California market. Vancouver is somewhere in between Los Angeles/Long Beach and Prince Rupert. In the Canadian port market, the cargo and container need to go inland." In turn, this creates opportunities for export cargo to flow through either the Vancouver or Prince Rupert gateways.
Keith Reardon, Vice President Intermodal for CN emphasized, "CN adopted a proactive stance to prepare for larger ships and the implications of alliances." With relatively small local populations near Canada's major ports, the depth of inland reach and service levels are vital to attracting the container shipping lines.
Remarking on the direct relationship that Canadian railways have with customers, CP's Jonathan Wahba, Vice-President Sales and Marketing, Intermodal and Grain Canadian stated, the "direct relationship that railways have with customers has resulted in service innovation. For example, in the U.S., railroads do not offer generator sets for cool cargoes, rather they offer a clip on-service."
On Canada's Pacific coast, CN is the clear international intermodal market leader. The company handles approximately 70 percent of Port of Vancouver container traffic and all of Prince Rupert's traffic. In January 2016, CN's principal container line contacts were renewed. CN also picked up Yang Ming's business from CP, following commencement of a new service for the container line at Vanterm and Centerm.
Ruest confirmed that several developments were occurring that will benefit shippers and energize future port traffic. The most significant of these are the 500,000 TEU capacity expansion of the DP World container terminal in Prince Rupert and Deltaport rail expansion. Deltaport has the largest on-dock intermodal rail yard in North America and is undergoing a redesign that will increase rail capacity to 1.9 million TEUs all within its existing footprint, according to Louanne Wong, manager, market initiatives at GCT Deltaport. Thus, CN is actively looking to sell this new 20 percent incremental capacity into the Canadian and U.S. market.
CP successfully opened a new "live" lift at Portal, North Dakota in May 2017. Portal is the border crossing for CP's intermodal traffic moving between Western Canada and the U.S. Midwest. The new service allows CP to lift single containers off trains for inspection by Canadian and U.S. authorities as opposed to having entire intermodal cars set-off, which could delay three or more containers. This investment will virtually eliminate non-targeted containers from being detained at the border crossing.
In August 2017, Canadian Pacific Railway Limited announced the launch of the most direct rail transportation service between Vancouver and Detroit, a service that extends CP's reach and increases optionality and access to critical markets for shippers. Leveraging CP's innovative live-lift operation at Portal, North Dakota to accelerate cross-border shipments, this new service can cut transit times from the West Coast to Detroit by as much as 48 hours compared with CP's nearest competitors.
CP opened a container transload facility at their Coquitlam yard in July 2017. The import boxes that are used to support Canadian Tire's import traffic are being reloaded to export pulp. Export containers are sent by rail to Deltaport eliminating the local drayage movement.
The new up-and-running Vancouver transload operation is in an optimal location adjacent to CP's main yard in Port Coquitlam. It allows CP to utilize rail for movements between terminals and ports where others must rely on trucks, reducing traffic congestion in the Vancouver area and resulting in a lower cost, environmentally friendly, strategic advantage.
"We've worked hard to reshape our footprint in the Vancouver area to improve efficiency and boost capacity for our customers," said John Brooks, CP Senior Vice-President, and Chief Marketing Officer. "And now, with our live-lift operation in Portal, we can expedite service and truly exploit the strengths of our network to provide unparalleled service and value in the Vancouver-to-Detroit lane."
Jonathan Wahba, Vice-President Sales and Marketing, Intermodal and Grain, acknowledged that CP's co-location strategy of having shippers locate distribution facilities adjacent to inland intermodal that worked well in past 20 years experienced some difficulties in the 2012 to 2016 period. CP "didn't get everything right: if CP didn't go through the changes, they would not have the cost structure to grow the business." However, he observed that the outlook for international intermodal is healthy and in fact, the "rate of growth in Canada is outpacing what is occurring in the U.S. by two to one margin." CP is laying a foundation to take advantage of the increase in international intermodal traffic driven by larger ships utilized by the new shipping alliances.
Ruest noted that with the growing number of shipping line partners now doing business with CN there is a much bigger pool of international containers. The Prince Rupert container expansion scheduled for completion in the summer of 2017 provides more incremental capacity that will benefit shippers.
Ruest also noted that with rail capacity increasing Deltaport, Vancouver, also offers the opportunity for them to market their capabilities to accommodate traffic from bigger ships, particularly if the ship is coming to Vancouver as the first port of call.
Dan Bresolin from CN noted that the domestic repositioning of containers also helps exporters. CN's repositioning program works with beneficial cargo owners. As supply chain solution, repositioning can also provide opportunities for seasonal shippers, or when other transport options are stretched. Examples of goods repositioned included the use of refrigerated containers, for foods, cheese, liquor, etc.
Reardon believes that the situation concerning container availability inland has improved over the years for exporters. Over the last seven years, the container shipping companies have moved from a port-to-port model in Canada to what CN refers to as "moving inland point intermodal." As a result, the long-festering issue of consistent empty container availability on the Canadian Prairies and British Columbia for exporters is becoming less of an issue.
Conclusion
Container shipping industry observers have focused their recent attention on the impacts of larger vessels, the opening of the expanded Panama and Suez Canals and container industry consolidation. The evolving nature of intermodal rails' contribution to ongoing port traffic provides essential insights into future port growth and shipper supply chain configurations.
To date, intermodal container service has not been able to stem the loss of Southern California's container market share but is responsible for the growth in container market share on the Pacific coast of Canada. In the U.S. Gulf Coast, the expanded Panama Canal provides opportunities for both rail-based and water-based container intermodal solutions for shippers in the mid-content.
Darryl Anderson is Managing Director of Wave Point Consulting. Anderson is a strategy, trade development, logistics and transportation consultant. His blog Shipper Matters focuses exclusively on maritime transportation and policy issues.
The opinions expressed herein are the author's and not necessarily those of The Maritime Executive.