Global Trade Routes of Ultra Large Container Vessels
As a product of the global economy and an effective tool to handle fierce market competition, more and more Ultra Large Container Vessels (ULCV) are utilized in nowadays in long-haul shipping.
According to ships' AIS navigation records, in the fourth quarter of 2018, 118 fully cellular container ships which each carrying capacity of more than 14,500 TEUs were active in the high seas.
These ULCVs made 1,818 calls connected 63 ports in 32 countries. 69 percent port pairs were the result of international sailings. Shanghai Port was top, receiving 164 port calls from ULCVs. It was followed by Ningbo-Zhoushan which had 133. Rotterdam placed third with 122.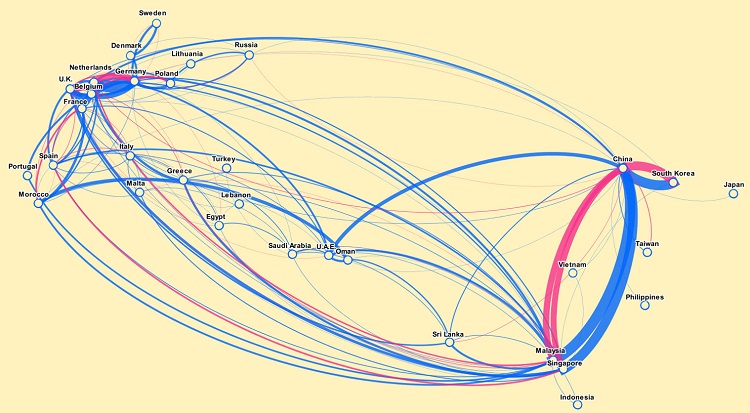 The ULCV network is plotted in the diagram above. The width of the arrows indicates the volume of callings. Country pairs with both back and forth voyages are represented in distinctive colors. Although the liners are making round-the-world looping voyages, certain pairs such as China with Singapore, Malaysia, South Korea, and the Netherlands with Germany had frequent bidirectional connections thus more exchanges.
Trade routes bridging Asia and Europe received the greatest share of these giant ships' cross continental deployments. 96 ships sailed between the two continents in the quarter, 70 ships dedicated for continental itineraries. The rest mostly included Middle East and North Africa in their journeys.
ULCVs visited 23 ports in 10 countries in Asia. Singapore stands as the hub for distributing eastern cargo to Europe. Algeciras, Southampton and Felixstowe were Singapore's principal destinations. Singapore's neighbor, the port of Tanjung Pelepas in Malaysia, received more Chinese inbound calls and some shifted to Singapore before departed Asia. Tanger Med, Sines and Rotterdam were its top three fixtures.
Conversely, Singapore conveyed inbound goods to China, mainly Hong Kong and Shanghai. Shanghai was also key for Tanjung Pelepas.
China itself, compared to the hubs, had much less direct callings to Europe. Shanghai to Rotterdam, Xingang and Shekou to Marseille were the only major contacts recorded. On the other hand, China had 30 intakes, of which Jebel Ali to Yantian and Hong Kong, Rotterdam to Shanghai each had 10.
In northeast Asia, China and South Korea had tight bilateral connections via ULCVs. Almost 93 percent of the port calls of ULCVs from Busan and Gwangyang to China fell entered Ningbo-Zhoushan. In return, the Chinese port Xingang became a nearest door to South Korea.
The U.K. and Greece topped in Singapore's exports by ULCVs. Sri Lanka, Morocco and Portugal became the most important direct doors to Malaysia. The Netherlands, Germany, Belgium, France and the U.K. also featured. Rotterdam, Hamburg, Antwerp and Bremerhaven respectively played the most important role in regional trades with ULCVs.
Ned Li is a maritime professional with over 10 years' experience. He holds a Master of Science degree in Maritime and Transport Management and is currently undertaking a Master of Technology degree in Analytics at the National University of Singapore.
The opinions expressed herein are the author's and not necessarily those of The Maritime Executive.