Global Britain: How is our Industry Part of this Bright Future?
"I will not make age an issue of this campaign. I am not going to exploit, for political purposes, my opponent's youth and inexperience."
So said Ronald Reagan during the 1984 presidential debates when asked if, at 73, he was too old to be President. We might make the following quip about our country: where once flag followed trade, trade now follows flag. This is happening as we enable a "Global Britain."
What is a Global Britain?
• one with rich opportunities with the U.S. as our "special relationship"
• a new and forthcoming special relationship with the E.U.
• an invigorated relationship with the other 52 member states of the Commonwealth and
• those of the rest of the world.
Our trade, diplomatic, defense, security and cultural relationships with them will determine (1) how successfully we can develop mutual trade and investment opportunities and (2) how successfully we can embed distinguishing U.K. values into a complex world to achieve collective and global security.
What are the values of a Global Britain?
What inspires us? How can we celebrate our country? How can we identify those values that distinguish us from others and bind around them? Well, when we do identify those values, we will ascertain what our unique offering is both in our society at home and in our endeavors abroad. This will feed into our daily lives as well as our business ones. We will establish a clear-sighted and long-term strategy for the United Kingdom. The source of U.K. strategy is a national vision. That vision generates the definition of our national mission.
How does our marine industry fit?
The U.K. maritime industry is world-leading. It is demonstrating that it has the drive and ambition to continue to be following E.U. exit through the Maritime 2050 Strategy. By working with U.K. Government, specifically with Department for Transport with the Department for International Trade and the GREAT campaign, we have a wealth of opportunities to export our goods and services, thus securing and growing our businesses, offering new employment prospects and shaping the U.K.'s marine sector as a whole.
The Government lacks bandwidth beyond E.U. exit.
E.U. exit has been fraught with uncertainty and some in our industry have been unclear as to what this means for the marine sector. Now the U.K. Government is showing that it has the energy and capacity to promote U.K. trade at home and especially abroad; we can be a part of that.
The set-piece speeches of the Prime Minister, the Foreign Secretary, the Secretaries of State for International Trade, International Development and Business, Energy & Industrial Strategy suggest otherwise. They contain the finest collective political thought that we have seen in this country for 45 years. They express this country's achievements and our possibilities well:
• the powerful "Global Britain" narrative by the PM;
• the invigorating "unflinching resolve of the British Government and people" by the Foreign Secretary;
• the enabling "prosperity-stability-security-global security continuum" of DIT's Secretary of State;
• the "diplomacy-defense-development trinity" of DFID's Secretary of State;
• how our "Industrial Strategy provides a landmark opportunity for the U.K. to make fresh choices about how its economy develops" by the Secretary of State at BEIS.
A call to export!
Exports of goods and services comprise 30 percent of our GDP – a far lower figure than average. So it may surprise you to learn (below bullet points) how high we are in global rankings and where we could be if we increased it.
U.K. Trade Summary
U.K. GDP £2,050 billion
U.K. total trade £1,272 billion = 62 percent GDP
Comprising goods £820 billion and services £452 billion
Value of U.K. exports £622 billion and U.K. imports £650 billion
Trade Deficit = 1.4 percent of GDP
U.K. outward foreign direct investment £1,212 billion (grown every year since 2007 when it was £575 billion)
U.K. inward foreign direct investment £1,199 billion
U.K. in World Rankings of Trade and Investment
• third in world ranking of global investors - U.S., Hong Kong, U.K., Japan, Germany, China, France, Netherlands, Canada, Switzerland
• fourth in world ranking of global destinations for foreign direct investment - U.S., Hong Kong, China, U.K., Singapore, Canada, Ireland, Netherlands, Switzerland, Germany
• fourth in world ranking for exports of goods and services - China, U.S., Germany, U.K., Japan, France
• fourth in world ranking for imports of goods and services - U.S., China, Germany, U.K., Japan, France
• second in world ranking for exports of services and fifth in world ranking for exports of goods
U.K.'s Top 10 Trading and Investment Partners
• Trading partners (total value of exports + imports) - U.S., Germany, Netherlands, France, Ireland, Spain, Belgium, Italy, Switzerland
• Export markets in goods and services - U.S., Germany, France, Netherlands, Ireland, Switzerland, Italy, China, Belgium, Spain
• Import markets in goods and services - Germany, U.S., Netherlands, China, France, Spain, Belgium, Italy, Ireland, Norway
• Destinations for U.K. foreign direct investment - U.S., Netherlands, Luxembourg, France, Hong Kong, Spain, Ireland, U.K. Offshore CDs and OTs, Australia, Switzerland
• Inward foreign direct investors to U.K. - U.S., Netherlands, Luxembourg, U.K. Offshore crown dependencies and overseas territories, France, Germany, Japan, Switzerland, Spain, Belgium
U.K. Top 10 Trading Partners by Trade Surplus and Trade Deficit
• Trade surpluses - U.S., Switzerland, Ireland, UAE, Australia, Saudi, Singapore, Sweden, Kazakhstan, Oman
• Trade deficits - Germany, China, Spain, Netherlands, Belgium, Norway, Poland, Italy, India, France
U.K. Trade Profile
• Top 10 export goods - mechanical machinery, cars, electrical machinery, pharmaceutical, crude oil, aircraft, manufactured, scientific, refined oils, general
• Top 10 import goods - Electrical machinery, mechanical machinery, cars, manufactured, pharma, road vehicles, clothing, refined oils, crude oil, scientific
• Top five export services - business services, financial, travel, transport, telecommunications, computers and information
• Top five import services - travel, business services, transport, telecoms, computer and information, financial
How will the Global Economic Order Change by 2050?
PWC published a report in February 2017: "The World in 2050." This brilliant report sets out our latest long-term global growth projections to 2050 for 32 of the largest economies in the world, accounting for around 85 percent of world GDP. Its key results of analysis include:
• The world economy may double in size by 2050, far outstripping population growth, due to continued technology-driven productivity improvements
• Emerging markets (E7) could grow around twice as fast as advanced economies (G7) on average
• Six of the seven largest economies in the world are projected to be emerging economies in 2050 led by China (first), India (second) and Indonesia (fourth)
• The U.S. could be in third place in the global GDP rankings while the EU27's share of world GDP could fall below 10 percent by 2050
• U.K. may be in 10th place by 2050, France may be out of the top 10 and Italy out of the top 20 as they are overtaken by faster growing emerging economies like Mexico, Turkey and Vietnam respectively
• But emerging economies need to enhance their institutions, business integrity and infrastructure significantly if they are to realize their long-term growth potential.
U.K. on top
The U.K. comes out on top of the so-called G7 club of major advanced economies in terms of projected growth rates, even though it slips a place to tenth between now and 2050 in the global league table based on purchasing power parity (PPP), which adjusts for price differences and buying power in each country.
Emerging E7 Market Dominance
PwC believes the so-called "E7" group consisting of Brazil, China, India, Indonesia, Mexico, Russia and Turkey could be double the size of the G7 club of the U.K., Canada, France, Germany, Italy, Japan and the U.S. by 2040.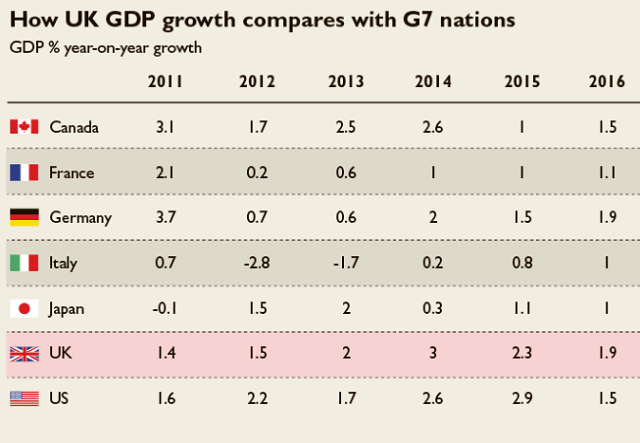 90 percent of all Future Economic Growth will occur outside the E.U.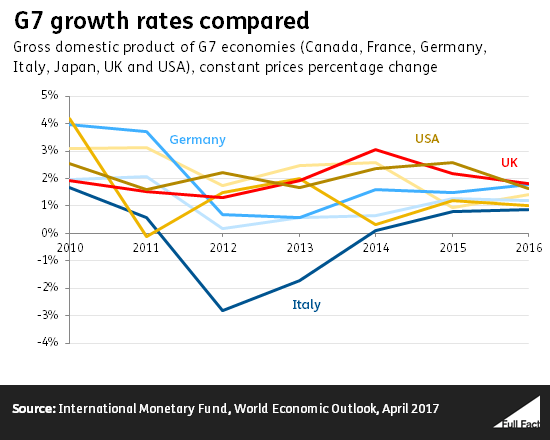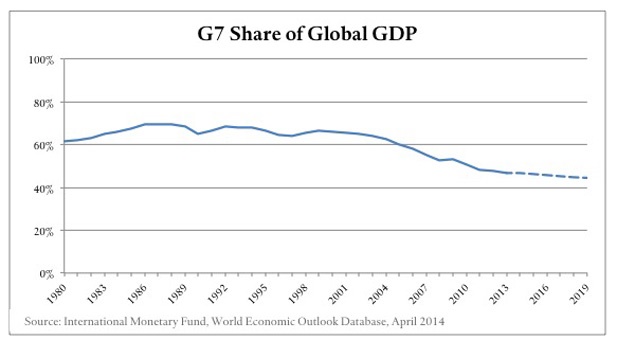 Quite a thought
"While the exact extent and timing of these shifts is subject to considerable uncertainty, the general direction of change is clear," PwC said.
In conclusion, we contend that the U.K. will become the largest economy in Europe and outstrip Germany by 2050 based on its economic independence, enhanced global economic engagement and population increase.
One method will be developing our international trade relations. As business leaders, imagine what we could do if we doubled or tripled the nine percent of U.K. companies currently exporting at all. It is time to invigorate the marine sector: to start exporting and to grow existing markets and find new ones.
Dr. Carl Stephen Patrick Hunter is CEO of Coltraco Ultrasonics.
The opinions expressed herein are the author's and not necessarily those of The Maritime Executive.