Welcome growth for Russia's inland waterway freight volumes in 2016-17 nonetheless highlights the urgent need for fleet renewal and facility upgrade in a network extending along 102,000 km.
Latest liquid cargo figures for V. F. Tanker cover the 2016 April-November navigational season, when 2.5m tons were carried via the Russian Unified Deep Water System – about 20 percent ahead of 2015. While dry bulk volumes carried by fellow UCL Holding entity Volga Shipping Company fell seven percent to 5.2 million tons, exports increased by seven percent to reach 3.5 million tons.
More recently, the Asov-Don Basin Administration reported to industry sources that the key 400 nm stretch of water carried 4.9 million tonnes of freight in the year to August 1, 2017, up four percent from 2016. North-Western Shipping Company – Russia's largest inland vessel operator – reported volumes up by five percent during the first half to reach 2.8 million tons.
Against a challenging economic backdrop, these figures are clear positives, although Russia's 130 river ports account for less than two percent of all cargo carried, despite the abundance of cargoes that lend themselves to transport by water.
In fact, the modest growth puts a strain on the vast waterway network, whose need for comprehensive fleet renewal and facility upgrade is fully recognised in the Russian government's "Strategy of Development of Inland Water Transport to 2030," published last year. The document suggests that 13,500 new vessels will be needed in the years ahead, including 490 combined river-sea vessels, and envisages construction of new locks, waterway expansion and deepening for full load clearance. Infrastructure projects include the construction of a second entrance for the Nizhne-Svirsky lock, a new lock at Bagaevsky on Don River and another for Nizhny Novgorod.
In early August, the government confirmed tangible progress, announcing final plans for the Nizhny Novgorod hydroengineering complex project, with river depth restrictions expected to be lifted by 2021.
Further evidence of the growing priority being given to inland waterway transport comes at September's NEVA 2017 in St Petersburg, where Ministry of Transport support includes a coordinating role for VA Olersky, Deputy Minister of Transport and Head of the Federal Agency of Sea and River Transport. NEVA will also stage a panel discussion to "…explore the solutions to raise investment activities in the Russian water-transport industry" on September 21 led by Gazprombank Leasing – a willing backer of barge-building projects in the past, notably the 10-vessel lease deal in 2013 funding orders for Krasnoye Sormovo Shipyard.
In the meantime, prospects for greater exploitation of the inland waterway network continue to emerge. This year, departures from Russia's Arctic port of Sabetta include 30 barges taking the 1,100 nm voyage up the Ob and Irtysh rivers, before delivery to the Sibur oil refinery in the Ural city of Tobolsk. That number compares to 11 vessel loads last year.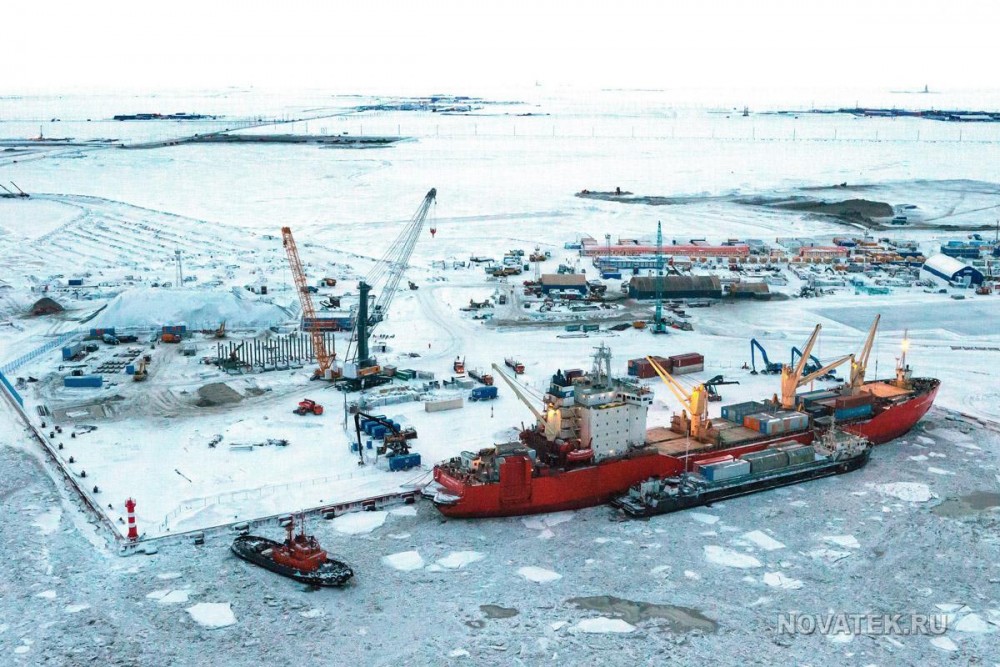 Port of Sabetta (courtesy Novatek)
Elsewhere, specialist shipping company Combi Lift recently secured a contract from Linde Group to transport 176,000 tonnes of cargo for Gazprom's massive Amur Gas Processing Plant Project in Russia's Far East between 2018-2022, including twelve 900 tonne columns. The deal triggered a 19-vessel newbuilding contract for Damen Group covering four Amur River tugs, four Zeya River shallow-draft tugs, seven barges and four side floaters.
Courtesy Damen
The opinions expressed herein are the author's and not necessarily those of The Maritime Executive.