Dyneema Slings Help Set World Lifting Record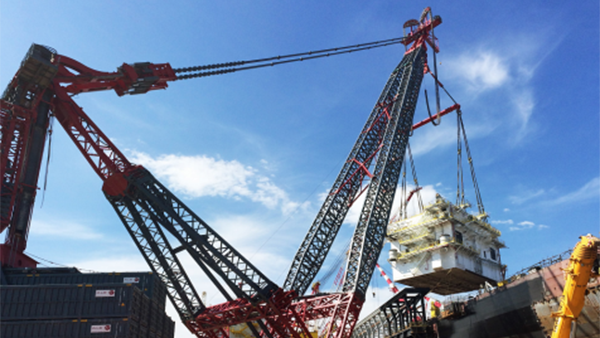 [Paid Content]
When heavy lifting specialist ALE was specifying the slings for its AL.SK350 crane, it wanted something lightweight, compact and strong. Which led the company to slings from Gleistein Ropes, made with Dyneema SK78. ALE would discover just how strong during a major FPSO topside installation project in Brazil.
The AL.SK350 is the world's largest capacity land-based mobile crane. Rigged in its current biggest configuration, the crane has a 49m ballast radius and 4,000t ballast. The main boom is a 130m long A-frame design on an 18m wide base. It has a 4,000t main winch system and 600t auxiliary quick winch system. For heavier loads up to 5,000t, a strand jack lifting system can be installed.
With its 354,000tm load moment capacity, the AL.SK350 is the largest capacity crane in the market by a significant margin. Its huge lifting capabilities enable clients to lift heavier weights than ever before, which saves on the project schedule.
Strong yet flexible slings for a compact lifting setup
A big part of this capability is due to the crane's slings. The specifications set by ALE for the textile lifting slings for the AL.SK350 were formidable: a dozen slings that would be capable of tackling some of the world's most challenging lifting operations ever.
The 12 slings the company chose were made by Gleistein Ropes using Dyneema SK78. They are strong yet flexible and allow for a compact lifting setup. In total, they weigh between 560kg and 1,030kg each, and have a breaking load of 4,500 tons (SWL: 900 tons) each. Together with the lifting gear setup, combined total weight comes to approximately 8.5 tons. This is around 57 tons less than a comparable conventional steel rope solution, which effectively increases the maximum lifting payload by the same margin.
Ability to lift more saves client time and money
The benefits of going cutting-edge became clear in early 2017 when the crane/ sling combination set a new world lifting record. At more than 3,000 metric tons, it was the heaviest commercial load ever to be lifted by a land-based mobile crane.
But the record wasn't the only benefit. The record-breaking lift was part of a four-month project to lift 40 separate modules weighing a total of over 36,000 metric tons for an FPSO (Floating Production, Storage and Offloading) vessel integration project in Brazil. Crucially, ALE's ability to install complete modules on the FPSO meant there was no need to move the ship's hull for final construction. This not only saved ALE's client money, but also a significant amount of time in the overall construction schedule.
And none of it would have been possible without Gleistein Ropes' dedication and their slings made with Dyneema SK78.
To get in touch and learn more, please click here to visit Dyneema's website.
The opinions expressed herein are the author's and not necessarily those of The Maritime Executive.