As the World Looks Elsewhere, China Stirs Trouble in the South China Sea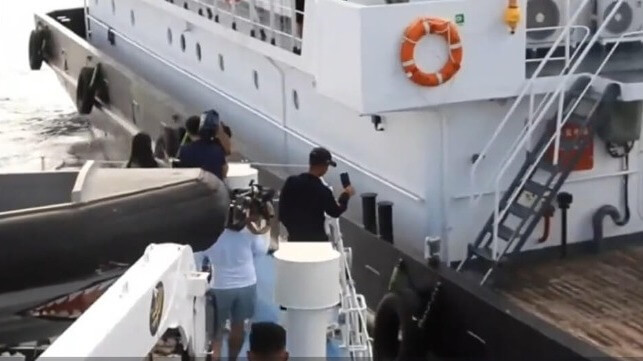 [By Peter Layton]
China is again making mischief in the South China Sea, although this time while wars rage in Gaza and the Ukraine. The precise timing of its actions in the South China Sea undoubtedly reflects China's short-term imperatives and long-term plans, but the overall trend is worrying. There may be something to US President Joe Biden's warning last week that "conflict and chaos could spread [to]…the Indo-Pacific".
China's latest actions involve two ship bumpings on the same day in the Ayungin Shoal (aka Second Thomas Shoal), and both well within the Philippines exclusive economic zone. A Chinese Coast Guard vessel nudged a tiny Philippines government-contracted resupply boat, and a Chinese armed militia vessel similarly bumped a smaller Philippines Coast Guard vessel.
This is the first time the Philippines has reported Chinese ships deliberately hitting Philippine government vessels. However, it's not unexpected.
China has been steadily escalating tensions over several months. More than 100 militia ships and numerous Chinese Coast Guard ships have been swarming around, at times almost colliding with Philippine Coast Guard ships. China's actions are now being regularly publicised by the Philippines government and the SeaLight think tank, which has monitored China's tactics.
China argues its Coast Guard and the militia are simply enforcing China's domestic laws, which the country has unilaterally decided apply to the 90 per cent of the South China Sea it claims. China's contested take-over of this expanse dwarfs Russia's attempted annexing of Ukraine at five times larger, and was rejected by the Permanent Court of Arbitration at The Hague in 2016.
The scale and ongoing nature of China's actions in the Ayungin Shoal, and across the Spratly Islands more generally, demonstrate a long-term commitment to enforcing its South China Sea ownership beliefs, to gaining of regional respect and to enhancing China's global status. Short-term issues may be reinforcing these considerations.
China wishes to be the leader of the so-called Global South, even if China does not see itself belonging to the group. The much-touted Belt and Road Initiative (BRI) forum held in Beijing last week was part of marketing that message but had mixed results. Fewer world leaders turned up than at earlier events and the $1 trillion BRI investment is now being criticised by Chinese citizens who want the money instead spent on them in this time of economic uncertainty. Numerous BRI loans also appear unsoundly based and the BRI's core focus of building big infrastructure such as ports, railways and power plants is giving way to smaller projects, green energy and digital technology.
Beyond the BRI, China seems impotent in the Ukraine and Gaza wars; it has made multiple statements related to ending the wars but which increasingly appear as simple rhetoric. Countries seeking to be leaders need to be demonstrably influential, a subtext in Biden's speech.
These converging issues raise concerns.
First, China's long-term policy of taking escalating actions looks set to accelerate. The Chinese Communist Party-controlled Global Times is already forecasting "more serious collisions". In the near term, the risk of China damaging a Philippine Coast Guard vessel or sinking one of the small Philippine government-charted vessels is high. The well-armed Chinese Coast Guard ships could also fire warning shots to further demonstrate growing resolve, with other actions plausible.
In the same vein, the China Daily is framing Philippine actions as "posing a threat to the safety of Chinese naval vessels". Weighing in, the Global Times notes "many Chinese netizens [are] angry" and thus would be supportive of sinking Philippine vessels. Quoting others, the media outlet further writes, "If the Philippines continues to provoke in this way, China's countermeasures may upgrade to a military level."
Importantly, the United States and Australia have, respectively, an alliance and close strategic relationship with the Philippines. Both governments may need to update contingency plans and adjust relevant military deployments and force readiness levels. Australia had earlier offered to patrol with Philippine ships in the South China Sea.
Second, China can escalate in other ways to prove its power to both the Global South and "Chinese netizens". For example, there are an increasing number of concerning intercepts of US, Australian and Canadian maritime patrol aircraft, including those involved in monitoring United Nations sanctions against North Korea, to which China has agreed. There may soon be more dangerous close flying, laser dazzling and chaff releases that endanger aircraft.
Third, Australia's Prime Minister Anthony Albanese and possibly Biden will soon meet Chinese President Xi Jinping. They might both give two messages, perhaps framed in an ego-stroking but reassuring manner. China does not need to engage in risky actions in the South China Sea to enhance its status or gain respect. Such actions are unnecessary and so desist. In addition, and to ensure regional peace, China really needs to work productively with others, and build robust crisis management protocols and processes.
Until Xi gives the order, his subordinates will keep stonewalling such initiatives, as has happened with the Association of Southeast Asian Nations and the Code Of Conduct. Building peace takes all sides.
Dr. Peter Layton is a Visiting Fellow at the Griffith Asia Institute, an Associate Fellow RUSI (UK) and a Fellow of the Australian Security Leaders Climate Group. A retired RAAF Group Captain, Peter has extensive experience in force structure development and taught national security strategy at the US National Defense University.
This article appears courtesy of The Interpreter and may be found in its original form here.
The opinions expressed herein are the author's and not necessarily those of The Maritime Executive.