Adapting the Viking River Cruise Vessel to North American Service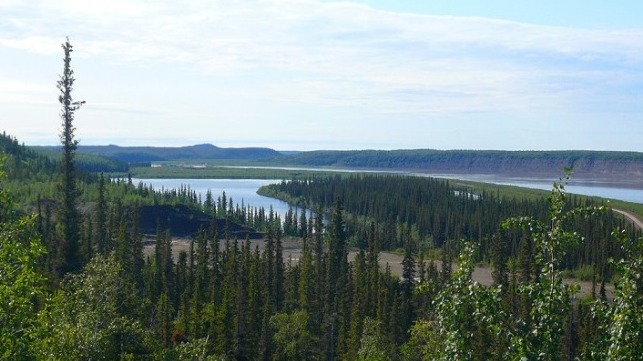 River cruises have grown in popularity amongst tourists seeking a leisurely alternative to ocean cruising. The Viking long-ship cruise vessel has been well received by the tourist market that travels along historic European waterways. While the American inland waterway cruise industry has in recent years introduced classical style cruise vessels along major inland waterways, there may be scope to adapt a version of the Viking long-ship to North American waterway tourist service.
Introduction
There was a period in North American maritime transportation history when river vessels carried passengers between towns and cities located along navigable inland waterways and especially so in the south – central U.S. While the introduction of railways certainly enticed travelers seeking faster travel, some riverboat companies continued to offer viable service between the same pairs of cities. Prior to the development of the St Lawrence Seaway and despite railway competition, river vessels sailed overnight between Toronto and Montreal carrying freight and passengers, also providing passengers with dinner and breakfast in onboard dining halls.
At the present day, diminutive cruise vessels carry tourists along smaller waterways that connect to the Seaway. Some vessels sail from New York City along the Hudson River and Erie Canal into Lake Ontario and along the St Lawrence Seaway to visit historic cities such as Montreal and Quebec City. The length of the navigation locks along the Erie Canal, Rideau Canal, Trent-Severn Waterway and Ottawa River restricts the size of tourist vessel that may sail these channels. It may be possible to lengthen the pair of navigation locks along the Ottawa River between Montreal and Ottawa.
Railway Connections
There is a very scenic navigable inland waterway located in Western Canada that could offer tourists and alternative Alaska cruise, depend on whether a tourist railway operator would be able to formulate a workable arrangement with a tour boat operator. At the present time, river barges that are slightly longer (450-feet versus 446-feet) and 30 percent wider than Viking river cruise long-ships and built to double the draft, sail along the Mackenzie River into the Beaufort Sea. The absence of navigation locks allows a pair of long-ships to be coupled into a river train.
A railway line connects the town of Hay River located on Great Slave Lake to several large cities that include Edmonton, Calgary and Vancouver that have both international airports as well as passenger railway stations. During summer, popular tourist trains operate across the Canadian Rockies. Tour organizers could evaluate combining a scenic railway excursion with a scenic river cruise to the Arctic, sailing along an inland waterway. The river cruise to the Arctic would be a seasonal operation that could operate into the early winter, perhaps attracting tourists interested in viewing the spectacular late evening Aurora Borealis.
The Arctic Cruise
The hulls of the Mackenzie River barges are built to greater width and draft than Viking long-ships, allowing them to sail into the Beaufort Sea and into a section of the Northwest Passage. This version of the Alaska Cruise could cover the same distance as the cruise that sails along the Pacific Coast between Seattle/Vancouver and Anchorage, Alaska. Both cruises would involve sailing through scenic channels.
To increase sailing speed along the Mackenzie River, the vessel could be built on parallel twin hulls to reduce the bow wave that could be redirected into the channel between the hulls. A forward paddle wheel could push a jet stream of water rearward into the channel, to reduce river bank erosion.
At a future time when Bellot Strait and Hecla and Fury Strait become ice free, an open Northwest Passage would provide access into Hudson Bay and two coastal towns, Churchill and Moosonee that have railway access. While the cruise could originate from and return to Hay River to connect to a tourist train, a trans-Arctic cruise could connect to excursion/tourist trains at Churchill or Moosonee that could carry tourists south to a city with an international airport.
St Lawrence Region
The City of Ottawa is both Canada's Capital as well as a major tourist destination, perhaps with future potential for larger waterway cruise vessels to visit the area. Canada's Parks department that oversees the Ottawa River would need to extend the length of the two navigation locks to allow a longer river cruise vessel to sail between Montreal and Ottawa. The transportation department would need to repeal the regulation that forbids river transportation of passengers between Montreal and the north side of the Ottawa River, where a terminal for a large cruise vessel would be possible.
A modified Viking river cruise vessel could sail the inland waterway connecting historic cities such as Quebec City, Montreal ad Ottawa. Extending the voyage to include Toronto would involve sailing through the Murray Canal, built especially to allow smaller vessels to bypass the rougher waters that occur in the eastern region of Lake Ontario. A voyage involving a modified Viking cruise vessel would connect to international airports as well as railway terminals at all the major Eastern Canadian cities. A low bow wave twin hull design would allow for faster sailing along the Ottawa River and other channels.
Ottawa River Locks
Historically, the Ottawa River was a commercial waterway that carried lumber and forest product from northwest of Ottawa toward Montreal. Diminutive navigation locks along the river are unlikely to encourage much commercial traffic. However, extended length navigation locks could transit longer barges or even barge trains could carry agricultural and forest bulk products as well as shipping containers to and from Montreal. The Amazon warehouse that is being built at Ottawa is within close proximity to the Ottawa River, allowing for development of a river container terminal that could have several vessel arrivals per week during peak season.
LNG Fuel
Many Arctic region communities generate electric power using diesel powered generators. However, discussions are underway to consider possible future conversion to less costly LNG fuel. There would be scope to convert the tugs that operate tug barges in the region from diesel to LNG fuel, including tugs that could navigate cruise vessels along the Mackenzie River and Northwest Passage. It may become possible to refuel future LNG powered tourist vessels at numerous locations along the route of an inland waterway cruise to and from, even across the Arctic region, where suitable dock facilities would be available for barge-size tourist vessels.
Adapting Technology
It may be technically possible to adapt the European Viking long-ship cruise vessel to operate along some North American inland waterways, possibly even into the Arctic region. There may be scope to use the existing hull of a northern barge as a basis to develop wider, deeper, slightly longer and more rugged version the Viking vessel, even operate the vessel as a barge. Between Great Slave Lake and the Beaufort Sea, there may be scope to operate a lengthwise coupled train of cruise barges, with an enclosed walk-through section at the coupling.
For southern operation along the St Lawrence Seaway and Ottawa River, the vessel would need to be built slightly narrower than the European long-ship, to transit the allowable width of the navigation locks between Montreal and Ottawa. The Canadian Parks department that has jurisdiction over the navigation locks will ultimately decide as to whether to extend the length of the pair of locks, maintaining the identical width and depth so as to maintain historical aspects on these structures. Extended length navigation locks could also attract freight transportation services if Canadian transportation officials revise regulations.
Conclusions
River cruises are gaining popularity with tourists. There is possible scope to combine railway tourism with maritime tourism and form the basis of river cruises to the Arctic and even through Arctic channels. Depending on Canadian officials, there may be future scope for a modified Viking long-ship to serve the Ottawa – Montreal – Quebec City cruise market with possible extension to include Toronto.
The opinions expressed herein are the author's and not necessarily those of The Maritime Executive.