Winners of "Better Shipping for a Better Future" Art Contest Announced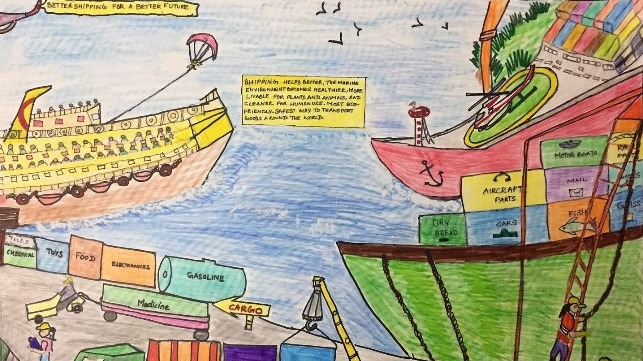 Two grand prize winners and 10 finalists have been selected from over 500 entries in the 2018 Better Shipping for a Better Future calendar art contest sponsored by the North American Marine Environment Protection Association (NAMEPA), the United States Coast Guard (USCG), and the Inter-American Committee on Ports of the Organization of American States (CIP-OAS). Each year, these organizations invite students in grades K-12 throughout the Americas to create a poster on a theme related to the marine environment. A 2019 bilingual calendar showcasing the winning entries will be printed in English and Spanish.
Students were asked to submit an original poster depicting creative and imaginative ideas about how to make shipping better for people and for the marine environment. Maritime shipping has existed for thousands of years- ever since the earliest humans took to the water to find food, building supplies, and adventure. Throughout its history, shipping has evolved into the most environmentally friendly and safest way to transport goods around the world. Today, the maritime shipping industry transports about 90% of the items people use every day. Engineers, marine biologists, environmental experts, computer programmers, and other scientists work every day to make shipping better by being cleaner, quieter, safer, and more energy efficient.
The winning artwork is featured on NAMEPA, Coast Guard, and CIP-OAS websites. Finalists will receive a certificate and a calendar with the artwork from all 12 winners. Two grand-prize winning artists (one from each of the grade brackets) will receive, in addition to the certificate and calendar, a $100 cash prize and a USCG prize package.
To view the winning Better Shipping for a Better Future artwork visit namepa.net/art-contest.
Grand Prize Winners
Grades K-5
Tarikka A. - Grade 5, Millstone River School, Plainsboro Township, New Jersey, United States
Grades 6-12
Karolina K. - Grade 12, Marine Academy of Science and Technology, Highlands, New Jersey, United States
Finalists
Grades K-5
Sofia N. - Grade 3, Art Class by Irina Martynova, Houston, Texas, United States
Neema J. – Grade 2, Bellows Spring Elementary School, Ellicott City, Maryland, United States
Hannah B. - Grade 5, Blackrock Elementary, Coventry, Rhode Island, United States
Dakota B. - Grade 5, Cedar Road Elementary, Chesapeake, Virginia, United States
Leonel L. - Grade 5, Unidad Educativa "Pedro Fermín Cevallos", Ambato, Tungurahua, Ecuador
Grades 6-12
Deyanire Sarahi I. - Grade 10, Cetmar # 13 Taller de Habilidades Artísticas, Topolobampo, Sinalo, México
Danielle N. - Grade 6, McDonogh School, Owings Mills, Maryland, United States
Kaiya J. - Grade 6, Mayfield Woods Middle School, Elkridge, Maryland, United States
Graziella C. - Grade 9, Carmel High School, Carmel, California, United States
Daniela P. - Grade 9, La Estancia School, Comayagüela, Francisco Morazán, Honduras
Honorable Mention
Arden A. - Blackrock Elementary, Coventry, Rhode Island, United States
The products and services herein described in this press release are not endorsed by The Maritime Executive.