Wärtsilä Extends Service Agreement with Winterthur Gas & Diesel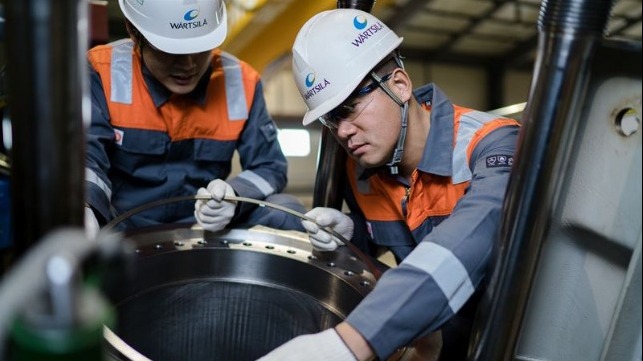 The technology group Wärtsilä has signed a 10-year service partnership agreement with the Swiss company Winterthur Gas & Diesel Ltd. (WinGD), a leading developer of two-stroke low-speed gas and diesel engines used for propulsion power in merchant shipping. The new partnership agreement appoints Wärtsilä as an authorized global service provider for all WinGD products and provides WinGD and its customers continued access to Wärtsilä's worldwide service network and comprehensive services offering. It also enhances the opportunity for Wärtsilä to provide integrated smart solutions and smart services to the merchant shipping industry.
WinGD was established in 2015 as Wärtsilä's and China State Shipbuilding Corporation's (CSSC) joint venture for research and development (R&D), design, operational and manufacturing support, and the marketing and sales of two-stroke low-speed gas and diesel engines. Wärtsilä's minority stake in the joint venture was transferred to CSSC in 2016.
Through Wärtsilä's and WinGD's service partnership agreement signed in December 2017, Wärtsilä continues to provide extensive customer support and services to the end users of WinGD's products, to WinGD as well as to its licensed engine builders. Along with the agreement, Wärtsilä Services continues to have access to WinGD's Intellectual Property Rights (IPRs) and technical specifications and is appointed as Authorized Global Service Provider for WinGD products. The agreement includes services conducted for two-stroke engines delivered under Wärtsilä, Sulzer and WinGD brands.
Wärtsilä Services supports WinGD customers with a global network of services, including availability and delivery of parts, global logistics services, remanufacturing, overhauling, repair workshops, field service engineers, and high competence for two-stroke engine maintenance and the development of beneficial upgrade solutions. The availability of Wärtsilä's skilled engineers, located in key shipping hubs across the globe, supports the safe and reliable operations of installations and fast response times.
The agreement will also make Wärtsilä's integrated lifecycle solutions available to all WinGD-powered vessels, including the development of new digital solutions for performance management, ship management, and energy efficiency optimisation.
Wärtsilä and WinGD will continue to deliver continuous product and services improvements, based on customer needs and feedback.
"The Service Agreement between Wärtsilä and WinGD is an important element in ensuring a competent service support for WinGD customers and products worldwide," says Dr Rudolf Holtbecker, Director, WinGD Operations.
"In addition to securing top-class services for WinGD and customers of WinGD, Wärtsilä and Sulzer-branded two-stroke engine products on a global level for many years to come, the agreement also supports the promotion of new digital solutions for performance management and ship management. Especially digital solutions that optimise the energy efficiency of two-stroke engines are of great interest to customers in merchant shipping," says Ole Pyndt Hansen, Director, Wärtsilä 2-Stroke Engine Services, Wärtsilä Services.
Wärtsilä Services in brief
Wärtsilä Services provides high-quality lifecycle services that enhance customers' business. Its broad range of services supports both shipping and power generation companies, whenever and wherever needed. Solutions range from spare parts and basic support to ensuring the maximised lifetime, increased efficiency and guaranteed performance of the customer's equipment or installation – in a safe, reliable, and environmentally sustainable way. https://www.wartsila.com/services/
Wärtsilä in brief
Wärtsilä is a global leader in advanced technologies and complete lifecycle solutions for the marine and energy markets. By emphasising sustainable innovation and total efficiency, Wärtsilä maximises the environmental and economic performance of the vessels and power plants of its customers. In 2016, Wärtsilä's net sales totalled EUR 4.8 billion with approximately 18,000 employees. The company has operations in over 200 locations in more than 70 countries around the world. Wärtsilä is listed on Nasdaq Helsinki. www.wartsila.com
The products and services herein described in this press release are not endorsed by The Maritime Executive.