VOS Pace Delivered to Vroon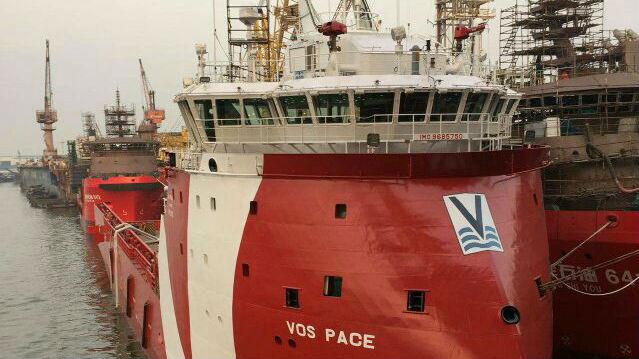 The Netherlands based shipowner Vroon Offshore Services took delivery of VOS Pace on 5 February 2015. This is the first of six PX121-type platform supply vessels, designed by Ulstein. The vessel has been constructed at Cosco Guangdong Shipyard, China.
The series of vessels will be delivered to Vroon during 2015 and 2016. According to Vroon, the vessels are destined for work in European waters.
The Ulstein PX121 design was firstly introduced to the market in 2010, when two vessels were contracted for construction at Ulstein Verft, Norway. Today, a total of 30 ships of this design have been ordered for worldwide construction.
These types of ships have a length of 83.4m, beam of 18m and a cargo deck of 850 square meters. They also feature the patented X-BOW hull line design which ensures reduced and smoother vessel movements in harsher conditions. This provides better operational and fuel-efficiency advantages to the charterer, in combination with high crew safety and comfort standards.
The hull and propulsion system are deliberately chosen to be particularly well suited for the North Sea and the North Atlantic. The tank capacities and a flexible and segregated arrangement, make these multi-functional vessels able to work on many types of supply contracts. The ships meet the requirements of Clean Design, and have treatment systems for ballast water and are prepared for ABS fire-fighting class FFV1. Beyond the usual tanks for oil, water and drilling fluids, the vessels have four stainless steel tanks for flammable liquids, such as methanol.
The products and services herein described in this press release are not endorsed by The Maritime Executive.