Survitec Wins More Contracts for Lifeboat Inspections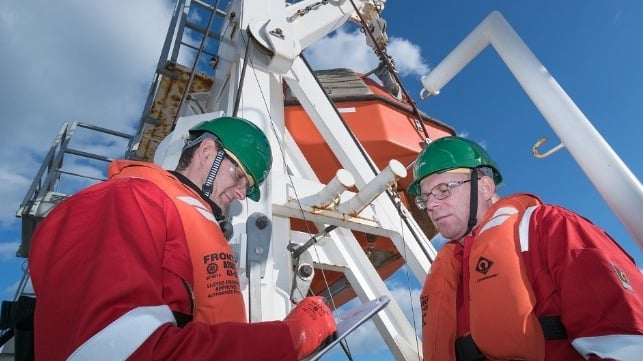 With 105 lifeboat engineers operating across 5 continents, Survitec is winning an increasing number of contracts for annual and 5-yearly inspection and maintenance services.
Since being awarded a 5-year contract by Chevron North Sea Limited to provide Lifeboat maintenance and other services for its Alba, Captain and Erskine fields, Survitec has also been busy deploying its technicians to a number of offshore, blue water and cruise fleet operators requiring re-hooking, inspection and maintenance services as far afield as Singapore, Fujairah, Miami and Aberdeen. The one thing in common has been the need to service multiple types and brands of equipment which traditionally would have seen safety officers and agents trying to frantically coordinate with several OEMs at once.
According to the IMO, "All inspections, repair and hook installations should be conducted by the manufacturer's representative or other person appropriately trained and certified for the work to be done in accordance with SOLAS Regulations and conforming to IMO MSC.1 / Circ.1206.Rev.1 and IMO MSC.1 / Circ.1277"
This is where Survitec is able to step in and handle the requirements of vessels which often include a portfolio of equipment from multiple manufacturers and brands. Rob Wallace, Global Technical Sales Manager for Lifeboats at Survitec explains "Customers often ask if it's better to use the original equipment manufacturer (OEM) or a multi-brand inspection provider. Using a multi-brand provider eliminates the need to speak to multiple companies and allows you to use one provider to facilitate all of your inspection needs. Furthermore, a multi-brand provider can also inspect a number of brands and lifeboat types and be uniquely positioned to implement best practice from across the board rather than just what one manufacturer dictates."
In a highly competitive market, where OEM's have historically established barriers to entry for lifeboat inspection and maintenance providers, it seems the tide is turning, as more vessel owners and operators turn to multi-brand, class and flag approved experts. Read Rob's 'Top 5 need-to-know facts before choosing your lifeboat inspection provider'.
Survitec's lifeboat offer meets the exacting annual and 5-yearly requirements and includes overload testing, LRRS and launching appliance maintenance and overhaul. These activities are completed in accordance with SOLAS Ch.III and IMO requirements under our Classification Societies and Flag States' approvals. Read more here.
The products and services herein described in this press release are not endorsed by The Maritime Executive.