SUNY Maritime Signs Historic Agreement with Alumni Association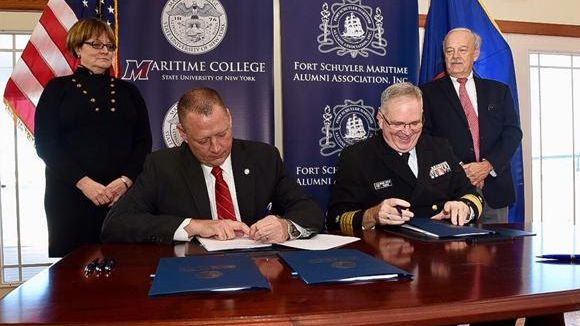 [By RADM Michael Alfultis, President of SUNY Maritime, and Dan Gillette, President of FSMAA]
SUNY Maritime College and the Fort Schuyler Maritime Alumni Association (FSMAA) have signed a formal agreement, endorsed by the State University of New York, bringing our two organizations together for the advancement of the College, its students and generations of proud alumni. The agreement was signed on December 21, 2017, with an effective date of January 1, 2018.
As the College prepares to implement a new seven-year strategic plan and celebrate its sesquicentennial, we are delighted that the College and alumni are once again standing united. In this way, we are both convinced that changes in the global landscape and the maritime industry in particular will be met with renewed vigor and strength. We are delighted to be navigating our futures together with open, honest communication and mutual trust.
The Alumni Association will work to connect alumni with each other, enhance the campus experience for students and serve as the liaison between the campus and its alumni. The Association will help alumni meet, network with and maintain relationships with their classmates and across generations of classes. Through the new partnership, alumni will be able to share their knowledge, give sought-after advice, and recruit students to their companies and organizations. Alumni will be tied to their alma mater more closely through events on-campus and be able to offer insight about professional trends.
We are jointly proud and excited that the Alumni Association and Maritime College will move forward in a mutually beneficial way, deepening and strengthening our connection to each other. Together, we can meet the challenges ahead and drive change across the maritime industry.
The products and services herein described in this press release are not endorsed by The Maritime Executive.