Port of San Diego Honors Seven Sustainable Green Business Network Members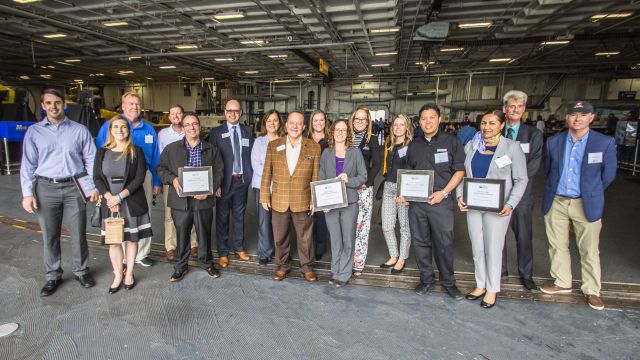 The Port of San Diego honored seven of its sustainable tenants for their efforts toward ensuring the preservation of San Diego Bay at the 2017 Green Business Network Sustainable Achievement Award Ceremony aboard the USS Midway Museum.
"The Port of San Diego is pleased to recognize these Green Business Network members for their exemplary efforts and commitment to conserve one of San Diego's most important natural resources," said Chairman Robert "Dukie" Valderrama, Board of Port Commissioners, Port of San Diego. "Our Green Business Network members account for approximately 80 percent of energy consumed on Port tidelands, so every sustainable action they take plays a crucial role in reducing the environmental impact on our dynamic waterfront."
Implemented in 2010, the Green Business Network is a voluntary, energy efficiency and sustainability effort available to Port tenants and subtenants. Led by the Port and in partnership with San Diego Gas & Electric, the program provides members with technical tools, educational training and resources to help them save money and reduce their environmental impact by prioritizing energy, water and waste reduction. Currently, 88 Port tenants and sub-tenants participate in the program. Members include waterfront industries, hotels, marinas, restaurants and retail shops.
Each year, the Port recognizes outstanding members in seven sustainability categories. The following Port tenants received 2017 Green Business Network Sustainable Achievement Awards:
Marriott Marquis San Diego Marina for Energy Efficiency
Energy efficiency initiatives implemented by Marriott Marquis San Diego Marina include the addition of two LEED silver certified ballrooms in 2016 and banquet facilities with state-of-the-art ventilation technologies to reduce energy use. The Marriot Marquis San Diego Marina also underwent an energy audit which identified potential energy savings measures that, if implemented, could save more than 2 million kilowatt hours.
Hilton San Diego Bayfront for Water Efficiency
Water efficiency initiatives implemented by the Hilton San Diego Bayfront include a towel and sheet reuse program for hotel guests; a high-tech laundry system that reclaims 70 percent of water used for cleaning dirty laundry; and a water consumption reduction of 18.7 percent in 2016.
Marine Group Boat Works for Air Emissions
Marine Group Boat Works executed various emission reduction initiatives including acquiring a fleet of five electrical vehicles (EV) to transport employees around the boatyard; six EV chargers at their Chula Vista facility and one EV charger at their National City yard available for fleet and personal vehicles; and two electric forklifts awarded through a California Energy Commission grant to the Port Tenants Association.
Bay Club Hotel & Marina for Employee Engagement
Bay Club Hotel & Marina implemented employee engagement tactics such as forming an internal Green Team to create a sustainable culture and conducting employee trainings on waste reduction, energy efficiency and alternative transportation. They also focused on encouraging alternative commuting by establishing a safe place for employees to store bicycles and creating flexible employee work schedules to accommodate public transit schedules.
BAE Systems San Diego Ship Repair for Waste Reduction
Waste management initiatives implemented by BAE Systems San Diego Ship Repair included a waste audit conducted by staff members in the environmental department who created a waste audit template, assessed waste throughout different buildings and created a waste audit report. BAE Systems also removed water cups and plastic water bottles from all employee areas and increased municipal solid waste diversion from 6 percent to 22 percent in one year.
Sunroad Resort Marina for Overall - Small Company
Sunroad Resort Marina was awarded the Overall - Small Company award for its many environmental initiatives implemented on their small-scale facility. These included installing occupancy sensors in restrooms and LED lighting retrofits throughout the building; setting up low flow bathroom fixtures; establishing priority parking spaces for smart commuter choices; properly labeling waste bins and recycling signage; and using drought tolerant landscaping on their facility.
San Diego Convention Center for Overall - Large Company
The San Diego Convention Center executed several large-scale initiatives. They acquired a LEED Gold certification in 2017; saw energy reductions through LED lighting retrofits and HVAC upgrades; and achieved the diversion of 79 percent of waste in 2016 through recycling, composting and a food donation program. They also saw a reduction of 2.7 million gallons of water through low flow fixtures, outdoor landscaping and energy efficient dishwashers.
To learn more about the Green Business Network, visit www.GreenPortNetwork.org.
About the Port of San Diego
The Port of San Diego serves the people of California as a specially created district, balancing multiple uses on 34 miles along San Diego Bay spanning five cities. Collecting no tax dollars, the Port manages a diverse portfolio to generate revenues that support vital public services and amenities.
The Port champions Maritime, Waterfront Development, Public Safety, Experiences and Environment, all focused on enriching the relationship people and businesses have with our dynamic waterfront. From cargo and cruise terminals to hotels and restaurants, from marinas to museums, from 22 public parks to countless events, the Port contributes to the region's prosperity and remarkable way of life on a daily basis.
About Port of San Diego Environment
Port of San Diego Environment champions the safekeeping and environmental care of our diverse ecosystems.Year after year, environmental goals are set and measured to evolve environmental initiatives - ensuring San Diego Bay remains a vibrant resource and contributes to a remarkable way of life for visitors and residents for generations to come.
The products and services herein described in this press release are not endorsed by The Maritime Executive.