Partnerships and Pavilions for Seawork 2024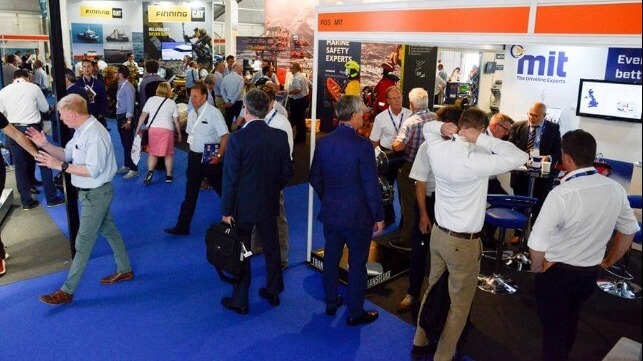 [By: Seawork]
The 25th edition of Seawork will be sharing its silver anniversary edition with many longstanding strategic partnerships, including the Workboat Association, celebrating its 30 th anniversary in 2024.
Seawork partners with relevant industry Associations to offer support to their members at the exhibition. Through hosting association hubs, members' meetings, conference sessions and networking events.
The Commercial Marine Network comprising of Seawork, Maritime Journal and Maritime Contracts Journal works with its partners to offer a series of webinars and live conference sessions.
Get set for Workboat 2050 – Series 4 - has been launched with session 1 taking place at The Workboat Association AGM on Monday 20 November. The live session is open to WA Association members. Anyone can sign up to listen to the individual speakers online after the event. In this new format, delegates can watch the session on demand in four bitesize episodes, available on both Seawork and Maritime Journal websites.
Series 4 continues to dive into the latest developments in innovation and technology in the workboat sector to assist vessel operators and commercial marine businesses to decarbonise. Identifying technologies that can be adopted now to help support with decision- making to increase efficiency, reduce operating expenditure and progress in taking steps to achieve net zero.
Seawork 2024 will also see the introduction of the Underwater Intervention pavilion that will feature with the existing Divework pavilion and trail. This offers exhibitors specialising in autonomous underwater vehicles (AUV's) or remotely operated vehicles (ROV's) the opportunity to be gathered in a mutually beneficial location.
The highly respected Conference programme offers well attended sessions, chaired by industry experts, on trending topics in the commercial marine industry.
The UK Government will again offer opportunities & support at the exhibition for the workboat & RHIB sector with representatives from National Shipbuilding Office, Dept of Business & Trade, Ministry of Defence Boat Team and Crown Commercial Services. Business briefings are held in the conference rooms with representatives from the above departments that also cover UK Defence and Security Exports and UK Export Finance. This provides delegates the opportunity to have discussions with panel members about all aspects
of UK government support in the Workboat Sector.
Association Hubs confirmed for 2024:
Workboat Association Pavilion
SMI (Society of Maritime Industries) Hub
Association of Diving Contractors (UK & Ireland)
Tom Chant MBE of the SMI (Society of Maritime Industries) who have hosted a pavilion for 3 years now said; "The exhibition never fails to create business opportunities for the companies that come with us on the stand. The visitor profile to the show is very broad and is a real melting pot of the UK and European maritime industry. If companies are unsure of the presence, they require or want to just experience the exhibition and industry then our hub is an ideal option for them."
Another feature is the Small Business Enterprise Zone which has become synonymous with innovation, with exhibitors regularly winning awards in the Innovations Showcase.
Arnd Baurichter, CEO, Dacoma – Exhibitor in the Small Business Enterprise Zone 2023, who entered the newly launched Air Keel in the Innovations Showcase, commented:
"We were very happy to showcase our Air Keel stabiliser here at Seawork as it is here where we can meet our customers and it has generated a lot of interest. We have been very busy from the first day, especially after we won the Marine Equipment category award, so it was the perfect place to be for connecting with the customers!"
Featured Sector Pavilions and Trails at Seawork 2024 are:
Underwater Intervention Pavilion featuring Divework Trail
Marine Civils Pavilion & Trail
Maritime Training & Careers Hub & Trail
Marine Renewables Trail
RIBwork Trail
Superyacht Trail
Seawork Show News November 2023 view here:
Seawork Facts & Figures
7,200 visitors from 60 countries
18 Conference Sessions attended by over 1.000 delegates
40 launches of equipment, services, projects and vessels in 2023
Over 70 vessels and floating plant on custom built pontoons
Seawork 2024 - the landmark 25th anniversary edition of Seawork takes place 11-13 June 2024 with Speed@Seawork Monday 10 June 2024 in Southampton, UK.
The products and services herein described in this press release are not endorsed by The Maritime Executive.