Oman Drydock Company to Share Visionary Plans at Posidonia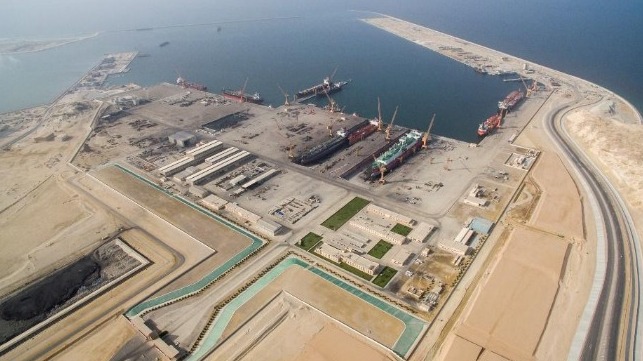 Oman Drydock Company's (ODC) recently appointed Chief Executive Officer, Mr Said bin Homoud Al Mawali will use this year's Posidonia event, taking place between 4-8 June in Athens, as a platform to share his visionary plans for one of the world's largest and most modern ship repair yards.

"We are already delivering top class services to our customers, utilising our existing first-class facilities, which are now complimented by the recent investment in a new floating dock. We are always striving for the best service offering and options to our customers, and continual investment is key to delivering this." commented Said (image left).

ODC's facility, which is strategically located in Duqm, on Oman's Indian Ocean coastline, is equipped with the latest state of the art equipment. In total the yard covers an area more than 2.4 million square meters. The shipyard has two ULCC size graving docks (410m x 95m and 410m x 80m), five quays, with a total of 2,800m of alongside berthage with water depths of between 9 and 10 metres, and 14 jib cranes with lifting capacities of between 40 and 100 ton. Its five workshops cover outfitting, electrical works, machinery, hulls, blasting and painting, and a cryogenics clean room for LNG tanker repair work.

Since ODC began operations back in 2011 the yard has carried out some 570 repair/conversion projects, and in response to recent market demands, ODC has managed to build a strong portfolio of experience in carrying out both ballast water management system installation and scrubber retrofitting, making it one of most attractive yards in the region.

"Our aim is to be the first choice for shipowners for ship repair and conversion operations of commercial tonnage and Naval vessels, as well as the offshore industry, not only in Oman, but the entire Middle East, and with a strong order book and promising year ahead, we are in an advantageous position. But our plans do not stop there. In a strategic move to continue the evolution of our operations and given our location, facilities, skill-set and the continuous commitment to deliver excellence, we are now looking at entering the world of ship building.

"Our shipyard has the capability and capacity to deliver small units such as OSVs, tugs and barges to the worldwide ship building market. We are confident in our experience and knowledge to deliver this. We have a plan and the demand is there." Said stated.

"We are passionate about what we do and have a strong focus on collaboration and joint ventures with like-minded organisations. Posidonia allows us to be closer to, not only many of our major clients, but further supports and cements our key relationship with our exclusive Greek market agent, George Moundreas & Company S.A, who we have worked with since 2012." Said concluded.

Mr Said bin Homoud Al Mawali and his team will be welcoming visitors to ODC's stand at Posidonia, which is located in Hall 3, Stand 3.442, to share ODC's future visions for the shipyard.
About Oman Drydock Company (ODC)

Oman Drydock Company (ODC) is one of the largest and most modern ship repair yards throughout the world. Located in Duqm, in the Al Wusta region of Oman, ODC is strategically located on the southeast corner of the Arabian Peninsula outside the straits of Hormuz and is in close proximity to the busy regional trade routes traversing Oman's coastline.

ODC was established in September 2006, by the Government of the Sultanate of Oman with 100% investment and was initially operated by South Korea's Daewoo Shipbuilding & Marine Engineering Company Limited (DSME). During end of 2016, the formal agreement between ODC and DSME expired, however the good relationship between ODC and DSME has remained.

ODC can serve owners/operators trading within the Arabian Gulf as well as those whose fleets transit east to west along the Omani coastline and the west coast of India. For more information visit: www.omandrydock.com
The products and services herein described in this press release are not endorsed by The Maritime Executive.