Norwegian Electric Systems Designs DC System for Green Mega-Yacht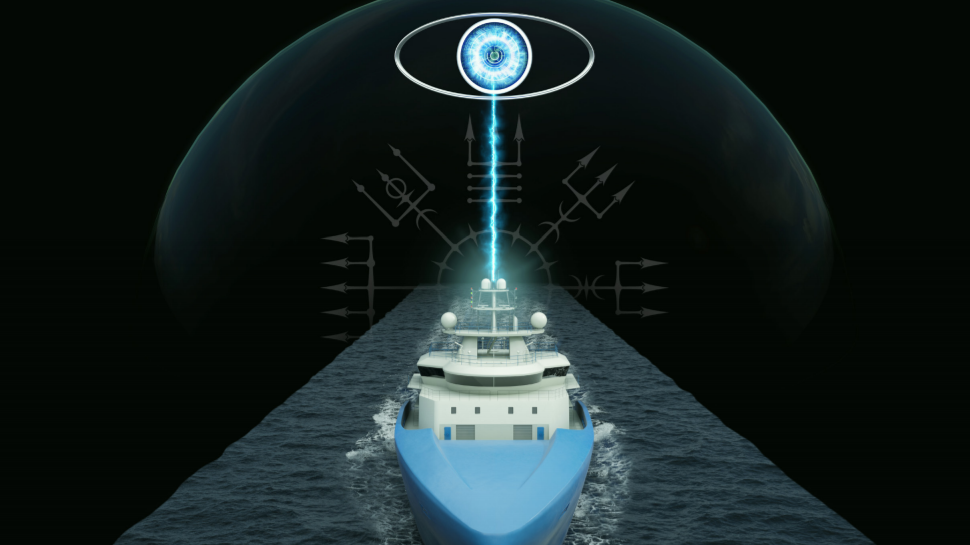 Norwegian Yacht Voyages (NYV) has chosen Norwegian Electric Systems (NES) as their partner to design the electric DC system onboard their four ultra-luxury expedition mega-yachts. These mega-yachts will be the first true hybrid vessels entering into the expedition segment of the cruise industry.
The highly innovate combination of LNG/electric, batteries, solar and wind powered hydrogen fuel cells will enable these vessels to sail in environmentally sensitive areas with minimal emissions and carbon footprint, like no other vessels today.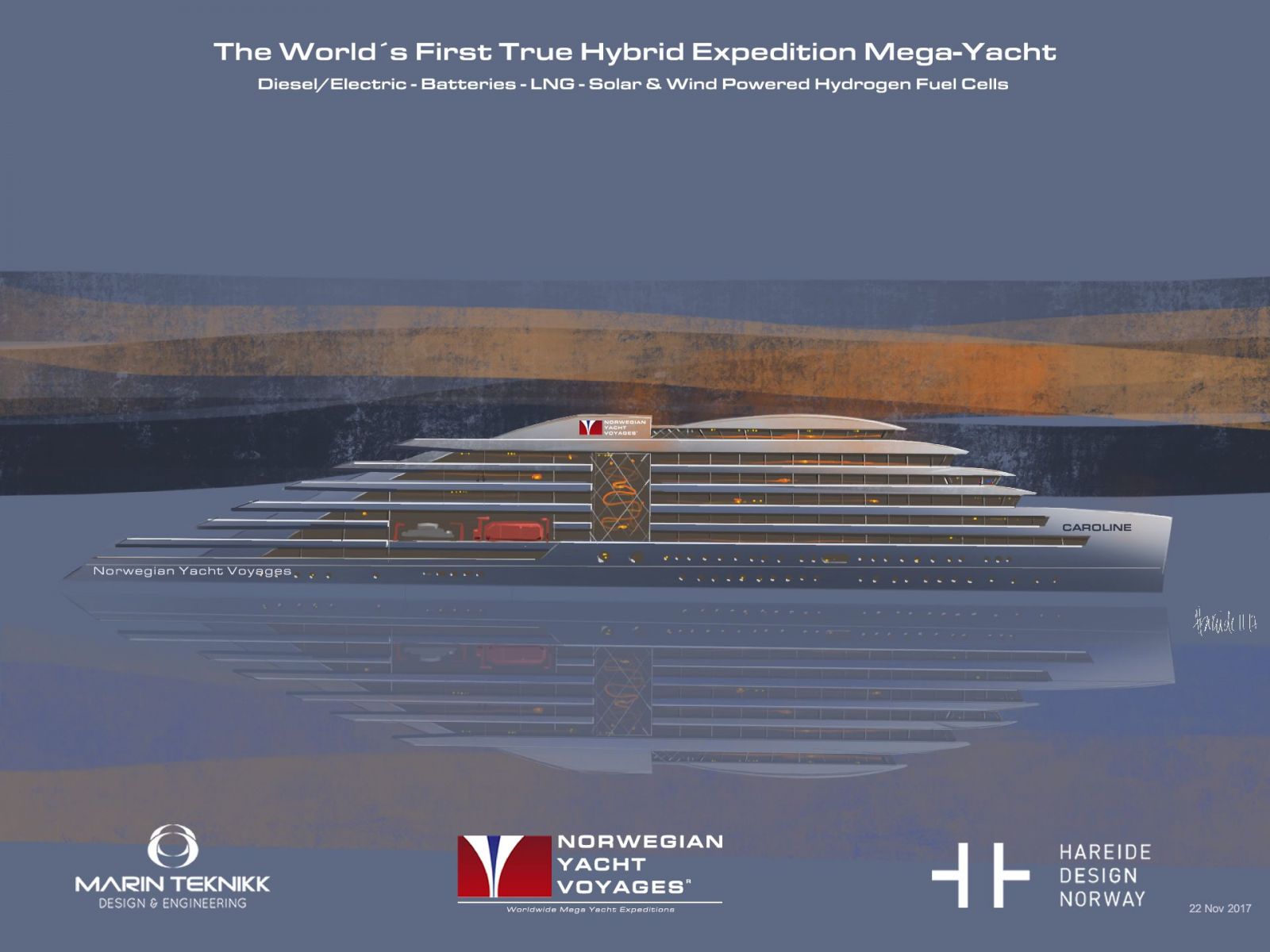 Ever since the 70`s and 80`s when the Aker H3 diesel electric DC propulsion offshore rigs were launched the people in Norwegian Electric Systems (NES) has been following up on the development of propulsion systems.
NES` in-house experience goes back to when the first large catamaran cruise vessel "Radisson Diamond" was built at Finyards and they were part of the delivery of the drive starts and motors for the propellers.
Our innovative engineers have developed a new and unique multi-powered DC grid system, which offers optimal redundancy and can be easily adapted to any energy source.
Together with NES` partners and sister company, Norwegian Control Systems, we can offer a highly integrated vessel including:
Motors and generators
Main and Emergency switchboards
Quadro Drives
Hydrogen and fuel cells
Energy storage
Solar energy
Wind turbine/sails
Aux gas generation
Shaft generator power for boosting gas electric or conventional use
Turbo generation for use of steam. With a system that is 100% stabilized
IAS (Integrated Automation System)
INS (Integrated Navigation System)
EMS/PMS (Energy & Power Management)
Emission reporting & measuring
Thruster Control System
DP system
Route planner
The official requirements regarding the environment and emissions in to the atmosphere are becoming stricter and many ship owners want to make their vessels more sustainable.
In regards to integrating a reliable electric system, with so many different energy sources, all the electrical calculations have to be done again. "This is where NES` competence as a system integrator comes into play; the supply of complete electrical packages, calculations and total integration is the essence of our excellence. Based on multiple energy sources, these vessels will be the greenest vessels, of their kind, ever built. We make great vessels even greater," says Jan Berg, EVP Business Development in NES.
NES` state-of-the-art system will give the ship owners:
- Five times less noise on double jacket machine range up to 4500kW per shaft compared to other machines
- The Quadro Drive® gives 1-3% max THD (heat losses)
- Large fuel savings and low emissions
With the Odin`s Eye® and Quest® Energy Storage solutions NES` has a "back-log" of energy storage and DC grid orders of more than 40.000kWh. Odin`s Eye® will be a four island system with the possibility to adapt several energy sources, which reduces emissions and fuel costs.
Norwegian Yacht Voyages´ vessels will be 173,8 meters (570 ft) long with a guest capacity of 220, a crew of 160 and built with to all latest green ship technology, as well as the new Polar code rules.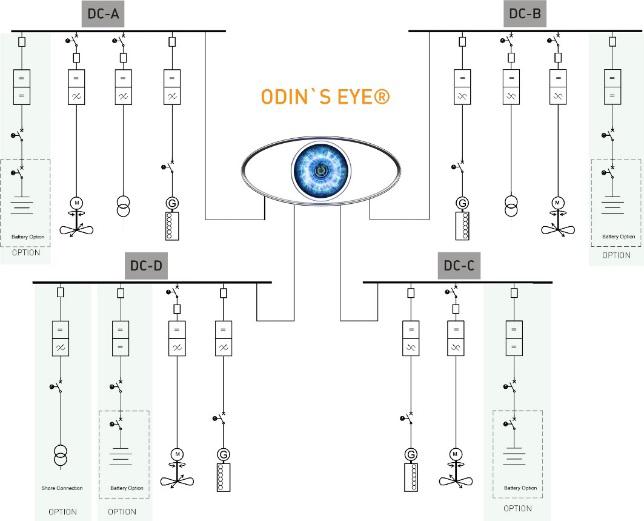 "We are convinced that our extreme focus on sustainable sea travel and our highly innovative solutions will be raising the bar for new stricter regulations for sea travel, not only in environmental-sensitive areas but all around the world. The task to design and deliver an innovative electrical system like this is not something just anyone can do. It requires a highly experienced partner with lots of know-how from the industry. This is why we have chosen Norwegian Electric Systems, and we are looking forward to be developing news-breaking solutions together with them," says Ulf Henrick Wynnsdale, President and CEO of Norwegian Yacht Voyages.
"NES` sister company Norwegian Control Systems will be adding a comprehensive product package to our existing product range, which enables us to deliver the ultimate system, to any vessel type, from bridge to propeller. We are ready for the ultimate expedition voyages!" says Jan Berg.
For more information, contact:
Jan Berg, VP Business Development: +47 91 76 39 33
Janiche Bull Pettersen, Adm & Marketing Executive: +47 91 89 99 39
https://www.norwegianelectric.com/
The products and services herein described in this press release are not endorsed by The Maritime Executive.