Nor-Shipping 2025 70% Sold Out as Industry Builds on Success of 2023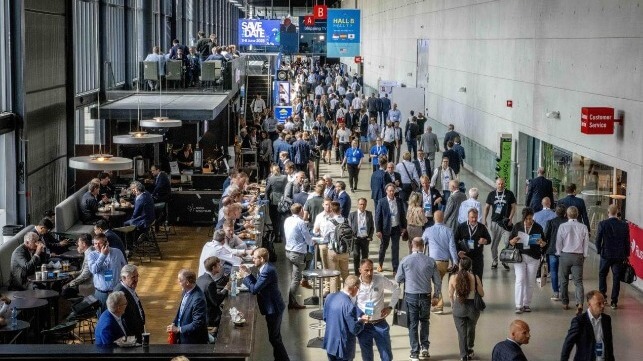 [By: Nor-Shipping]
It may be over a year and a half away, but exhibition space at Nor-Shipping 2025 is already in short supply. According to organisers, around 70% of the Lillestrøm exhibition has been booked, with ongoing enquiries for the remaining booths spread across Nor-Shipping's five halls. It's a testimony, says Nor-Shipping Director Sidsel Norvik, to the major success of this year's event in June.
More relevant than ever
"Nor-Shipping 2023 was a clear demonstration of the relevance and impact of physical industry exhibitions," Norvik comments. "Alongside the strong visitor and exhibitor numbers, and the calibre of participants at our conferences and events, we also have detailed feedback that shows the solid business, and personal, benefits they enjoy by taking part.
"Our post event analysis revealed that our scores reached an all-time high of 5.25 for 'relevance' and 5.5 for 'innovation' (out of six). Seniority of executives increased, the average age lowered, and we saw greater diversity amongst our audience. This kind of feedback, allied to our own experiences, and now shown through our strongest ever sales at this point, really illustrates that Nor-Shipping is going from strength to strength. It's now our ambition to build on that momentum, ensuring that Nor-Shipping 2025 is even better, serving and supporting our industry as never before."
Added value engagement
Norvik states that the next Nor-Shipping, taking place 2-6 June 2025, will be "very special" as it marks its 60th anniversary. An array of initiatives to celebrate the milestone, as well as a theme for the week, will be announced soon. Although it's still early days, she notes that the team and their industry partners will be putting added emphasis on a growing portfolio of conferences and knowledge sharing activities to add value for delegates, and increase visitor numbers, from around the world.
"This year saw the addition of new conferences – including the Nor-Shipping Offshore Wind and Offshore Aquaculture Conferences – and an extended programme of social and partner activity, in addition to existing favourites, such as our BBQ and the Blue Talks. We can see that this delivers an extra layer of value for our audience; helping them build not just knowledge and networks, but also allowing them to access completely new opportunities. That's another area we want to continue to develop, so watch this space!"
Quality counts
2023 also saw the launch of Ocean Campus, bridging the gap between educational institutions, talent and businesses, as well as the second Nor-Shipping Hydrogen Conference, amongst other activities. The level of speakers for the activity programme spoke for itself, with participants including US diplomat John F. Kerry, Dr Andrew Forrest of Fortescue Metals Group, Nobel laureate Joseph E. Stiglitz, and IMO's Kitack Lim, to name a few.
Total participant numbers for Nor-Shipping 2023 surpassed 50,000, including those at conferences, networking events and official social arrangements, while the number of exhibitors stood at 892. Both these figures are expected to increase for 2025, although Norvik concludes that "quality is always more important than quantity at Nor-Shipping". That said, there are plans to expand the exhibition space for 2025, although as already indicated, demand looks very likely to outstrip supply.
For more details about Nor-Shipping 2025, or to enquire about available stands, please see www.nor-shipping.com.
The products and services herein described in this press release are not endorsed by The Maritime Executive.