New Aquaculture Workboat for Inverlussa Marine Services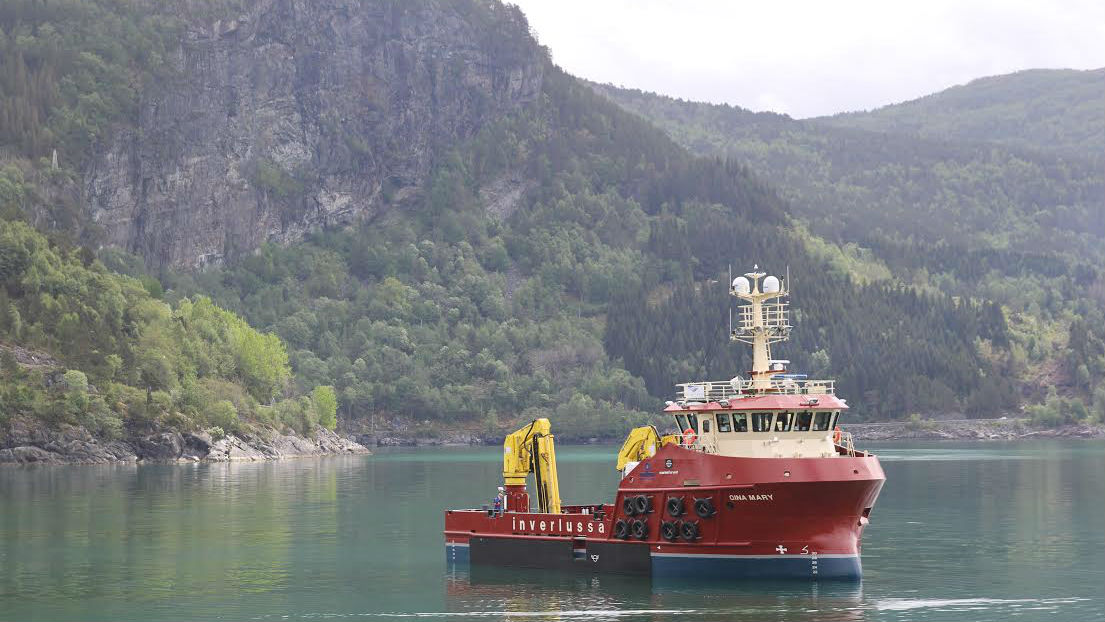 A new 25m Aquaculture Support Vessel is making waves on the West Coast of Scotland having been delivered in May 2017 to owners Inverlussa Marine Services. Built by Havyard Shipyard in Norway to plans by Macduff Ship Design, the vessel is designed with a specific purpose in mind - to support the fish farm sector - and can perform multi-role tasks such as mooring work and towing. The Gina Mary, as she is named, boasts two cranes of 48ton/m at 18.5m outreach and 100ton/m at 22m outreach respectively. With a beam of 9.70m and depth of 3.50m, the vessel is capable of carrying four 20 foot containers on deck or a total of 115 tons of deck cargo.
Built in just 5 months, the Gina Mary is the third vessel that Macduff have designed for Inverlussa, with a fourth vessel - already named 'Keira Fiona' - due to be delivered in September of this year. The Keira Fiona is a near sister ship to the Gina Mary but at 25.5m adds a bit of extra deck space for salmon treatment operations. The second vessel is already well under way in build.
Both vessels feature a spacious accommodation area, with cabins for 6 crew below decks on the Gina Mary as well as an open-plan galley/lounge area, dry locker, workshop, store and WC on the main deck.
As one of the vessel's main duties is to carry peroxide tanks, she is also designed to meet the MCA hazardous cargo regulations.
Moving below to the engine room, twin 600HP at 1800rpm Caterpillar C18 main engines are installed, driving fixed pitch propellers in nozzles through ZF W650 gearboxes. Auxiliary power is provided a Caterpillar C12 engine a Volvo d& genset and Cat C4.4 genset.
Gina Mary is able to operate up to 150 miles from a safe haven and is already in service on the West Coast of Scotland. Her sister, the Keira Fiona has been designed to comply with Norwegian regulations as well, so has the option of operating in Norway as well as Scotland.
Macduff Ship Design is delighted to have been able to work with both Inverlussa Marine Services and Havyard Ship Technology on these projects.
Macduff Ship Design has had a busy year so far, with a series of new vessels being commissioned and built. Amongst these are a 90' fishing vessel for Canada as well as a 12.75m pilot boat and a 16m tug being built in Macduff for UK owners. The company looks forward to the second half of 2017 and working on more exciting new contracts.
Particulars:
Builder's name: Havyard Ship Technology
Designer: Macduff Ship Design
Vessel's name: Gina Mary
Owner/Operator: Inverlussa Marine Services
Country: Scotland
Flag: UK
Total number of sister ships already completed:
Total number of sister ships still on order: 1
Contract date: September 2016
Delivery date: May 2017
Principal Particulars:
Length, oa: 25.00m
Length, bp: 23.00m
Breadth moulded: 9.70m
Depth, moulded: 3.50m
Displacement: 445.951T
Design, draught: 2.15m
Design, deadweight: 99.612T
Lightweight: 254.015T
Deck space (total): approx. 139 m2
Maximum deck cargo: 115T
Max speed: 11Knots
Bollard pull (tonnes): 15T
Classification Society: Maritime and Coastguard Agency
Class Notations: Workboat Code for Operation in Category 1 waters (up to 150 miles from a safe haven)
Other important international regulations complied with:
Main engines:
Make: Caterpillar
Model: C18
Number: 2
Output of each engine: 447 kW @ 1800rpm
Auxiliary engines:
Cat C12 engine
Volvo D7 genset
Cat C4.4 genset
Gearboxes:
Make: ZF
Model: ZF W650, Ratio 5.138:1
Number: 2
Propellers:
Number: 2
Fixed pitch:
Diameter: 1400mm
Open or nozzled: nozzled
Rudder(s):
Wills Ridley
Steering Gear:
Wills Ridley
Bow thruster:
Make: MB Hyrdaulikk
Number: 1
Output of each kW (bhp) and rev/min: 250bhp
Deck machinery:
Crane(s): AKC 100/21 HE4, AKC 48-18.5 E5
Manufacturer: HS Marine
Number: 1 of each
Capacities/ SWL:
AKC 48-18.5 E5

AKC 100/21 HE4

SWL

Outreach

SWL

Outreach

1100Kg

18.55m

2050Kg

21.30m

1330Kg

15.95m

2580Kg

17.73m

1690Kg

13.39m

3480Kg

14.24m

2270Kg

10.85m

5080Kg

10.94m

3250Kg

8.42m

7970Kg

7.94m

5170Kg

5.96m

2050Kg

21.30m

9000Kg

3.40m

2580Kg

17.73m

Winches:
1 x 5T Auxiliary winch - MB Hydraulikk
1 x 20T Towing winch – MB Hydraulikk – 500m dia 64 mm rope
1 x Windlass - MB Hydraulikk
Roller(s):
Made by Yard
Other deck machinery/equipment:
2 x 5T Capstans – MB HYDRAULIKK, 1 x 8T Capstan – MB HYDRAULIKK, 1 x Guide pins – MB HYDRAULIKK
Onboard capacities:
Cargo Fuel oil: 19.308T
Cargo Fresh water: 17.698T
Fuel oil: 22.003T
Fresh water: 6.576T
Ballast water: 85.799T
Complement
Crew: 6 (up to 16)
Passengers:
Number of cabins: 3 x 2 man cabins (Accommodation - 6 crew)
Container:
3 x Standard ISO 668 20' container footprint
1 x Standard ISO 668 10' container footprint
Furniture outfit:
Havyard Production Services
The products and services herein described in this press release are not endorsed by The Maritime Executive.