Multiped on Van Oord's Aeolus: Data Logging & Visualization for Offshore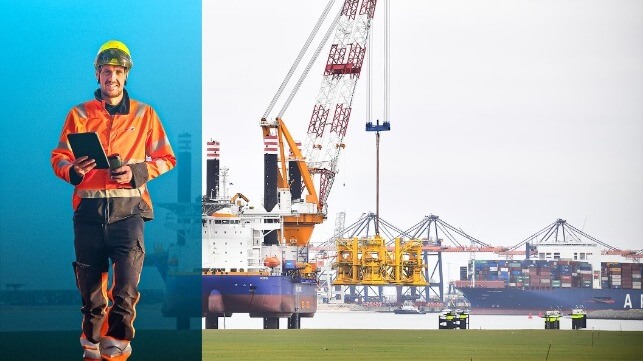 [By: MSA Service]
When Jonathan Southwell sees Multiped for the first time on board the offshore installation vessel Aeolus, he immediately wants to know more about this system. Jonathan is a Surveyor on board this 139 meter long Van Oord ship and had been looking for a program to log and visualise data as well as for a system that does not require a constant internet connection. Jonathan: "Multiped was supplied with the drilling template for Aeolus. I realised that this could be the program I was looking for. My colleagues told me that the system was called Multiped and was supplied by MSA-Service. I contacted them and, together with my colleagues, started using this program for our work on board. As the program has been developed for sharing data, it makes working together with my colleagues easy and we all look at the same data. As a result, we discovered trends in our work and were able to make improvements. The program is still under development. I even had the opportunity to make quite a few suggestions for improvements.' In this article, Jonathan tells us more about his work on board this ship and how he uses Multiped in his work.
Multiped as a central universal DataHub
When we meet with Jonathan, Aeolus is fully engaged in a major project in Saint Brieuc, France, were Van Oord is installing 62 jacket foundations for wind turbines and the foundation piles for the offshore substation. Jonathan: 'In this project we use Multiped as a central DataHub for reading all data available on board. The program is universal and can get all data on board from different systems. From the weather to ship behaviour and from data from the subsea drilling platform to all survey information - everything is centrally stored and shown in Multiped.'
Designed to be shared
Many different people work in different functions on board Aeolus and all of them generate data and need data for their work. How does that work on board with Jonathan? 'Being able to share and visualize data on board is essential, and that's exactly what we use Multiped for. The program is designed to be shared. Everyone has access to data and is able to work with it. From operators to marine personnel and from surveyors to subcontractors - everyone has access to the data that he needs. And that's only the beginning. Everyone can also create his own dashboard so that users can immediately see the information related to their role.'
Discover trends and optimise operations
What does this new source of information imply on board the Aeolus? Jonathan explains: 'Multiped displays data in real time which allows us on board to analyse the data together with the various teams, each from their own professional background. That enables us to improve our work. For example, we are able to respond more quickly to deviations in operations. The system also shows live issues on which we can take immediate action. Eventually, we discovered trends in our working methods and were able to implement optimisations accordingly. I am happy with that.'
No internet connection required
How does the crew on board the ship experience the system? 'The installation was fast - Plug & play, as I see it', says Jonathan. 'We have now been using Multiped for a year and I see that my colleagues also enjoy working with this system. Not only because of its personal dashboard, but also because the system is fast. Basically, it is not a cloud-oriented system and that is definitely an advantage, because it does not make use of often slow, mobile internet connections. Multiped is LAN-oriented which means that Multiped uses a local PC on board that does not depend on the internet. In practice, it means that the data loads faster.'
Suitable for offshore operations
Jonathan concludes: 'I have searched for a long time for a system that is suitable for offshore installation vessels, such as the Aeolus. A lot of systems are cloud-based. In my opinion, that makes them less suitable for our work, because they are slower. We were able to get started with Multiped quickly. We were able to link all connections to our network quite easily, adjusted the key settings and were ready to go. In addition, my colleagues find design of the system intuitive, which allowed us to get started with the system quickly. The program is definitely still in development and MSA- Service is open to changes that may suit our work even better. As far as I am concerned, Multiped supports our work on board the Aeolus well.'
The products and services herein described in this press release are not endorsed by The Maritime Executive.