Miami Shipyard Purchases 100BFMII??Mobile Boat Hoist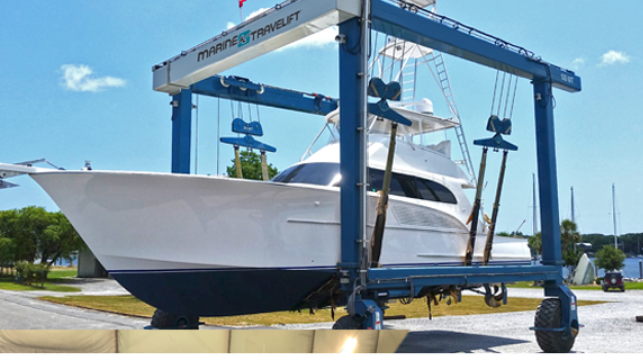 RMK Merrill-Stevens, a full-service shipyard dedicated to the refit and repair of the world's finest yachts and vessels, is preparing for delivery of the new 100 BFMII (100 metric ton lifting capacity) mobile boat hoist. The custom 100-ton Marine Travelift will be operation later this summer. The new lift will feature a number of innovative features and options designed to maximize operational efficiency. 2-speed hoists will provide increased lifting speeds when the machine is in high demand and in great fluctuating tides, while the wireless remote control will increase operational visibility of the boat, launching piers and surrounding area. In addition, detailed engine information, pressure displays, and load readout indicators are conveniently displayed on a 7" LCD touchscreen with optical bonding for maximum protection.
Part of the ongoing modernization efforts includes a new state-of-the-art, 2,700 gross ton ship lift in the north yard. Stay-tuned for more information.
The RMK Merrill-Stevens shipyard is conveniently located in Miami, Florida and specializes in the repair and refit of yachts, commercial craft and government vessels ranging from 30' to 300'. RMK has two yards co-located alongside the Miami River - with the south yard performing haul-outs of vessels 85' and under and the north performing haul-outs for vessels greater than 85'.
The products and services herein described in this press release are not endorsed by The Maritime Executive.