Metalships & Docks Sees Strong Start to 2018
It's full ahead for 2018 at Spain's Metalships & Docks, Vigo, with three repair projects underway.
2018 began with the completion of the second special survey of the 18,349 dwt container ship AS Fabrizia belonging to Ahrenkiel Steamship. This ship was the last out of a six vessel maintenance agreement reached at the end of 2016.
"During this time, extensive work was done on board of AS Fabiana, AS Faustina, AS Fiorella, AS Federica, AS Floretta and now AS Fabrizia. With an average stay of three to four weeks at yard premises, Ahrenkiel became a major client during 2017," says spokesman Pablo de Celis. "We have built a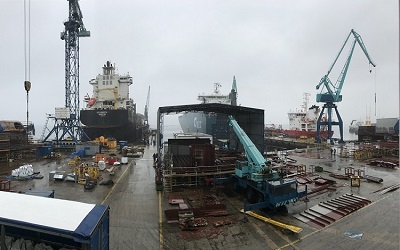 strong collaboration between our companies. We were quite flexible with date changes and did our outmost to be able to accommodate their ships at the most convenient dates for both sides.
"Moreover, we had the opportunity to meet several technical superintendents supervising the repairs. This was very positive for us since they had the opportunity to learn how we work, meet our staff, view our local resources and experience our fantastic weather conditions all over the year. This fact made the difference and communication both ways became extremely fast and without misunderstandings. We mean to continue this collaboration in the coming years hoping it turns out as positive as these first six vessels," said de Celis.
Presently, the 5,384 dwt chemical tanker Imrikly, belonging to Marcab Sarl and under management of V.Ships France, is undergoing her second intermediate survey. This is expected to be complete next week. The main engine crankshaft needed to be removed and replaced. The engine was completely stripped down in preparation for lifting of the entablature under direction of the MAK engineer. Right after, cylinder heads, pistons, cylinder liners, pumps, injectors, turbo and air cooler we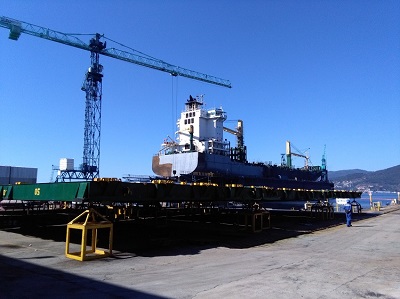 re overhauled.
It is the first time V.Ships France has called Metalships, and the project is a complete success. "We knew Marcab quite well due to a previous experience, however, this is the first time we are repairing a ship under V.Ships France management. We are delighted they, together with their team in Monaco Marcas V. Docks, relied on us for this major repair. Most of their clients are trading in our area and, hopefully, this project will open the door for some more of them," said de Celis.
On the flip side, an old friend, UECC, came back to Metalships to perform alongside repairs on board the 6,670dwt vehicle carrier Autosun.
More projects have already been signed which will keep yard occupied until the end of March.
"It's a fabulous start for Metalships," says de Celis. "It endorses the good work we have done over the last few years which has triggered occupancy rates of between 87 and 94 percent."
The products and services herein described in this press release are not endorsed by The Maritime Executive.