Maiden Voyage for Germany's First LNG Vessel Equipped with W?rtsil?'s Solutions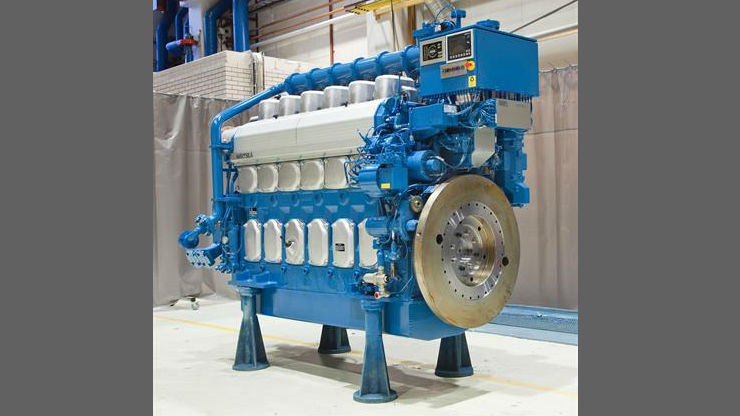 The first ever newbuild liquefied natural gas (LNG) fueled German seagoing vessel, which is powered by a complete Wärtsilä LNG propulsion solution, had its maiden voyage on December 11. The ship has been built at the Fr. Fassmer shipyard in Germany.
The passenger ferry, owned by Reederei Cassen Eils GmbH, will operate between Cuxhaven and the island of Helgoland. This route takes the vessel close to the UNESCO World Heritage listed Wadden Sea National Park, an ecologically sensitive area in the south-eastern part of the North Sea. Because of the need to minimize exhaust gas emissions in this area, the ferry will operate primarily on LNG using two 9-cylinder Wärtsilä 20DF medium-speed dual-fuel engines.
"We are very proud to be operating the first newbuild German vessel fueled by LNG. Compared to conventional diesel fuel, this ship will produce 20% less CO2, 90% less NOx, and almost zero SOx and particulates. Thanks to Wärtsilä's dual-fuel technology with built in redundancy, the vessel can operate efficiently and without restrictions in the Wadden Sea National Park. Furthermore, it was very important for us to select a reliable and experienced partner who was able to deliver a complete propulsion package," says Dr. Bernhard Brons, Managing Director of Reederei Cassen Eils GmbH and CEO of AG EMS.
In addition to the propulsion machinery comprised of the two engines, two gearboxes and two controllable pitch propellers, Wärtsilä has also supplied its LNGPac fuel bunkering and gas supply system with related safety and automation systems. Of special note is the use of Wärtsilä's patented Cold Recovery System, which utilizes the latent heat of LNG for the ship's air conditioning systems, thereby reducing the amount of electricity consumed in cooling compressors. This provides significant operational savings and an increase in overall vessel efficiency, while adding to the environmental benefits of the Wärtsilä solution.
"This is a unique and very important maiden voyage that promotes responsible sustainability for shipping. We congratulate the owners for having the first virtually emissions free German passenger vessel in operation. Wärtsilä is proud to have supplied the integrated solutions package that has made this possible. This is one of the first installations anywhere in the world with Wärtsilä 20DF engines utilizing gas-mechanical direct propulsion, making it both environmentally sustainable and extremely efficient," says Matthias Becker, General Manager, Wärtsilä Marine Solutions in Germany.
Reederei Cassen Eils is a member of the AG EMS group of companies. Wärtsilä earlier retrofitted the company's "Ostfriesland" car and passenger ferry for LNG operation. The retrofitted vessel had its maiden voyage on June 17.
The products and services herein described in this press release are not endorsed by The Maritime Executive.