Launch of Research Vessel, W.T. Hogarth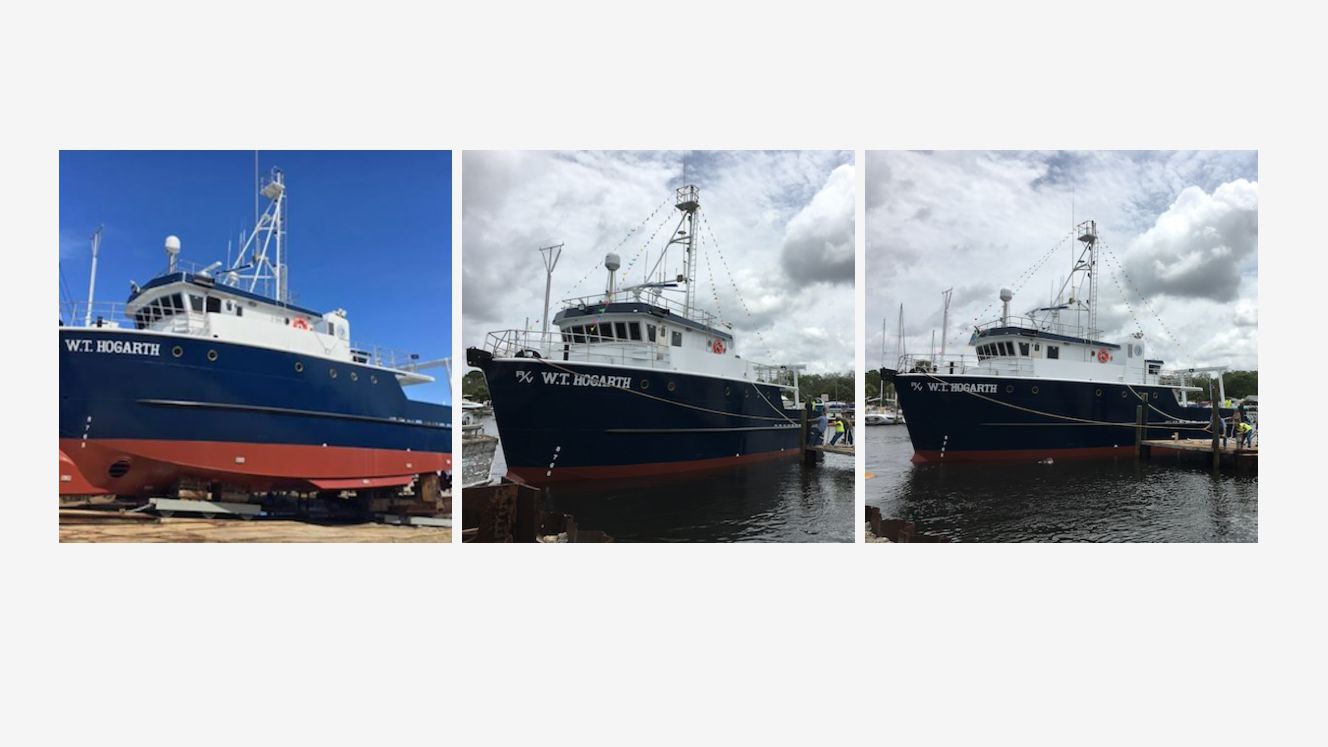 The R/V W.T. Hogarth — designed and engineered by Boksa Marine Design — was christened and launched on May 23, 2017.
The 78' coastal class research vessel is the newest addition to the Florida Institute of Oceanography (FIO) fleet and will help continue the efforts of scientific education and discovery of FIO and its member institutions.
"It's an exciting day," said Boksa Marine Design President, Nick Boksa. "She got her feet wet for the first time and floated perfectly on her lines."
The christening and launch ceremony took place at Duckworth Steel Boats in Tarpon Springs, FL. The $6 million dollar vessel was a necessary upgrade for students scientists, replacing the nearly 50-year-old R/V Bellows which had served as a floating laboratory for 35 years.
A Bigger, Better Boat
Hailed as "a bigger, better boat" by the University of South Florida's The Oracle newspaper, the new design addresses the limitations of a vessel that was built more than nearly 50 years ago and has become increasingly more expensive to maintain.
R/V W.T. Hogarth was designed and built to meet the known and anticipated requirements of varied research missions in the years to come. At 78' in length and 26' at the beam, the new ship will be both longer and wider than its predecessor. It will offer more working space, including separated wet and dry labs, a larger work deck, separate galley and more comfortable arrangements for berthing.
Anticipated missions for the new vessel will include a variety of over-the-side operations including study of marine life, effects of pollution, water sampling, bioacoustics, sediment coring, fisheries research and more.
"The Florida Institute of Oceanography has a rich history of scientific education and discovery. We hope the new boat will continue the institute's ongoing mission," said Boksa.

Vessel Named for Past Director of the Florida Institute of Oceanography
The R/V W.T. Hogarth was named to honor William T. Hogarth, who recently retired after a distinguished 50-year career that included serving as FIO director, dean for the USF College of Marine Science, interim regional vice chancellor of USF St. Petersburg, director of the National Marine Fisheries Service and chair of the International Whaling Commission. He also led the scientific response to the 2010 Deepwater Horizon oil spill.
"The R/V W.T. Hogarth will be a welcomed addition to FIO's fleet that will provide exciting new technical capabilities to enable world-class research and educational opportunities that helps Florida understand and preserve its critical marine environment," said FIO Director Philip Kramer.
Construction and Timeline
Construction of the vessel has gone well and has been done so within the estimated build time.
The initial design contract was awarded to Boksa Marine Design in June of 2015. Construction was awarded to Duckworth Steel Boats in May of 2016 and the keel laying ceremony followed within a month. The pilot house was assembled in September of 2016.
An interesting feature of the construction progress was a dedicated Webcam with time lapse photography that was onsite at the shipyard and allowed viewers to follow along during the build.
Boksa Marine Design provided production engineering support and construction oversight. At the time, remarks from Boksa were that, "the project is going well — the shipyard is making good progress. There is a lot of specialized equipment which has been sourced and the next step will to ensure the proper arrangement of that equipment on the boat."
FIO and Duckworth Steel Boats will continue to outfit the vessel to get it ready for its first mission. Sea trials are soon to follow.

The products and services herein described in this press release are not endorsed by The Maritime Executive.