KVH TracNet Hybrid Communications & TracVision Satellite TV Honored by NMEA
Leading maritime industry group lauds KVH's groundbreaking integrated satcom, 5G, and Wi-Fi communications system while recognizing KVH's premier marine satellite TV solutions for the 26 th consecutive year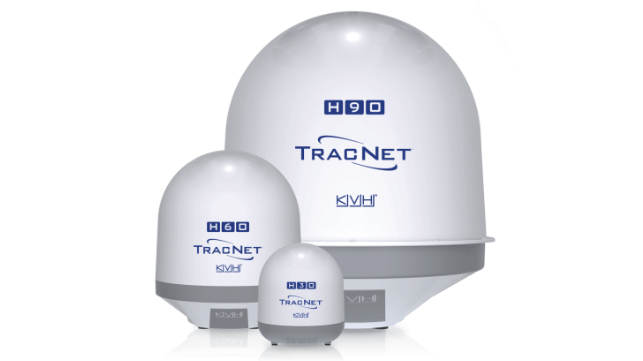 [By: KVH Industries Inc.]
The members of the National Marine Electronics Association recognized the performance and reliability of the TracNet ™ H60 hybrid communications terminal and the TracVision ® UHD7 satellite TV system from KVH Industries, Inc. (Nasdaq: KVHI) during the 2023 NMEA Conference. These maritime products received the 2023 Product of Excellence Awards in their respective categories. The award for the TracVision UDH7 marked the 26 th consecutive year that a KVH TracVision system has been honored in the marine satellite TV category.

"We are gratified by this recognition by the members of the NMEA. Every day, they work with leisure and commercial boaters to ensure their vessels are equipped with the technology needed for safe, reliable operations. All of us at KVH are thrilled that NMEA chose our communications and satellite TV solutions for the Product of Excellence awards and recognized our unwavering commitment to keeping boaters and seafarers always connected to shore, home, and family," said Chad Impey, KVH's senior vice president of global sales.

The NMEA annually presents its Product of Excellence Awards to recognize design, performance, and reliability in marine electronics products. NMEA members, comprising representatives of more than 600 companies, including manufacturers, dealers, and boat builders, select the winners.

KVH's TracNet H60 is a compact 60cm hybrid communications terminal with integrated satellite, cellular, and Wi-Fi technology with intelligent, automatic switching to keep boats connected to the best available communication option via the KVH ONE ™ global network. The terminal constantly assesses service availability, cost, and data connection quality to deliver optimal connectivity consistently. Single- cable install, tuned reflectors, multi-axis stabilization, stabilized skew, digital IMUs, and a commercial- grade rotary joint with continuous azimuth facilitate seamless connectivity in calm and challenging conditions.
The TracVision UHD7 is a high-performance 60cm (24 inch) marine satellite TV antenna designed to provide boat owners, charter yacht guests, and commercial vessel crews access to ultra-high-definition (UHD) and 4K programming from leading satellite TV providers.
The products and services herein described in this press release are not endorsed by The Maritime Executive.