KEZAD Group & Al Jazeera Steel Products Break Ground for Rolling Steel Mill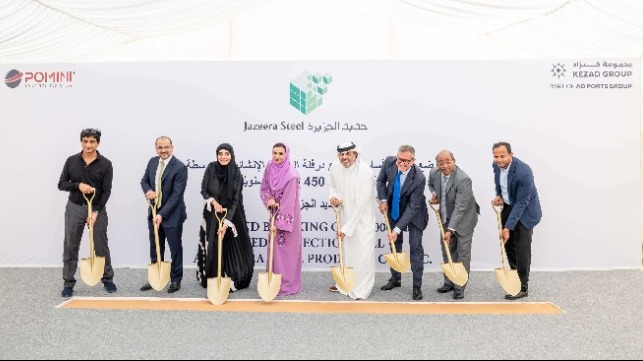 [By: AD Ports Group]
Khalifa Economic Zones Abu Dhabi – KEZAD Group, the integrated trade, logistics and industrial hub of Abu Dhabi, and Al Jazeera Steel Products Co held the groundbreaking ceremony of the region's first Rolling Mill with Rail production capability in Abu Dhabi on 12th July 2023.
The groundbreaking marks the beginning of a new era of industrial development in the region. The establishment of the mill over an area of 210,000 sqm in KEZAD aims to spearhead technological advancements, enhance steel manufacturing capabilities, and add to the growing demand for high-quality steel products.
The state-of-the-art, innovative and cutting-edge 450,000 tons per annum medium section mill from POMINI LRM (main technology supplier) will answer the growing customer demand for its products. As the region embarks on plans to build a GCC rail network to connect UAE, Oman, Saudi Arabia, Kuwait, Bahrain and Qatar, there will be an increasing need for railway steel parts, which the mill will cater to. Apart from rails ,the development of this manufacturing plant in KEZAD will also cater to the growing requirements of its other products efficiently through KEZAD and Abu Dhabi's well-established infrastructure and connectivity.
KEZAD Group already has an impressive roster of steel clients, and the addition of Al Jazeera Steel to the portfolio adds to the healthy ecosystem for the industry.
Mohamed AL Khadar Al Ahmed, CEO Khalifa Economic Zones Abu Dhabi – KEZAD Group said: "The steel industry forms the base of industrial development everywhere. Augmenting KEZAD's ongoing efforts to provide an integrated ecosystems for various sectors, the addition of Al Jazeera's Rolling Mill to our portfolio goes a long way in enhancing the quality and product line emanating from Abu Dhabi, as KEZAD continues to strengthen the industrial production capacity in line with the vision of the leadership. Al Jazeera's products will further enhance the self-reliance on quality products for the upcoming projects in the country and the region and give a significant boost to the well establish infrastructure and connectivity that Abu Dhabi has to offer."
Sheikha Amal Suhail Salim Bahwan, Chairperson Al Jazeera Steel Products Co said: "By providing quality steel products that adhere to the highest standards of international excellence, we have developed a solid base of clients all around the world. Operating within KEZAD, we will give our company a strategic base in the UAE. Upon commissioning of the mill, will be able to easily supply rail products along with other MSM products to the upcoming infrastructure, construction and oil & gas projects to the GCC markets, in conjunction with our global customers. We look forward to setting up in Abu Dhabi and contributing to the exciting upcoming projects that will transform the region. We are also looking forward to Phase 2 of the project for primary Steel Production to cater to the rolling mill being set up in KEZAD"
The products and services herein described in this press release are not endorsed by The Maritime Executive.