Intermarine UK Appoints Production Manager for Dorset Operation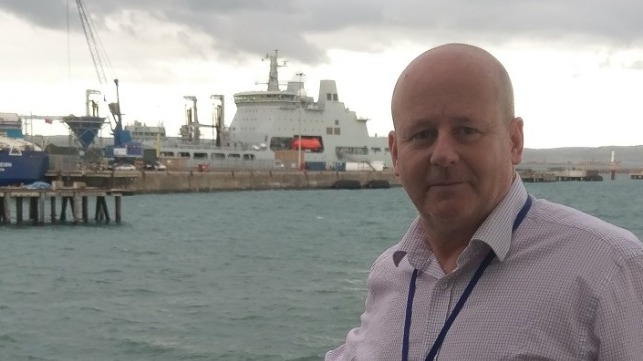 South West-based maritime engineering company Intermarine UK has named former A&P Falmouth procurement manager Mark Bowden as its new production manager.
Bowden will be in charge of day-to-day operations at the company's newly opened 2,400sqm fabrication and welding facility at Portland Port in Dorset.
Intermarine UK, part of Polish-owned Inter Marine Group, signed a 20-year lease on the site at the start of this year and has since invested £650,000 in new machinery. The move has enabled the business to evolve from a labor-only operation to one that can offer an extensive range of engineering and fabrication services.
Bowden's career within the maritime sector includes more than 27 years at ship repair and conversion company A&P Falmouth, nine of those as procurement manager negotiating long-term supplier agreements. Most recently he oversaw the opening of India's Lavgan shipyard in the state of Maharashtra, before moving to Rosyth in Scotland to assist with the construction of the second Royal Navy aircraft carrier, HMS Prince of Wales.
Bowden said his primary focus is on building Intermarine UK's reputation as a provider of engineering services to the UK's ship repair, refit, conversion and shipbuilding markets.
He said: "Inter Marine Group has been involved in a lot of labor-only jobs, the biggest being the assembly of the second aircraft carrier in Rosyth. That project was something of a springboard that moved the business forward. We've consolidated our operations here in Portland with facilities that enable us to stand out from businesses that only supply labor.
"We have plenty of contacts within the industry – it's now about winning jobs and proving ourselves as Intermarine UK."
Earlier this year Intermarine signed a six-figure contract with North West shipyard Cammell Laird to fabricate more than ten tons of piping systems for the RRS Sir David Attenborough polar ship, Britain's biggest commercial ship building project in more than 30 years.
Inter Marine Group President Slawomir Kalicki welcomed Bowden to the team and said the company is continuing to invest in its Portland base since opening in January, most recently through the purchase of a £100,000 internal mandrel pipe bender.
"The pipe bender is the latest bit of kit that has been installed, commissioned and put through its paces," he said. "Essentially it allows us to bend thinner pipes without them collapsing. There's less potential for leaks and it's also a more efficient method of production. That's good news for clients as it's reflected in the overall price.
"We've spent around half a million pounds equipping the workshop and this latest machine is another example of how the company is investing in this facility. It's a statement that we're here to stay and that our approach is to be as collaborative as possible with clients by offering an overall package."
Kalicki said Intermarine UK's ability to offer an extended range of engineering services means the firm is well positioned to take advantage of any new-build and support contracts placed with Britain's shipyards. The business is also looking to increase its involvement in projects outside the maritime sector. It recently assembled a pre-formed corrugated stainless steel tank for Cornwall-based water treatment specialist Eliquo Hydrok.
He said: "The industry has been going through a hiatus recently, waiting for contracts to be awarded. The Royal Fleet Auxiliary (RFA) cluster contracts have only just been announced, and there are other build contracts we're waiting on, including the Type 31s and dry stores RFA ships which are a little further into the future."
"We're also looking to diversify into other industries, including the energy sector and renewables, as our skills lend themselves to projects in those areas. The facility we have in Dorset paired with our capability to work at other sites really knits Intermarine UK together as a whole."
The products and services herein described in this press release are not endorsed by The Maritime Executive.