Human Rights at Sea Annual Review 2018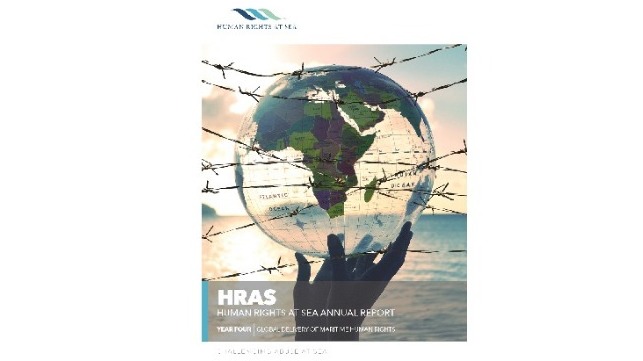 Looking back over past annual reviews there is a common theme of highlighting what we can do better in addition to discussing our successes and delivery.
As our charity continues to evolve into its fifth year emerging as a recognized independent maritime human rights organization that theme continues. Importantly, it is now backed by a proven proof of concept and a clear need for our services.
Consolidation of our internal work processes, external delivery of high-quality case studies and publications, advocacy across all of our platforms, and the provision of freely available resources has been our primary focus throughout the year. This has been backed by development of our web platform in terms of a new style, easier accessibility across all devices, and wider engagement with interested stakeholders both on and off-line.
Our most recent Annual Report and latest Timeline of Delivery are two key documents which encapsulate what we have achieved with our donor funding and which, subjectively, reminds us of just what we can deliver by employing a virtual model, using the latest technology, and all the while keeping running costs to a minimum.
Another key focus has been to put the maximum level of funding at the front-end to maintain global awareness and keep the narrative alive concerning daily human rights abuses at sea across the entire maritime environment for seafarers, fishermen, migrants, refugees and their dependents.
2018 started with a major partnership with the Business and Human Rights Resource Centre and with whom the Charity has been closely engaged with promoting maritime cases to the global business community.
Family Impact Statements for missing seafarers; the delivery of the first report of the ongoing Flag State and Human Rights project with Bristol University Law School Human Rights Implementation Centre; speaking roles at maritime and fisheries conferences; highlighting concerns over Indian seafarer recruitment; abandonment case studies in Iran and UAE; fisheries manning agent supply chain investigations; the mentoring and development of existing and new interns; three new educational films covering maritime business and human rights with supporting infographics; advocacy support to civil society SAR organizations operating in the central Mediterranean; and a review of fishing welfare in the South Atlantic reflect our main achievements. The Missing Seafarer and Fishers Reporting Programme has also been updated with the IP reviewed to ensure protection of the original concept.
"Human rights and dignity must be a high priority for the maritime sector."
Nusrat Ghani MP, Parliamentary Under Secretary of State for Transport, 29 October 2018
The key event for the Charity was the successful delivery of the second International Maritime Human Rights Conference (IMHR 2018) which was opened by Nusrat Ghani MP, Parliamentary Under Secretary of State for Transport who highlighted that: "human rights in the maritime sector" was "an issue of enormous importance to the future of the industry and one, that is amongst my top priorities as a maritime Minister."
The conference was held at the historic Fishmonger's Hall next to London Bridge overlooking the River Thames. It attracted a wide-ranging international audience including attendees from U.S., China, Brussels, Libya and Australia, and included leaders in business and human rights development, lawyers, academics, students, film-makers, heads of the main maritime welfare organizations and Government civil servants from the UK Department of Transport and other States. Unfortunately, there was limited participation from the mainstream shipping industry, though it is hoped that we will start to see a relationship sea-change in 2019 as the charity's door remains open for multi-stakeholder engagement as a matter of internal policy. The third IMHR will be held in 2020.
As the year closes, the Trustees wish to sincerely thank our committed donors, government, commercial, civil society and individual support at every level including our dedicated staff and interns which keeps our young organization developing its structure, scope and the narrative for the global awareness, protection of, and effective remedies supporting the considered application of human rights at sea.
Visit our website: www.humanrightsatsea.org
David Hammond is Founder and Trustee of Human Rights at Sea.
The products and services herein described in this press release are not endorsed by The Maritime Executive.