GenPro Blue Day Brings Together Expert Speakers for Sustainability Panel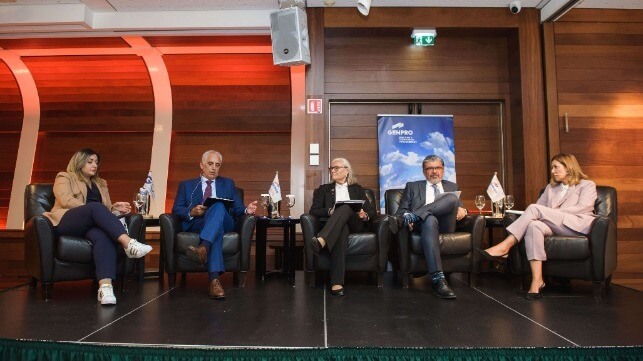 [By: GenPro]
Following close on the heels of Cyprus Maritime Week, maritime and commercial procurement company GP General Procurement Company Limited (GenPro) held its annual Blue Day Event in Limassol, Cyprus under the auspices of the Cyprus Shipping Deputy Ministry. The Blue Day and related Green Day events were conceived to provide a platform for thought leaders to meet and discuss current maritime sustainability topics.
Entitled 'Navigating the Blue Future - Elevating the maritime industry through sustainability', the event held on 12 October featured a panel discussion on the importance of sustainability benchmarking in today's Maritime supply chain. The panel discussion highlighted the role supply chains must play in the road to decarbonisation, the importance of utilising data/metrics data, the necessity of cross sector collaborations and the need for government and international regulatory support.
The event, which was attended by 80+ people as well as 100 participating online, was opened by Her Excellency The Cyprus Shipping Deputy, Minister Marina Hadjimanolis, who spoke of "how the path to a sustainable blue future is undeniably challenging, but it is also a path of immense opportunity and potential." She further added that "By aligning our industry with global sustainability goals, we are not merely navigating our future, we are actively shaping it."
This was followed by a panel discussion led by guest moderator Irene Loucaides, Managing Director of Grow Sustainability Consulting. She was joined by panellists: Dr. Stelios Himonas, Secretary General, Cyprus Shipping Deputy Ministry; Alexandros Josephides, Deputy Director General/Marine Manager, Cyprus Shipping Chamber; Susan Koefoed, CEO and Chair, IMPA; and Gina Panayiotou, ESG Manager, West P&I.
Under debate during the discussion were a range of current issues including:
What does sustainable added-value look like for ship owners and managers?

In what ways do technology, data analytics, and innovation contribute to the successful implementation and monitoring of sustainability initiatives?

How can a structured assessment of maritime suppliers drive global sustainability?

In what ways can a sustainability standard foster international cooperation?
In her closing remarks, GenPro's Managing Director Maria Theodosiou, stated, "Now we need to ask our stakeholders, policy makers and those who have already achieved a certain maturity in the sustainability process to take responsibility and lead in changing the culture."
She concluded by saying, "The exploration of new principles and the embrace of diverse perspectives is essential. Our challenges, just like our solutions, are universal. So we need to address this collectively."
The products and services herein described in this press release are not endorsed by The Maritime Executive.