French Frigate Joins Operation Agenor in Strait of Hormuz Patrols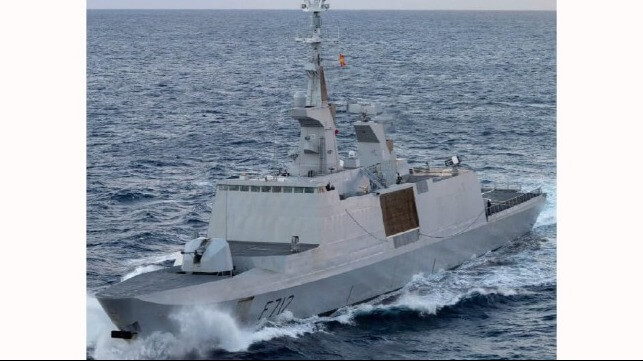 As from the 2nd of April, the French Navy ship, FS Courbet, is in direct support of operation AGENOR. The French asset will mainly sail for AGENOR until mid-May. It is the 23th time France sends an asset to operation AGENOR. The French frigate is fitted with an AS565 Panther Helicopter, which will contribute to build an accurate maritime picture of the area.
The FS Courbet will take part in maritime awareness missions while keeping a de-escalatory posture. The aim of operation AGENOR is to reassure merchant shipping and contribute to the freedom of navigation in the Gulf region, by conducting patrols in the area and closely monitoring strategic ships in the Strait of Hormuz.
FACTS AND FIGURES
For the three years that operation AGENOR is fully operational, 33 different assets have taken part to the operation: ships, French Atlantique 2 maritime patrol aircrafts and Italian MQ9 drones. In total, these assets have conducted more than 2000 flight hours, spent 1070 days at sea and reassured more than 1600 merchant ships.
FRENCH FRIGATE COURBET – GENERAL CHARACTERISTICS
Type: La Fayette-class frigate
Length: 125m
Beam: 15.4m
Draft: 4.8m
Propulsive power: 4 SEMT Pielstick diesel engines
The FS Courbet is a general purpose stealth frigate of the La Fayette class in the French Marine Nationale.
It is the third French ship named after the nineteenth-century admiral Amédée Courbet. Courbet was the first ship in its class to begin a midlife upgrade in October 2020. The upgrade allows the frigate to operate in the 2020s and 2030s and incorporates latest technologies.
NOTES
EMASOH aims to ensure a safe navigation environment, to contribute to de-escalation and to facilitate an inclusive, regional dialogue in the Gulf and the Strait of Hormuz. The mission consists of both a military and a diplomatic track.
The Force headquarters at the French naval base in Abu Dhabi is currently commanded by Belgian Rear- admiral Renaud Flamant and is staffed by a European team including personnel from Belgium, France, Greece, Italy, the Netherlands and Norway. They monitor the shipping lanes in the Gulf region, Strait of Hormuz and the Gulf of Oman.
EMASoH was launched on the 20th of January 2020 by a joint European declaration of support. Belgium, Denmark, France, Germany, Greece, Italy, the Netherlands, Norway and Portugal are part of EMASoH, which was declared fully operational on the 25th of February 2020.
The Gulf region is one of the most important trading regions in the world, and the Strait of Hormuz, connecting the Gulf region with the open ocean, is a choke point of major international trading routes. Any incident in the Strait of Hormuz has direct impact on the world's economy.

The products and services herein described in this press release are not endorsed by The Maritime Executive.