Eastern Shipbuilding Delivers ATB Dredge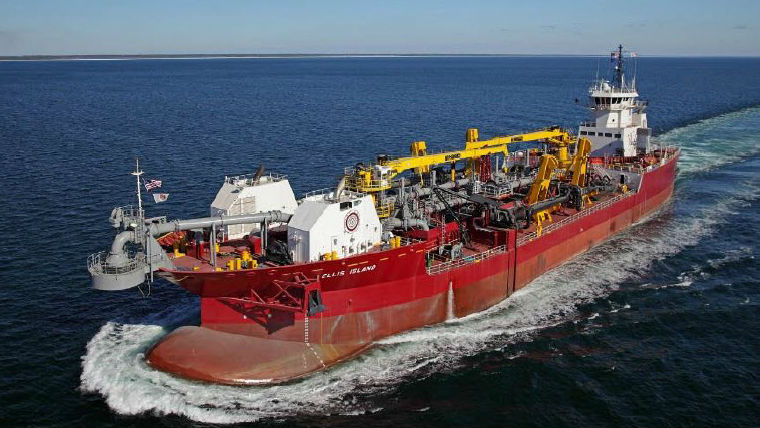 Eastern Shipbuilding Group, Inc. is pleased to announce the delivery of a Dual Mode Articulated Tug/Barge (ATB) Trailing Suction Hopper Dredge to Great Lakes Dredge & Dock Company, LLC.
Named the Douglas B Mackie, honoring the company's former CEO and Chairman of the Board (ESG Hull 252) ATB Tug detail designed and engineered by Ship's Architect, Inc. and the Ellis Island, the gateway to America representing a new beginning for so many(ESG Hull 253) ATB Hopper Dredge Barge detail designed by Bay Engineering, Inc. Both vessels are based on concept designs by Ocean Tug & Barge Engineering, Inc.
Brian D'Isernia, CEO of Eastern Shipbuilding Group, stated "We are particularly proud of constructing this ATB Dual Mode Trailing Suction Hopper Dredge for Great Lakes Dredge & Dock Company, LLC as it is the largest hopper dredge built in the United State to date."
David Simonelli, President, Dredging Division, said, "We are excited to take delivery of this advanced vessel which improves the competitiveness of our hopper group and represents a substantial reinvestment in our fleet. The Ellis Island significantly increases the United States commercial Jones Act hopper fleet capacity as the largest hopper dredge in the United States market, with a carrying capacity of 15,000 cubic yards."
The Hopper Dredge Barge ATB features the following characteristics:
Ellis Island ATB Trailing Suction Hopper Dredge Barge:
Dimensions (Overall): 433'x 92'x 36'
Hopper Capacity: 15,000 CYS
Dredge System Power: (2) EMD ME20G7C-T3, 5,000HP each
Bow Thrusters: (2) Schottel STT2 Electric, Fixed Pitch Tunnel Units 800HP each
Harbor Service Genset: (1) Caterpillar C32-T3 910kW @ 1800RPM
Classification: ABS ?A1, ?AMS, Unmanned Cargo Barge and certified under SOLAS/IMO/MARPOL.
Flag & Regulatory: USA, USCG, 33/46CFR NVIC Publications, Certificated "I" Unmanned.
Ellis Island Hopper Area
Main Deck Hopper Area
Suction Drag Arm
ESG Press Release
Dredge Pump 5,000HP EMD Diesel Engine
Jet Pump Motors - Engine Room
Dredge Switchgear Room
Douglas B Mackie ATB Tug:
Dimensions (Overall): 158'-4"x 52'x 32'-9'
Total Installed Horsepower: 17,378 BHP
ATB Coupler System: (2) Taisei Coupler Systems
Main Engines: (2) MAK 12M32C-T3, 7,831HP each
Main Generators: (2) 2,500kW, 6600VAC Shaft Generators
Auxiliary Generator: (1) Caterpillar C32-T3 730kW @ 1800RPM
Emergency Generator: (1) Caterpillar C18-T3 550kW @ 1800RPM
Classification: ABS ?A1, ?AMS, ACCU, Oceans Towing Vessel Unlimited Service additional notations ILO, and certified under SOLAS/IMO/MARPOL.
Flag & Regulatory: USA, USCG Dual-Mode ITB, 33/46CFR
Subchapters, E, F, G, I, J, M, Q and S
Eastern is proud to assist Great Lakes in delivering this investment in the maritime future of America, constructing these two state-of-the-art Jones Act vessels to meet the Country's growing needs. "Built in an American shipyard by American workers, crewed by American seamen and owned and operated by an American company."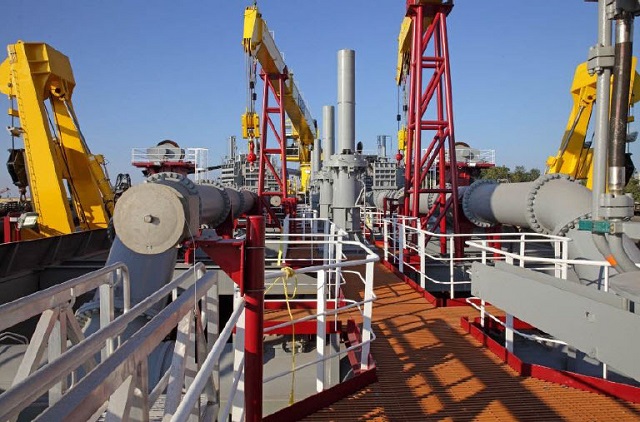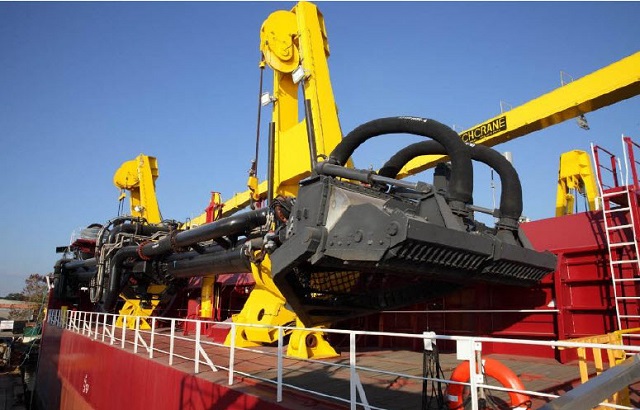 The products and services herein described in this press release are not endorsed by The Maritime Executive.